Naa Ode Lansana
MDE, 2007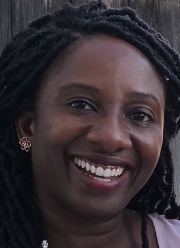 After graduating with my MDE, I undertook an internship with the United Nations in Vietnam tackling issues of aid effectiveness
I arrived in Canada from Ghana in 1999, on the cusp of the new millennium. I had been accepted into Dalhousie University's Economics program and I was excited for what the future had in store. At Dalhousie, I complemented my Economics courses with classes in Development Studies. This culminated in my graduating with an Advanced Double Major degree in Economics and International Development Studies. I next pursued the Master of Development Economics (MDE) degree at Dalhousie; with my burgeoning interests, the program appeared tailor-made for me. Many of my courses were taught by professors with extensive practical experience, and the lessons I learned informed my work as I ventured into the world of Development.
After graduating with my MDE, I undertook an internship with the United Nations in Vietnam tackling issues of aid effectiveness. At the United Nations Country Economist Unit, I assessed the development assistance framework of the Vietnamese government. I also had the opportunity to conduct a comparative study of the effectiveness of aid mechanisms around the globe. I worked closely with the Ministry of Planning and Investment, and together with a team, helped to author a key government report on aid flows to Vietnam. This report was widely distributed across government and among the donor community.

I then returned to Canada, where through the Pearson Peacekeeping Centre (later the Pearson Centre), I had the opportunity to work with the African Union, United Nations, numerous non-governmental organizations and training centres on issues of peace and security in Africa. The projects that I undertook often made apparent the interplay between economics and law. While working with the African Union to prepare police, civilian and military personnel to be deployed into peace support operations, I experienced first-hand the dynamics of resource allocation, human rights and international humanitarian law juxtaposed against political considerations. A highlight of mine was the opportunity to deliver a presentation to the African Union Peace and Security Council at its headquarters in Ethiopia as part of a program to train senior decision-makers. After my time at the Pearson Centre, I worked with the International Bureau for Children's Rights developing training curricula on children's rights for security forces in the Middle East and East Africa.
My work in development affirmed my commitment to justice issues and re-ignited a long-held dream to be of service through the law. As such, following a few years of work with the Government of Canada (Industry Canada and the Financial Consumer Agency of Canada), I decided to return to school to pursue a law degree.
None of this would have been possible without the dedicated professors I encountered at Dalhousie. In particular, the continued mentorship and support of Professor Ian McAllister have been instrumental in helping to shape my career path.
Now, as I finish off my degree at Osgoode Hall Law School, I stand, as I did many years ago, filled with expectancy of what the future holds.