Ian Sherwood
Successful Singer-Songwriter and Economics grad
If I'm really going to work at this as a career, I have to look at the money-making side of it.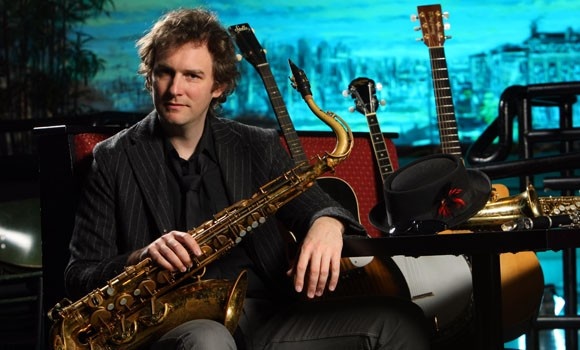 He calls it his "dirty secret," because what self-respecting, singing-for-his-supper, traveling musician would fess up to an economics degree?

"Having an economics degree makes me know how much money I don't have," jokes Ian Sherwood drily.

You've got to do what's true to your heart, which is exactly what he did, picking up his saxophone and guitar and moving to Toronto to study music following his graduation from Dalhousie in 1998. While there, he became part of the jazz scene, eventually returning to the East Coast in 2005 to reinvent himself as a singer-songwriter.

"I sort of overdosed on the whole jazz scene and it didn't suit me: I was a square peg in a round hole and I wanted a solid break," Ian explains.

He's definitely found his groove now. He's in demand as a session musician, as well as arranging and creating music for other musicians. His latest CD, And Now the Fun Begins, earned a flurry of accolades, including being named Music Nova Scotia's Musician of the Year for the second time, and an East Coast Music Association nomination for best male solo recording.

Being an economic major is actually useful as he builds his career in the music business; there are business plans and grant proposals to write, people to network with, CDs to market and performances to set up — whether at a house party playing solo before a handful of guests or at a soft-seater backed up by a five-piece band and playing for hundreds.

"When I'm making music I'm cognizant of the audience: who's going to want this and who's going to enjoy this?" he says. "If I'm really going to work at this as a career, I have to look at the money-making side of it."