Richard Price
Professor, Department of Dental Clinical Sciences, School of Biomedical Engineering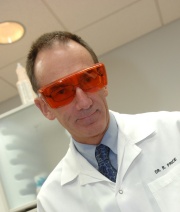 Our Group
My laboratory is currently investigating the longevity of posterior resin composite restorations, the light output from dental curing lights in dental offices, the existence of any 'blue-light' hazard, and the benefits of fast vs. slow curing of dental restorations.
Projects
Population Based Comparison of the Long-Term Survival and Costs of Posterior Amalgam and Resin Composite Restorations
Developing a New Standard for Reporting the Light Output from Dental Curing Lights
Defining the Requirements for a Commercial Device for Assessing the Adequacy of the Polymerisation of Light Cured Polymeric Resin Materials
An Evaluation of Six Light-Emitting Diode Curing Lights to Cure Two Composites


Selected Publications
CB André, G Nima, M Sebold, M Giannini, and RB Price (2018) Stability of the Light Output, Oral Cavity Tip Accessibility in Posterior Region and Emission Spectrum of Light-Curing Units. Operative Dentistry In-Press.
MM AlShaafi, A AlQussier, MQ AlQahtani, and RB Price (2018) Effect of Mold Type and Diameter on the Depth of Cure of Three Resin-Based Composites. Operative Dentistry In-Press.
Enhancing the Value of Dental Biomaterials Research:" Reducing the Noise".
RB Price, AC Shortall, and WM Palin. Contemporary Issues in Light Curing. Operative Dentistry (2014) Vol. 39, No. 1, pp. 4-14.
RB Price, HE Strassler, HL Price, S Seth, CJ Lee. The effectiveness of using a patient simulator to teach light-curing skills. Journal of the American Dental Association (2014) 145(1):32-43.
Full list of publications