Associate Professor, School of Physiotherapy, School of Biomedical Engineering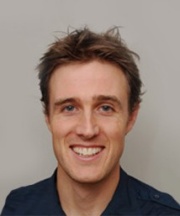 As a physical therapist, focused in musculoskeletal health and research in biomechanical aspects of human movement and electromyography, Dr. Rutherford provides a unique skill set to understand the implications of joint injuries and disease on human function.
Our Group
Dr. Rutherford specializes in understanding how lower limb joints are affected by injury and disease to develop and evaluate conservative and surgical management and approaches. His current focus is in the areas of hip and knee injuries and osteoarthritis. 
Selected Publications
Rutherford, D.J., Moreside, J.M., Wong, I (2018). Differences in hip joint biomechanics and muscle activation in people with femoroacetabular impingement compared to healthy asymptomatic individuals: Is level ground gait analysis enough? Orthopaedic Journal of Sports Medicine (In Press)
Moreside, J.M., Wong. I., Rutherford, D.J. (2018). Altered erector Spinae activity and trunk motion occurs with moderate and severe hip osteoarthritis. Journal of Orthopaedic Research (In Press)
Rutherford D, Baker M, Wong I, Stanish W. Dual-belt treadmill familiarization: Implications for knee function in moderate knee osteoarthritis compared to asymptomatic controls. Clin Biomech (Bristol, Avon). 2017 Jun;45:25-31.
Rutherford D, Baker M, Wong I, Stanish W. The effect of age and knee osteoarthritis on muscle activation patterns and knee joint biomechanics during dual belt treadmill gait. J Electromyogr Kinesiol. 2017 Jun;34:58-64.
Dunphy C, Casey S, Lomond A, Rutherford D. Contralateral pelvic drop during gait increases knee adduction moments of asymptomatic individuals. Hum Mov Sci. 2016 Oct;49:27-35.
Baker M, Moreside J, Wong I, Rutherford DJ. Passive hip movement measurements related to dynamic motion during gait in hip osteoarthritis. J Orthop Res. 2016 Oct;34(10):1790-1797.  
Rutherford DJ, Moreside J, Wong I. Hip joint motion and gluteal muscle activation differences between healthy controls and those with varying degrees of hip osteoarthritis during walking. J Electromyogr Kinesiol. 2015 Dec;25(6):944-50.