T. Alexander Quinn
Assistant Professor, Department of Physiology and Biophysics, School of Biomedical Engineering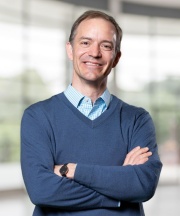 My lab focuses on feedback between cardiac mechanics and electrophysiology. The goals of my research program are to investigate mechano-sensitive mechanisms at the organ, tissue, cell, and subcellular levels; discover their relevance for heart rhythm in health and disease; and use this knowledge to develop novel targeted anti-arrhythmic therapies.

Contact
T. Alexander Quinn, PhD
Email: alex.quinn@dal.ca
Phone: 902-494-4349
Web: http://medicine.dal.ca/departments/department-sites/physiology/our-people/our-faculty/alexander-quinn.html
Our Group
We are exploring a variety of research topics within the fields of cardiovascular physiology and cardiovascular disease. My laboratory uses a range of innovative experimental approaches involving electrophysiology, mechanics, mechano-electric coupling, and device-based therapies to better understand cardiovascular pathologies such as cardiac arrhythmias and myocardial ischemia. People interested in learning and/or working with these techniques are most welcome to contact me. 
Selected Publications
Quinn TA. The importance of non-uniformities in mechano-electric coupling for ventricular arrhythmias. J Interv Card Electrophysiol. 2014; 39:25-35.
Gemmell P, Burrage K, Rodriguez B, Quinn TA. Population of computational rabbit-specific ventricular action potential models for investigating sources of variability in cellular repolarisation. PLoS One. 2014; 28:e90112.
Quinn TA, Kohl P. Combining wet and dry research: experience with model development for cardiac mechano-electric structure-function studies. Cardiovasc Res. 2013; 97:601-11.
Quinn TA, Granite S, Allessie MA, Antzelevitch C, Bollensdorff C, Bub G, Burton RAB, Cerbai E, Chen PS, Delmar M, DiFrancesco D, Earm YE, Efimov IR, Egger M, Entcheva E, Fink M, Fischmeister R, Franz MR, Garny A, Giles WR, Hannes T, Harding DE, Hunter PJ, Iribe G, Jalife J, Johnson CR, Kass RS, Kodama I, Koren G, Lord P, Markhasin VS, Matsuoka S, McCulloch AD, Mirams GR, Morley GE, Nattel S, Noble D, Olesen SP, Panfilov AV, Trayanova NA, Ravens U, Richard S, Rosenbaum DS, Rudy Y, Sachs F, Sachse FB, Saint DA, Schotten U, Solovyova O, Taggart P, Tung L, Varró A, Volders PGA, Wang K, Weiss JN, Wettwer E, White E, Wilders R, Winslow RL, Kohl P. Minimum Information about a Cardiac Electrophysiology Experiment (MICEE): standardised reporting for model reproducibility, interoperability, and data sharing. Prog Biophys Mol Biol. 2011; 107:4-10.   
Quinn TA, Cabreriza SE, Richmond ME, Weinberg AD, Holmes JW, Spotnitz HM. Simultaneous variation of ventricular pacing site and timing with biventricular pacing during acute ventricular failure improves function by interventricular assist. Am J Physiol Heart Circ Physiol. 2009; 297:H2220-6.