2018‑2019 Lectures
FALL 2018
Big Data Analytics and Artificial Intelligence Techniques to make Better Management Systems (Jamal Shahrabi)
Jamal Shahrabi
Amirkabir University of Technology, Iran
Lecture Details
Thursday, September 13th, 2018
1:30pm
Room 5053, Kenneth C. Rowe Management Building
6100 University Ave
Abstract: Big data analytics is the process of examining large and varied data sets to discover hidden patterns, unknown correlations, market trends, customer knowledge and other useful information that can help organizations make more-informed business decisions. All industries now are facing with a large amount of data and complex management issues with a much more competition than before. The most important benefits of big data analytics compare to classical analytical methods are speed and efficiency. Few years ago a business would have gathered data, run traditional analytics and provided information that could be used for future decisions, today that business can identify insights for immediate decisions by smart management systems. Meanwhile all organizations and industries are involving with a broad range of decision making criteria and multiple different internal goals and targets that make decision taking difficult. In this situation classical analytical methods do not work anymore and Multi Agent Systems (MAS) are needed. Multi Agent Ensemble Learning Systems are used in a variety of domains for making collaborative smart decision support systems by discovering a solution by agents on their own, using learning. The most important part of the problem is how the agents will learn independently and then how they will cooperate to establish the common task.
Biography: Dr. Jamal Shahrabi received his PhD from Dalhousie University. He is a faculty member of Industrial Engineering and Management Systems faculty at Amirkabir University of Technology (AUT). His research interests lie at the intersection of data science (particularly data analysis, artificial intelligence, machine learning & data mining) and Management and Marketing (particularly smart management, operations management, management information systems, business intelligence, customer knowledge discovery, customer relationship management & smart marketing,). His research contributions has been to develop the efficient machine learning and data mining models to solve the real management and marketing problems by designing smart models and systems for smart decision making and smart management. He has been succeed to make a synergy of university and industry to solve the industry management problems and provide the opportunity of involvement of students in real industry issues. He has managed 9 big size industry projects so far. He has published two book chapters, 13 books in Persian, 136 conference papers & 34 outstanding ISI journal papers with 865 Citations So far. Graduating 73 Master and 5 PhD students under his supervision and teaching several different bachelor, master and PhD courses in the field of management and marketing is his honor.
1994 Called – It Wants its FOI Law Back: Things Nova Scotians Should Know About Their Right to Know (Janet Burt-Gerrans)
Janet Burt-Gerrans
Office of the Information & Privacy Commissioner for Nova Scotia
Lecture Details
Tuesday, September 25th, 2018
12:00pm
Weldon Law Building, Room 104
6061 University Ave

Co-sponsored with Dalhousie Libraries
Abstract: Almost 25 years have now passed since Nova Scotia's access to information law was proclaimed. Our law is badly outdated and no longer up to the task. September 28 is Right to Know Day around the world. What better time to discuss the shortcomings of our law, recommendations for improvement and things citizens need to know to ensure that they continue to have a robust and meaningful right to access government information. Join the staff of the Office of the Information and Privacy Commissioner for a lively discussion of big data, access martyrs, duty to document and other access problems and solutions.
Biography: Janet Burt-Gerrans, BA, JD is a legal professional with multi-sector public administration experience spanning roles in government consulting, labour relations, and public service delivery. She is a Senior Investigator with the Information and Privacy Commissioner's Office responsible for leading investigations and oversight activities.
Science and Policy: Should Scientific Information Have Pre-eminence in Public Decision-Making? (Panel)
This panel will be live-streamed/recorded via the MacEachen Institute Facebook page.
Event Details
Tuesday, October 9th, 2018
12:00-1:30pm
Room 1020, Kenneth C. Rowe Management Building
6100 University Ave
Panel members
Daniel Cressey, Deputy Editor, Research Fortnight, London
Megan Leslie, President, WWF Canada, Toronto
Jeffrey Hutchings, Killam Chair in Fish, Fisheries and Oceans, Department of Biology, Dalhousie University, Halifax
Richard Isnor, Associate Vice President (Research & Graduate Studies), St. Francis Xavier University, Antigonish
Panel Chair
Suzuette S. Soomai, Canada Department of Fisheries and Oceans, Maritimes Region, Halifax
Sponsors
Environmental Information: Use and Influence Research Program, Dalhousie University (www.eiui.ca)
MacEachen Institute for Public Policy and Governance (https://www.dal.ca/mipp)
School of Information Management, Dalhousie University (https://www.dal.ca/sim)
Office of the President, Dalhousie University (https://www.dal.ca/dept/senior-administration/president.html)
School for Resource and Environmental Studies (www.dal.ca/faculty/management/sres.html)
Faculty of Management, Dalhousie University (www.dal.ca/faculty/management.html)
Faculty of Science, Dalhousie University (www.dal.ca/faculty/science.html)
Nova Scotian Institute of Science (http://nsis.chebucto.org/)
Description: Evidence-based policy making seems to be a straightforward, readily acceptable model to guide decision making at all levels of government. If evidence supports development of a policy, shouldn't the evidence be given priority in policy decisions? In practice, however, the model faces many challenges. Even though governments broadly state that their decisions will be based on research evidence, researchers frequently wonder why evidence seems to be ignored. The 1979 statement - "in public policy making, many suppliers and users of research are dissatisfied, the former because they are not listened to, the latter because they do not hear much they want to listen to" - remains acutely relevent today. Evidence to resolve serious environmental and societal problems is available, but solutions seem to be elusive. Why? To address these questions, this panel of experts in scientific research, science communication, and science policy will offer their timely insights.

Biographies:
Daniel Cressey has worked in journalism since the turn of the millenium, reporting on just about every aspect of science at one point or another. But he has always returned to research policy. Now working as deputy editor at Research Professional - publishers of Research Fortnight and Research Europe - he oversees news, features, and comment from a global team. Before joining Research Professional in November 2017, he spent 10 years at the journal Nature in various editorial roles. He holds graduate degrees in journalism and history of science, and may even remember some of the chemistry he was taught as an undergraduate.
Megan Leslie was appointed President of World Wildlife Fund Canada in December of 2017 after nearly two years at the organization, first as a consultant on oceans governance, then as head of ocean conservation. Before joining WWF, Megan was a Member of Parliament representing Halifax for two terms during which she was deputy leader of the official Opposition, environment critic and vice-chair of the government committee on environment and sustainable development. In Ottawa, Megan had plastic microbeads added to the list of toxic substances under the Environmental Protection Act. She also expedited the creation of Sable Island National Park Reserve.
Jeffrey Hutchings is Professor of Biology and Killam Memorial Chair in Fish, Fisheries and Oceans at Dalhousie University. His work centres on the life histories and evolutionary ecology of fishes. He was elected Fellow of the Royal Society of Canada in 2015 and Foreign Fellow to the Norwegian Academy of Science and Letters in 2018. He has chaired four national committees, including Canada's national science advisory body on species at risk (COSEWIC). He has appeared before several parliamentary committees, served as external advisor to the Auditor General of Canada, and advised Loblaw Companies Ltd. on the sourcing of sustainable seafood.
Richard Isnor is Associate Vice President, Research & Graduate Studies, and Interim Director of the Mulroney Institute of Government at St. Francis Xavier University. Prior to joining StFX in 2015, he held a variety of science policy and research administrative positions with the Natural Sciences and Engineering Research Council, the International Development Research Centre, the National Research Council, Environment Canada, Natural Resources Canada, the Privy Council Office, and the Nunavut Research Institute. He holds a Doctorate in Science and Technology Policy Studies (University of Sussex, UK); Master of Environmental Studies (Dalhousie); and BSc (Mount Allison University).
"Paywall" screening and discussion (Open Access Week)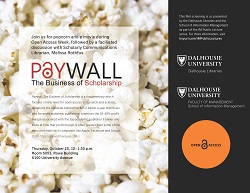 Event Poster [PDF - 1.62 MB]
Free popcorn!
Event details
October 25th, 2018
12:00pm
Room 5053, Kenneth C. Rowe Management Building
6100 University Ave
Co-sponsored with Dalhousie Libraries.
Facilitator: Melissa Rothfus (Scholarly Communications Librarian, Dalhousie Libraries)
This event will NOT be recorded or live-streamed.
Symposium: Indigenous Knowledge & Access
Please join us for a day of stimulating discussion and presentations on Indigenous knowledge and access! The Indigenous Knowledge and Access Symposium will be held in Halifax on Thursday, November 15.
Co-hosted by Dalhousie Libraries, Dalhousie's School of Information Management, and Library and Archives Canada, the event will focus on the work and challenges of documenting and improving access to Indigenous knowledge. The day features a keynote address by Elder Albert Marshall and Dr. Cheryl Bartlett, presentations from the Mi'kmawey Debert Cultural Centre and Beaton Institute and much more!
This event is free and open to the public. Space is limited. Please be sure to register in advance, and prior to Monday, November 12.
Event info:
Thursday, November 15, 2018
Registration opens at 8 a.m. (AST)
Sessions begin at 8:45 a.m. (AST) and run all day until 4:10 p.m. (AST)
Collaborative Health Education Building (CHEB), Room 170
Dalhousie University, 5793 University Avenue
Halifax, Nova Scotia
It's FREE!
Reserve your spot for this event now! All seating is general admission.
Cybervetting and the Public Life of Social Media Data (Anatoliy Gruzd & Philip Mai)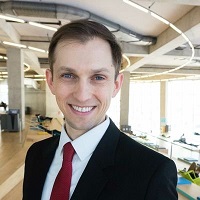 Anatoliy Gruzd & Philip Mai
Social Media Lab, Ted Rogers School of Management, Ryerson University
Lecture Details
Monday, November 19th, 2018
2:30pm
Room 3089, Kenneth C. Rowe Management Building
6100 University Ave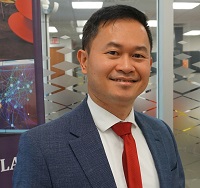 Abstract: Social media data is a rich source of behavioral data that can reveal how we connect and interact with each other online in real time and over time. Once collected, the data can be combined with other types of data to reveal even more sensitive information about the users. Currently, much of the data being collected from social media platforms are being used in ways that are not always transparent to users. In the aftermath of the Facebook's Cambridge Analytica scandal and other data breaches, issues around data privacy is once again on the public's mind.
In this talk, we will provide an overview of the work that we do at Ryerson University's Social Media Lab. We will also share the result of a recently completed study led by Anatoliy Gruzd, Jenna Jacobson and Elizabeth Dubois, examining users' attitudes towards organizations' use of public social media data to screen job applicants. The study applied the Communication Privacy Management theory to assess whether and to what extent users' privacy concerns are influenced by factors such as: culture, gender, motivation, and risk-benefit ratio. The results revealed a nuanced nature of people's information privacy expectations in the context of hiring practices. The talk will be of interest to privacy, organizational studies and communication scholars as well as everyday social media users who are interested in online privacy.
Biographies:
Anatoliy Gruzd is a Canada Research Chair in Social Media Data Stewardship, Associate Professor at the Ted Rogers School of Management at Ryerson University, and Director of Research at the Social Media Lab. Anatoliy is also a Member of the Royal Society of Canada's College of New Scholars, Artists and Scientists; a co-editor of a multidisciplinary journal on Big Data and Society; and a founding co-chair of the International Conference on Social Media and Society. His research initiatives explore how social media platforms are changing the ways in which people and organizations communicate, collaborate and disseminate information and how these changes impact the norms and structures of modern society.
Philip Mai is the Director of Business and Communications at Ryerson Social Media Lab at Ted Rogers School of Management and co-founder of the International Conference on Social Media & Society. In his work at the Social Media Lab, he focuses on knowledge mobilization, information diffusion, business and research partnerships, and the practical application of social media analytics.
WINTER 2019
Scientists Talking to the Public: A One-Way Conversation? Exploring Engagement Strategies in Science Communication (Alexander Desiré-Tesar & Curtis Martin)
Alexander Desiré-Tesar & Curtis Martin
(Marine Affairs Program, Dalhousie University)



Lecture Details
Monday, February 4th, 2019
5:30pm
Room 1014, Kenneth C. Rowe
Management Building
6100 University Ave
Scientists have been communicators as long as there has been discoveries about the world around us and the universe beyond. Today, scientific research can be instrumental in helping to resolve major issues locally and globally. Seeking solutions to these problems is the responsibility of everyone: the public, governments, as well as researchers. Thus, communication about research is essential. How well is the communication working? This lecture features two presenters who will speak about their recent studies that investigated scientific communication from the perspectives of scientists and the strategies individual and environmental non-governmental organizations used to engage the public in discussion about science through social media platforms. This lecture will be of interest to all members of the academy, public policy professionals, and the public.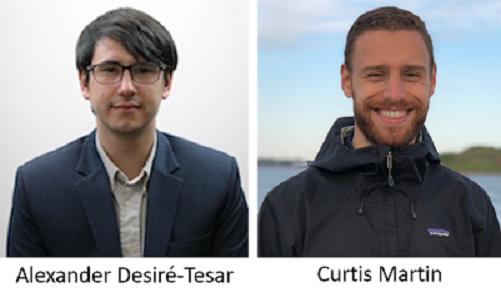 Abstracts:
Alexander Desiré-Tesar – "Rules of engagement: How and why are ocean and aquatic researchers communicating with the public"
In marine-management contexts, public engagement is increasingly being incorporated into the decision-making process. As governments devolve more responsibility for the management of marine space and resources, and ocean and coastal spaces become increasingly contested, it is more important than ever to establish effective communication between scientists and the public. However, the extent to which scientists embrace their role as communicators varies, as do the channels and methods of engagement they pursue. Scientists have historically relied on a "deficit model" of communication, which holds scientists and scientific information in a privileged position relative to the public. The public engagement with science field has repeatedly criticized this model, citing its repeated failures to improve science literacy or enhance support for science. Rather, they argue that scientists must engage with the public by becoming more open and responding to their interests and concerns. This study focuses on researchers affiliated with the Ocean Tracking Network (OTN), a global acoustic-telemetry network that collects data on aquatic animals for the purposes of informing management. Through surveys and interviews, data was collected to help understand the factors that encourage or discourage ocean and aquatic researchers from engaging with the public. The findings suggest that participants had a very positive view of "engagement" as a whole but differed in their interpretation of what engaging with the public entailed. Many participants also reported frequent contact with the public and media but little formal communications training.
Curtis Martin – "'It Feels Like Engaging With a Friend': Using Interpersonal Communication Strategies to Encourage Science Conversations with Lay Audiences on Social Media"
Citizens are increasingly being asked to participate in policy-making processes, and with the internet now a primary source of information, it is critical that policy-relevant research is communicated effectively online to equip lay people with the information they require to participate in decisions. Social media have the potential to facilitate two-way conversations needed for effective science communication; however, research communicators often struggle to reach lay audiences on these media. In this research project, the Twitter and Instagram activity of four individual scientists acting as recognized science communicators in North America and Europe was compared with the activity of three marine-focused non-governmental organizations (NGOs) (local, national, and international), paying particular attention to strategies that encourage audience engagement in two-way conversations. The study includes: 1) an analysis of public Twitter and Instagram data of each of the seven communicators to identify the social media strategies that are used and the resulting engagement in two-way conversations; 2) interviews with the individual and NGO communicators to determine their social media strategies; 3) a survey of audience members involved in two-way conversations to determine why they choose to participate in dialogues on social media, and 4) an audience "biography" analysis to determine whether communicators are engaging a non- scientific audience. The results of this study show that communication strategies have an important effect on social media engagement. More specifically, the evidence shows that a combination of interpersonal communication strategies, and how they are integrated throughout the social media activity of communicators via platform affordances, especially in Instagram, can have an important effect on the level of lay user engagement in two-way conversations over time. Further application of the interpersonal communication strategies could promote greater public engagement with science, including involvement with critical marine management issues that exist at the science- policy interface.
Biographies:
Alexander Desiré-Tesar is a former editor at The Walrus magazine. As a journalist, he developed an interest in science communication and the oceans, which then became the focus of his graduate research at Dalhousie University as part of the Master of Marine Management program. While pursuing an internship at the Ocean Tracking Network, a Dalhousie-headquartered network of ocean researchers, he surveyed scientists about their perspectives on the media, communications, and the general public. Alex has since returned to writing and editing stories, and can now talk about the ocean from a very modest position of authority.
Curtis Martin recently completed the Master of Marine Management program at Dalhousie University. He moved from an emphasis on natural sciences and oceanography during his BSc studies at the University of Victoria, to embrace interdisciplinary interests in research on marine management and science communication. Curtis completed two internships during his studies for the Master of Marine Management—one with the Environmental Information: Use and Influence (EIUI) research program under the supervision of Dr. Bertrum MacDonald, and the second with the MEOPAR (Marine Environmental Observation, Prediction, and Response) Network. Curtis is now focused on promoting innovative and effective approaches to science communication with the public, in part, motivated by the results of his graduate research, which explored science communication on social media.
Horrocks Lecture: Furthering Reconciliation by Honouring Indigenous Voices and Embedding Indigenous Protocols into Cultural Memory Institution Praxis (Camille Callison)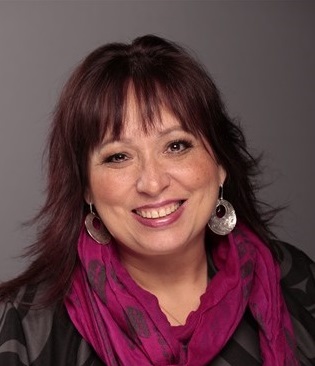 Furthering Reconciliation by Honouring Indigenous Voices and Embedding Indigenous Protocols into Cultural Memory Institution Praxis.
Camille Callison
(Learning & organizational development librarian, University of Manitoba; Past Chair, CFLA-FCAB Indigenous Matters Committee)





Slides

Lecture Details:
Thursday, February 28th
5:30pm
University Hall, Macdonald Building
6300 Coburg Road
Abstract:
Creating space for Indigenous knowledge to be preserved and shared in its unbiased entirety according to cultural protocols is crucial for moving forward toward reconciliation and laying the groundwork for change.

The Truth and Reconciliation Commission (TRC) Report has provided a catalyst for change by acknowledging the systems of oppression manifest in Canada's Indian Residential School System for over 150 years. The TRC Calls to Action have ignited the conversation around the decolonization of our mainstream cultural memory institutions by addressing embedding structural barriers and systems of oppression that perpetuate power inequities reinforcing problematic descriptions of historical event and racial stereotypes. How can we embed the appropriate protocols in our praxis with Indigenous communities to ensure that Indigenous voices, knowledge and histories are portrayed accurately, and relationships honored? Substantive movement needs to be realized as it relates to Indigenous people and Indigenous knowledge being held in mainstream archives, libraries and cultural memory institutions which can often mean shaking foundations and deconstructing our thinking, processes and praxis.
Biography:

Camille Callison, member of the Tahltan Nation in Northern BC, is the Learning & Organizational Development Librarian and PhD student (Anthropology) at the University of Manitoba. Camille is Past Chair of the Indigenous Matters Committee, a Copyright Committee member, chaired the Truth and Reconciliation Committee and was on the founding board of the Canadian Federation of Library Associations (CFLA-FCAB). Camille is an Indigenous Partner on the Truth and Reconciliation Commission Taskforce and a member of IFLA Indigenous Matters Section Standing Committee, National Film Board Indigenous Advisory Group and Canadian Commission for UNESCO Memory of the World Committee and Sector Commission on Culture, Communications & Information.
Fonts of Knowledge: Transitions in the Design of Early Modern Books in the Netherlands – A Theory (Dr. Goran Proot)
Fonts of Knowledge: Transitions in the Design of Early Modern Books in the Netherlands – A Theory
Speaker: Dr. Goran Proot, Belgium



Date and Time: Friday, 8 March 2019, 3:30 pm
Location: Room 1007,
Rowe Management Building, 6100 University Avenue
Abstract:

In this lecture, Dr. Proot will describe transitions in the design of handpress books from the Southern Netherlands over more than three centuries from 1473 to about 1800. The analysis of a wide range of typographical features both on title pages and inside the book proper shows minute changes which accumulated over long time-spans. The impact of those changes becomes clearly visible when large volumes of data are compared and presented statistically. While important transitions can be distinguished in the total body of evidence, shifts from old to new design paradigms often remain hidden at the item level. Based on the analysis of large datasets, Dr. Proot will argue that it is possible to describe and define precisely design features of books produced in the late medieval, Renaissance, baroque, and neo-classicist periods. At the same time, however, book design seems to some extent to escape rigid periodization, because design paradigms were fluid. At a surface level, continuous changes in design may be considered as innocent or superficial fashions. However, on closer examination, a fundamental change in book design took place during the seventeenth century. Dr. Proot will show how societal changes spurred alterations in book design, and how, by way of a positive feedback loop, innovations in book design helped change society. He will conclude his lecture with a theory of typographical evolution, which helps to explain the meaning and impact of this cultural phenomenon better. Since few theories have been proposed to explain the transition in design, there is much at stake in this field of research.
Biography:

Goran Proot obtained his PhD in Language and Literature at the University of Antwerp with a dissertation about Jesuit theater in the Southern Netherlands from 1575 to 1773. He has been director of the Short Title Catalogue Flanders project (STCV), a major bibliographical initiative documenting all pre–1801 hand-press books published in Flanders. Dr. Proot is editor-in-chief of the book history journal De Gulden Passer, and he is president of the Flanders Book Historical Society. He was the curator of rare books at Antwerp University Library and in 2012, he was appointed as the Andrew W. Mellon Curator of Rare Books at the Folger Shakespeare Library in Washington, DC. Two years later, he moved to the Bibliothèque Mazarine in Paris, where he directed the digital library and the conservation laboratory. In November 2016, he joined the EMo Book Trade research project, funded by the European Research Council, about the 16th-century book trade, directed by Angela Nuovo, Università di Udine, Italy. He recently became Curator at Cultura Fonds Library in Dilbeek, a private library near Brussels owned by the investment group De Eik. Dr. Proot holds teaching positions at KASK, School of Arts in Ghent, where he teaches history and theory of graphic design, and at the Plantin Institute of Typography in Antwerp, where he teaches book history. In his current research, he is surveying book prices during the century from 1555 to 1655 based on evidence found in the archives of Christopher Plantin and his successors at the Museum Plantin-Moretus in Antwerp, in addition to French printed bookseller's catalogues. Dr. Proot is a recognized scholar on the layout and design of pre–1801 handpress books.