RESEARCH
Our faculty and students engage in research initiatives designed to answer significant questions in the field of information management. Our research falls into seven overlapping clusters, illustrated below, including information organization/representation and data science.
Read our Faculty Profiles for more details about the research interests of our professors and lecturers.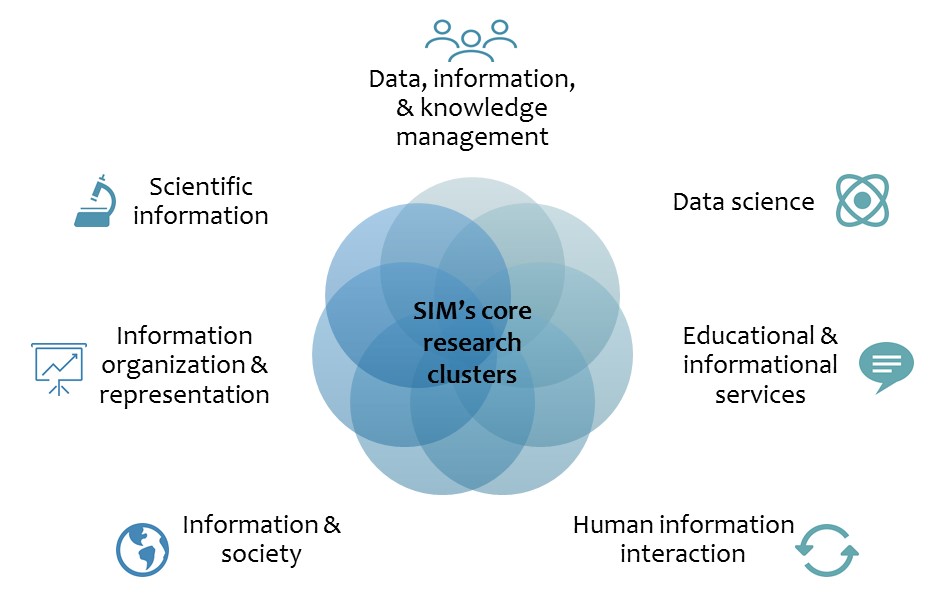 Student Research
MI thesis-option students and Interdisciplinary PhD students undertake theses within our core research clusters. Many of the projects are collaborative efforts between DIS and other departments inside the Faculty of Management and beyond. There are also opportunities for MI students to explore our core research clusters through reading courses or as research assistants.
Explore:
Research Clusters
Data, information and knowledge management including cloud computing; collaboration; data management; digital preservation; information management; information systems; knowledge management; privacy (collection, use, disclosure, security, destruction of information); records management; research data management; health program evaluation, open data.
Data science including big data; big data analytics; big data management; big data processing; citation analysis; cloud computing; cloud computing at scale; computational social science; empirical innovation studies; ethics; natural language processing; network analysis; personal information security; digital forensics.
Educational and informational services including children's services; collaboration; collections development; community engagement; community-led services; data literacy; information literacy instruction; pleasure reading; readers' advisory services; reading and literacy; young adult services; mediated information searching; scholarship of teaching and learning.
Human information interaction including accidental information acquisition; e-learning; geographic information behavior and use; group/collaborative information interactions; human-computer interaction; individual differences; information needs and behaviours; mobile interface theory; online catalog retrieval systems (pleasure reading); organizational learning; perceptions of internet-based technology; privacy; serendipity; social media; user engagement; web-based discovery systems.
Information and society including books for children and teens; business history; digital governance; ethics; geographic information identity; information governance; information policy; information society; informed civic engagement; innovation; knowledge systems; labour history; literature and film studies; print culture; privacy; privacy policy; publishing industry and its history; social media.
Information organization and representation including archival description; cataloguing; classification; data visualization; folksonomies; geographic information systems; geographic representation; images as information; information architecture; information systems; information visualization; knowledge organization; metadata; network science; organization of information; privacy; social tagging; taxonomies; thesauri; archival appraisal, archival outreach, health policy and procedure; information system implementation and evaluation.
Scientific information including environment management; fisheries management; grey literature; information networks; information use and influence; integrated coastal and oceans management; marine and oceans issues; marine governance; oceans data management; patent informatics; privacy in research and science; public policy and decision making; science-policy interface; scientific information portals; scientometrics; state of environment reporting; information in decision making; ontologies.