Series: Information Management Public Lectures
The Information Management Public Lectures give attention to exciting advances in research and professional practice. The topics are diverse reflecting the importance and global extent of Information Management in today's society. The lectures are free of charge and open to all, unless otherwise stated.
Lectures are arranged in reverse chronological order. 
Lecture recordings can be found on our YouTube channel. Live streaming is currently not available.
2019-2020 Lectures
FALL 2019
Problematic Publishing: The predatory, the deceptive, and the just plain bad (Melissa Rothfus)
Melissa Rothfus
Dalhousie University
Lecture Details
Wednesday, October 31st, 2019
1:00pm
Room 3089, Kenneth C. Rowe Management Building
6100 University Ave
Abstract: The academic community is increasingly aware of the problem of "predatory publishing" – few published authors have been spared SPAM emails from unscrupulous publishers soliciting contributions to their low-quality journals. Checklists and guidelines for ensuring the legitimacy of a journal abound; and while these provide valuable advice, they may also give a false sense of security. Between unassailable integrity and outright villainy is a grey zone of journals with poor or inconsistent quality control, difficult to distinguish from those more rigorous. Sometimes deceptive, sometimes simply bad, they pose a serious threat to the integrity of scholarly communications.
Academic Libraries and the Digital Culture: How should we be preparing for the future? (Guylaine Beaudry)
Guylaine Beaudry


Concordia University
Lecture Details
Wednesday, November 27th, 2019
4:00pm
Room 3089, Kenneth C. Rowe Management Building
Reception with light refreshments to follow.
Co-sponsored by Dalhousie Libraries
Bio: Guylaine Beaudry is Vice-Provost, Digital Strategy and University Librarian at Concordia University (Montreal). She led the major renovation of the Webster Library and the transformation of the chapel of the Grey Nuns motherhouse into a reading room. Since August 2017, she has been leading the university-wide digital strategy. She was previously Executive Director of Érudit (www.erudit.org), a publishing platform for humanities and social sciences scholarly books and journals. She wrote many publications on scholarly publishing, notably, the books La communication scientifique et le numérique, (Hermès/Lavoisier, Paris), Le nouveau monde numérique et les revues scientifiques (Les Presses de l'Université de Montréal (PUM) and La Découverte, Paris, France), that was translated and published by University of Calgary Press (Scholarly Journals in the New Digital World) and Profession : bibliothécaire (PUM). She was recently elected member of the Royal Society of Canada and served in 2014 on its Expert Panel on the status and future of libraries and archives in Canada. She holds a doctorate in history of the book from École pratique des hautes études (Paris). Her thesis is entitled "Scholarly communications and the digital revolution: Analysis of a mutation period from a historical perspective".
WINTER 2020
Dalhousie-Horrocks National Leadership Lecture: After 50 years of Information Management @Dal – what's to come in the next 50? (Leslie Weir)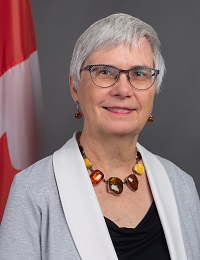 Leslie Weir
Library & Archives Canada
Lecture Details
Tuesday, January 14th, 2020
5:30-7:30pm
Room 1011, Kenneth C. Rowe Management Building
6200 University Ave
RSVP via Eventbrite by January 10th.
Abstract: Dalhousie University's School of Information Management will celebrate 50 years of education and innovation this year. Leslie Weir, Librarian and Archivist of Canada, will share her thoughts on important elements needed to achieve success in information science more especially in our increasingly fast-paced, digital world. Leslie will speak to the importance of robust and trustworthy memory institutions, such as libraries, and will discuss the importance of building strong relationships with key partners as critical when addressing common challenges, and continuing to thrive in the digital era. There will be time for discussion and questions afterwards.
Bio: Leslie Weir became the Librarian and Archivist of Canada on August 30, 2019. Before coming to Library and Archives Canada, Ms. Weir was the University librarian at the University of Ottawa from 2003 to 2018. During her tenure as University Librarian, she founded the School of Information Studies in the Faculty of Arts at the University of Ottawa, and was cross-appointed as a professor. Prior to her arrival at the university, Ms. Weir held positions at the National Library of Canada and the Statistics Canada Library. She holds a Masters in Library Science from McGill University and a Bachelor of Arts (Canadian History) from Concordia University.
Ms. Weir has guided many transformative moments at the Canadian Research Knowledge Network and research libraries in Canada. She is one of the founding architects of Scholars Portal, the state-of-the-art research infrastructure in Ontario universities that brings together information resources and services in support of research and learning, and served as Chair of the Ontario Council of University Libraries from 2010 to 2012. Ms. Weir served as President of Canadiana.org, where she oversaw the introduction of the Heritage Project, in collaboration with Library and Archives Canada, to digitize and make openly accessible some 60 million Heritage archival images. She also served as President of the Canadian Association of Research Libraries from 2007 to 2009 and the Ontario Library Association in 2017.
Over the course of her career, Ms. Weir's vision, dedication, and outstanding service have been recognized with numerous awards including the CLA/Ken Haycock Award for Promoting Librarianship in 2015, the Ron MacDonald Distinguished Service Award from the Canadian Research Knowledge Network (CRKN) in 2016, and, in 2018, the Ontario Council of University Libraries Lifetime Achievement Award and the Canadian Association of Research Libraries award for Distinguished Service to Research Librarianship.