2016‑2017 Lectures
FALL 2016
Complex Innovation & the Patent System (Ryan Whalen)
Ryan Whalen
School of Information Management, Dalhousie University
Lecture Details
Thursday, September 22nd, 2016
5:35-6:35pm *embedded in the class INFO 5500: Information in Society
Room 1011, Kenneth C. Rowe Management Building, 6100 University Avenue
Abstract: As the universe of available information becomes larger and innovation becomes more complex, the task of examining patent applications becomes increasingly difficult. This project demonstrates that the United States Patent Office has insufficiently responded to changes in the information universe and to innovation norms, leaving the Patent Office less able to adequately assess patent applications, and more likely to grant bad patents.
After first demonstrating how innovation has been responsive to contemporary innovation norms for hundreds of years, this project uses information and data science methods to empirically demonstrate how innovation has drastically changed in recent decades. After empirically demonstrating the changed innovation system and the inadequate response to these changes by the Patent Office, this presentation concludes with policy prescriptions aimed to help the Patent Office implement examination procedures adequate to assess 21st century innovation. These prescriptions include more granular crediting for the time spent by examiners assessing applications, an increased focus on teamwork at the Patent Office, improvements to the inter partes review process, and alterations to the analogous art doctrine.
Biography: Ryan Whalen is a faculty member of Dalhousie University's School of Information Management. His research focuses on innovation policy, intellectual property law, and computational social science. He holds a JD from Northwestern University Pritzker School of Law, and a PhD in Media, Technology, and Society from Northwestern University.
Implementing Technology in Archives & Libraries (Evelyn McLellan)
Evelyn McLellan
President, Artefactual Systems (BC)
Lecture Details
Wednesday, September 28th, 2016
3:30-5:00pm
University Hall, MacDonald Building, 6300 Coburg Road
Presented in partnership with Dalhousie Libraries, as part of the Digital Preservation Management Workshop.
Abstract: The last decade or so has seen an explosion in the number of software tools and services designed to assist archives and libraries to preserve digital content and make it available online. Some institutions have been drivers of this change; some have been gradually drawn in as funders and implementers; and some have lagged behind, as yet unable to take advantage of new technologies to achieve their mandates to acquire, preserve and present digital content. What are some of the barriers to implementing new technologies, and how have institutions successfully overcome these barriers? And how well do existing tools and services meet institutional needs anyway? This lecture will draw on the experiences of the presenter, who has spent the last eight years working with institutions as they have attempted (both successfully and unsuccessfully) to launch digital preservation programs.
Biography: Evelyn is responsible for directing Artefactual's business operations and strategy. She also works as a senior systems analyst on Artefactual's development and client projects. Evelyn is a graduate of the University of British Columbia's Master of Archival Studies program (1997) and, prior to joining Artefactual, had over 10 years experience as an archivist and records manager at a number of organizations including the City of Vancouver Archives and the Insurance Corporation of British Columbia. Evelyn has been with Artefactual since 2008, working as the first AtoM Community Product Manager, then as the Archivematica Product Manager, then assuming responsibility for managing Artefactual's implementation and digital preservation strategy projects. In September 2013 she took on the role of President when Peter Van Garderen stepped aside to work full-time on archives systems research.
Understanding the Complexity of Fisheries Information Use at the Science-Policy Interface (Suzuette Soomai)
Suzuette Soomai
School of Information Management, Dalhousie University
Lecture Details
Thursday, October 6th, 2016
5:35-6:35pm *embedded in the class INFO 5500: Information in Society
Room 1011, Kenneth C. Rowe Management Building, 6100 University Avenue
Abstract: The factors influencing scientific communication are contingent on the characteristics of the many dynamic and iterative science-policy interfaces among decision-makers, scientists, and other stakeholders as revealed in case studies of the Canada Department of Fisheries and Oceans (DFO), Northwest Atlantic Fisheries Organization (NAFO), and the Food and Agriculture Organization of the United Nations (FAO). This talk presents the important drivers to information production and the key enablers and barriers to communication based on direct observations at the organizations' meetings coupled with interviews of fisheries scientists and managers. Unique features of decision-making and information use enable the production of credible, relevant, and legitimate information in each organization, including trade-offs in these attributes to support fisheries governance objectives. Understanding the interface can equip the organizations to evaluate or modify practices to increase the uptake of their information in decision-making and enable stakeholders to determine their most appropriate entry point in a decision-making process.
Biography: Dr. Suzuette S. Soomai is a Postdoctoral Fellow with the Environmental Information: Use and Influence (EIUI) research program at Dalhousie University. Her interdisciplinary research focuses on the role of scientific information—produced by fisheries management organizations— in policy- and decision-making for marine fisheries management. She holds an Interdisciplinary PhD and a Master in Marine Management (MMM) from Dalhousie University. She also holds a Master of Philosophy (MPhil) in Zoology and a BSc (Hons) from the University of the West Indies.
Dr. Soomai has considerable experience in fisheries resource assessment and management as she was a government fisheries scientist in Trinidad and Tobago. She has worked closely with commercial/large-scale and small-scale fishers in the Caribbean as well as regional an international fisheries management organizations in a range of research activities including fish stock assessments, freshwater aquaculture farming, and at-sea testing of marine bycatch reduction gear technologies.
Evidence and Public Engagement in Conservation Planning: UK and Global Biodiversity Examples (Elizabeth De Santo/Lea Senft)

Elizabeth De Santo & Lea Senft
Franklin & Marshall College (Pennsylvania)
Lecture Details
Thursday, October 20th, 2016
11:45am-12:45pm
Room 3089, Kenneth C. Rowe Management Building, 6100 University Avenue
Presented by the School of Information Management, the Environmental Information: Use and Influence research program, and the MacEachen Institute for Public Policy and Governance
How can stakeholders inform public policy? With increasing attention being given to evidence-based decision making, at least in Canadian political rhetoric over the past year, what can be learned from recent experience at national and global levels? What role does information fulfil in decision-making processes? In this lecture, two speakers from Franklin & Marshall College in Lancaster, Pennsylvania will draw on their studies to illustrate how stakeholder engagement and information exchange have played out in British and global conservation planning. They will outline recommendations for strengthening the use of information in public policy decisions.

Speaker 1: Elizabeth De Santo, PhD
California Dreaming: Challenges of Implementing Science-Based Marine Protected Area (MPA) Planning Processes in Different Political Contexts
Abstract: In response to direct and indirect pressures on the marine environment posed by increased development and climate change, the international community has been designating networks of marine protected areas (MPAs) and implementing marine spatial planning (MSP) in their exclusive economic zones, including offshore areas. This lecture critically assesses the role of evidence in marine conservation planning in the United Kingdom (UK), a process that drew heavily on the example set by California's Marine Life Protection Act (MLPA) planning process. Whereas the role of a science advisory panel played a constructive role and facilitated MPA planning in the Californian context, the outcome in the UK was quite different; evidence became a sticking point hampering the process. The actual designation of sites in the UK has been slower than expected, and none of the Reference Areas (e.g., no-take MPAs) recommended by stakeholder-led consultations have been implemented. Drawing on examples from the United States, Australia, and the UK, I will provide recommendations for effective science-led marine conservation planning.
Biography: Elizabeth De Santo is Assistant Professor of Environmental Studies at Franklin & Marshall College, in the Department of Earth and Environment. Her teaching and research focus on marine conservation and environmental governance, critically examining: (1) the efficacy of spatial approaches to conserving marine species and habitats, and (2) the science-policy interface in environmental decision-making. She is particularly interested in the challenges of effectively implementing Marine Protected Areas and biodiversity conservation worldwide. Prior to joining Franklin & Marshall College, she was a faculty member in the Marine Affairs Program at Dalhousie University. She has also held positions with the International Union for Conservation of Nature (IUCN) and the World Environment Center, consultancies with the Office of the Auditor General of Canada and the Institute for European Environmental Policy, and she is a member of the IUCN World Commission on Environmental Law.

Speaker #2: Lea Senft
A Critical Examination of the Intergovernmental Science-Policy Platform on Biodiversity and Ecosystem Services (IPBES): Improving Mechanisms for Stakeholder Engagement
Abstract: In this talk, I will critically examine mechanisms for stakeholder engagement within the Intergovernmental Science-Policy Platform on Biodiversity and Ecosystem Services (IPBES), recently established within the Convention on Biological Diversity. Tying ecosystem services to this platform is not only vital for biodiversity conservation, but also depends upon good stakeholder engagement, as well as effective global assessments. Further, this project explores lessons learned from the Intergovernmental Panel on Climate Change (IPCC), under the UN Framework Convention on Climate Change. In particular, the IPCC's strengths and weaknesses are examined in order to derive how IPBES can improve its approach, including stakeholder engagement. I have found that stakeholder engagement is at the early stages for IPBES, however, the organization is taking the necessary steps toward improvement. I have also seen that ecosystem services are at the forefront for IPBES, and its regional assessment plan provides more influential data for future conservation initiatives. In this talk, I will provide recommendations about areas in which IPBES can improve, drawing on the experience of the IPCC, and providing an in depth assessment of where IPBES needs to go to provide crucial conservation data.
Biography: Lea Senft is a senior undergraduate student, pursuing a Joint Major in Environmental Studies and Public Policy at Franklin & Marshall College, Lancaster, Pennsylvania. She is in her second year of independent study with Elizabeth De Santo, and has completed coursework in both American and global environmental policy.
Comparing Field Data Collection with Commercial Datasets in Mapping Urban Areas (Mathew Novak)
Mathew Novak
Saint Mary's University
Lecture Details
Thursday, November 3rd, 2016
5:35-6:35pm *embedded in the class INFO 5500: Information in Society
Room 1011, Kenneth C. Rowe Management Building, 6100 University Avenue
Abstract: A wealth of data is needed to properly understand and manage the complexity of urban areas. Using Halifax as a case study, this talk examines the benefits and issues of securing data on urban retailing from commercial providers or collecting the data through field work using smartphone technology. Attention is paid to smaller, independent stores since many commercial datasets may overlook these establishments. The talk concludes with a discussion of incorporating the data into a Geographic Information System (GIS) for use in managing and analysing the spatial component of the information.
Biography: Mathew Novak is an Assistant Professor in the Dept. of Geography and Environmental Studies at Saint Mary's University. His research focuses on the development of the urban landscape, using Geographic Information Systems (GIS) to map processes and patterns of urban change. Underlying his research is the understanding that the built environment is shaped by and simultaneously a shaper of human activity; the urban landscape can be read as an indicator of human culture and modified to influence activities of its inhabitants. His current research is looking at changes to the inner-city landscape of Halifax, which is experiencing a rash of new condominium developments and reinvention of inner-city retail districts.
In the Readers' Own Words: How User Content in the Catalogue Can Enhance Readers' Advisory Services (Louise Spiteri)
Louise Spiteri
School of Information Management, Dalhousie University
Lecture Details
Thursday, November 24th, 2016
5:35-6:35pm *embedded in the class INFO 5500: Information in Society
Room 1011, Kenneth C. Rowe Management Building, 6100 University Avenue
Abstract: This session will discuss the findings of two studies conducted to explore user-generated content in public library catalogues, and its potential contribution to readers' advisory (RA) services. The session will explore how user content, in the form of tags and reviews, provides a rich data set that connects to traditional RA access points. Further, the session will discuss the creation of three taxonomies for memory, emotion, and mood based on user content, and the use of these taxonomies to enhance discovery and the reading experience.
Biography: Dr. Louise Spiteri is Associate Professor in the School of Information Management, where she teaches courses in the areas of the organization of information, metadata, knowledge management, and records and information management. Dr. Spiteri's research interests include social tagging, folksonomies, web-based discovery systems, and taxonomy design.
WINTER 2017
Learning in Digital Information Spaces: What is the Role of User Engagement? (Heather O'Brien)
Note: This lecture will not be recorded.
Heather O'Brien
University of British Columbia
Lecture Details
Thursday, January 12th, 2017
11:45am-12:45pm
Room 3089, Kenneth C. Rowe Management Building,
6100 University Avenue
Abstract: User engagement, a quality of user experience, is characterized by the depth of an actor's cognitive, temporal and/or emotional investment in an interaction with a digital system. Recent emphasis on user engagement suggests that the need to engage people with and through technology has never been more paramount: failure to do so may result in lost revenue for e-commerce and search engine companies, and access to/engagement with technology may impact social relationships, civic engagement, health, learning, and so forth. Yet there is a lack of empirical evidence linking user engagement with such personal and societal outcomes in information interaction studies. Of particular interest in this research is the outcome of learning: information consumers continuously clarify information needs and goals; interpret, evaluate and analyze information; and incorporate new insights into their existing knowledge base. This talk will report on two studies in online news and reading environments that have examined the relationship between user engagement and learning. These studies demonstrated the challenges with assessing learning in dynamic digital information spaces, the role that content and system characteristics play in fostering engagement and learning, and the need to critically probe the relationship between UE and learning in information interaction.
Biography: Heather O'Brien is an Associate Professor at the iSchool, University of British Columbia, where she teaches and researches in the area of human information interaction. Dr. O'Brien is best known for her work in the area of user engagement with technology, where she has contributed numerous publications, including two recent books, Why Engagement Matters: Cross-Disciplinary Perspectives and Innovations on User Engagement with Digital Media (edited with Paul Cairns, 2016) and Measuring User Engagement (authored with Mounia Lalmas and Elad Yom-Tov, 2014), as well as the User Engagement Scale (UES), an experiential questionnaire that is used internationally to understand digitally mediated user experience. Her current research, supported by the Social Sciences and Humanities Council of Canada and UBC's Hampton Fund, is exploring the intersection of user characteristics (interest, cognitive load, affect, topical and technological expertise), tasks, and learning within exploratory search environments.
Innovative Digital Documentation of Buddhist Monastery Treasures with Smartphones (Ann Shaftel)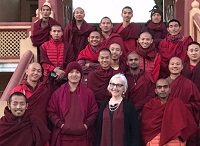 Note: This lecture will not be recorded.
Ann Shaftel
Treasure Caretaker Training
Lecture Details
Wednesday, January 18th, 2017
4:15-5:15pm
*embedded in the class INFO 6150: History of the Book
Room 5001, Kenneth C. Rowe Management Building,
6100 University Avenue
Abstract: Himalayan Buddhist monks and nuns are learning how to document their own monastery treasures…on their smartphones! Digital documentation is a way to protect and preserve monastery treasures from earthquake, theft, fire, flood, political upheaval and other dire threats. Through images of Himalayan monasteries, this talk reveals how the monks and nuns are learning to document, what they are documenting, where, and…why. Documentation in traditional cultures can be met with resistance, and this illustrated lecture presents research into cultural adaptation of collections management procedures in times of threat.
Biography: Ann Shaftel is a Fellow of International Institute of Conservation, a Fellow of American Institute of Conservation, member of Canadian Association of Professional Conservators, and member of ICOM. She is Adjunct Scholar with the Faculty of Graduate Studies, Dalhousie University. Ann works internationally for cultural, governmental, and military sectors, archives, museums, universities, and monasteries. She works hands-on in conservation of paintings and textiles, as well as organizing and teaching educational workshops in conservation. The Treasure Caretaker Training Digital Monastery Project, launched by Ann in 2014, won the Digital Empowerment Foundation and ENorthEast awards for its innovative use of digital technology in cultural heritage preservation. Ann conducts archival and museum assessments internationally.
Beyond Colonialism? Libraries for a Canada We Don't Yet Know (Monique Woroniak)
The 2017 Dalhousie Horrocks National Leadership Lecture
Co-sponsored by Halifax Public Libraries
View our event on Facebook.
Recommended reading: Monique Woroniak's Book List
[PDF-91.8 KB]
Monique Woroniak
Winnipeg Public Library
Lecture Details
Monday, January 23rd, 2017
4:00-6:00pm
Paul O'Regan Hall, Halifax Central Library
5440 Spring Garden Road, Halifax NS
Reception to follow with light refreshments.The Dalhousie-Horrocks National Leadership Award will also be presented at this event, to MLIS student Domenic Rosati.
Abstract: Reconciliation. Relationships. Restitution. All three are on the minds of public institutions following the release of the Truth and Reconciliation Commission of Canada's Calls to Action. But where and how to begin? As institutions that support learning, libraries are uniquely suited to engage with—and model—responsible practices that take direction from Indigenous peoples, both locally and nationally. A leader in the area of library services with Indigenous peoples, Monique Woroniak will consider how libraries can best position themselves to be relevant for a country reconsidering its foundations.
Biography: A SIM grad (MLIS '08) and a public librarian, Monique Woroniak writes and is a frequent presenter in the areas of community development and anti-racist approaches to service delivery—specifically, the ways organizations can responsibly support and learn from Indigenous voices. She has played a central role in advancing Indigenous–focused services at Winnipeg Public Library. Recently, she was nominated to serve on the Truth and Reconciliation Committee of the Canadian Federation of Library Associations.
In 2015 Monique co-founded groundworkforchange.org, a website designed to educate non-Indigenous peoples about Indigenous-related topics and help build relationships rooted in solidarity and justice. The site has been shared widely across the country.
In 2016 she received the Honouring Our Allies Award from the Aboriginal Circle of Educators for both her work in libraries and in the community. She is a recipient of a Manitoba Library Service Award for her work on the Manitoba Library Association's Prison Libraries Committee and is a front-line volunteer providing service at the Provincial Remand Centre in Winnipeg.
Her work on groundworkforchange.org and her thoughts on the challenges and potential of ally relationships were featured nationally on the CBC Radio program Unreserved with Rosanna Deerchild. In 2016 she received a CBC Manitoba Future 40 Award that recognized her as one of "the province's next generation of leaders, builders, and change-makers under the age of 40."
(Photo credit: Aaron Pierre)
Setting the Sights on the Cities: Civilian Aerial Surveys in Canada during the Early 1920s (Dirk Werle)
Co-sponsored by the School for Resource and Environmental Studies & the School of Planning (Dalhousie)
Dirk Werle
Ærde Environmental Research
Lecture Details
Tuesday, February 7th, 2017
12:00-1:00pm
Room 3089, Kenneth C. Rowe Management Building,
6100 University Avenue
Abstract: This talk will examine and illustrate the civilian development and practical results of aerial photography in Canada immediately after the First World War (1914-1918). The collections of vertical air photos and their assembly in mosaic form, as well as the institutional arrangements of their creation under the Canada Air Board until 1925, represent an important part of Canada's remote sensing and mapping heritage. Re-purposing military aerial reconnaissance for civilian applications took similar pathways in the United States, the United Kingdom and France by focusing on urban settings. The study uses as primary evidence the actual air photos and digitally re-assembled photo mosaics of several Canadian cities to reveal nature and spatial extent of urban landscape features prevalent at the time. The study also explores relationships to the present-day situation and to previous mapping efforts in Halifax. Urban surveys carried out over Ottawa, Halifax, London, Calgary and Edmonton are highlighted. Annotated air photo mosaics are presented. It is argued that evolving format and detailed content of the largely experimental photography and mosaic compositions have retained significant scientific, heritage and educational value for comparative investigations involving more recent geospatial data and high-resolution satellite imagery of similar scale.
Biography: Dirk Werle graduated from McGill University in 1984. He taught air photo interpretation and environmental remote sensing at several universities in Germany and Canada during the 1980s and early 1990s. Over the past three decades he has contributed as a researcher, lecturer and advisor to the Canadian RADARSAT and related Earth observation satellite programs, working on environmental monitoring and resource analysis issues. He served as president and officer of the Canadian Remote Sensing Society for several years; he is a senior member of the International Geoscience and Remote Sensing Society and currently chairs the Board of the IOI-Canada Association of the International Oceans Institute, an NGO located in Halifax and in Malta. His current research interest is focussed on the technical evolution, institutional arrangements and practical adaptation of the modern "view from above."
Citation Analysis as a Tool for Collection Management and Development (Ken Field)

Due to technical issues, this lecture was not recorded.
Ken Field
Trent University
Lecture Details
Monday, March 6th, 2017
9:00-10:00am
Room 1016, Kenneth C. Rowe Management Building
6100 University Avenue
*embedded in the class INFO 6540: Data Management
Abstract: This presentation will begin with a review of what has brought libraries to this point in serials acquisition history and how the current state of things affects serials collection management decisions. This will be followed by an overview of the current state of affairs in serials management at Trent University and a description of the use of citation analysis, along with other tools, in the aid of making better informed decisions about serials management.
Biography: Ken has worked at Trent University for the past 28 years occupying roles as a serials cataloguer, serials librarian, access services librarian, and is currently the head of Trent's first branch library on its Durham Campus in Oshawa, Ontario, and the University's Copyright Officer. He obtained a BMusEd from Dalhousie in 1980, a Master of Library and Information Science from UBC in 1984, and a Graduate Professional Certificate in Library Sector Leadership from the University of Victoria in 2011.In addition to his work in the Library, he was Principal of Lady Eaton College, one of Trent's five residential colleges, from 1996 to 2000, and was Acting Head of the Durham Campus in 2012/13.
During his sabbatical year, he will be undertaking a citation analysis of publications of Trent Humanities and Social Sciences faculty for a 2 or 3 year period in order to gain a better understanding of the types and sources of the resources that faculty have been using in their research. The goal is to provide the Library with a better sense of whether the resources it collects and makes accessible are meeting the research needs of the faculty. He will also continue to actively monitor developments in copyright, both nationally and internationally, and provide advice and guidance to the Trent University community on how any changes may effect the application of copyright law to community practices.