News
»
Go to news main
Expanding the Experience champions: Greg Hebb
Posted by
Nicole Maunsell
on January 24, 2018 in
News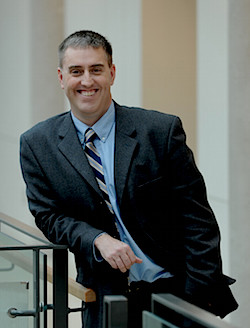 Over the next five years, the Faculty of Management will be looking for more ways to support students, faculty and staff who want to teach and learn internationally.
It's part of the Expanding the Experience strategic plan, which includes a focus on building international partnerships and providing opportunities for intercultural learning. Greg Hebb, the champion for strategic pillar 2.1, describes it as "exposing us to different ways of thinking, different ways to approach problems."
Dr. Hebb has always been interested in international perspectives, which is why he was director of the Centre for International Trade and Transportation from 2006 to 2008. "When we look at issues internationally it can prevent us from reinventing the wheel," he says, giving his research on bank deregulation as an example. He looked at what had happened in Canada and the United Kingdom to see what could be learned from them in his research on deregulation in the United States.
Internationalization, he explains, is about people from the Faculty going out into the world to learn (as opposed to internationalizing, which is about bringing faculty and students here). "We are well poised to do it," he says. "We have a lot that we're already doing in the faculty. Being in a port city, Dalhousie is well located, and there's been an increased focus on immigration to the province. Internationalization is key to the faculty, the region and beyond."
Dr. Hebb will be surveying a group of like-minded people in the Faculty who want to focus on this area. He'll also be looking for ways to get student feedback. "One of the first things I want to do is find out what we as a Faculty think internationalization is. What do we mean when say we want to increase internationalization?"
One thing that he's already seen is enthusiasm for faculty exchanges, where professors from Dal will have a chance to teach and do research in other countries, while we will host international faculty here. Dr. Hebb travelled with Florence Tarrant and Katie Haigh to the Netherlands in early 2018 to sign Dal Management's first faculty exchange agreement with Arnhem University, and he hopes to see more agreements follow. He plans to capitalize on the Rowe School's already strong student exchange program, which has 15 partner schools in 10 countries, but has room to grow.
He's also charged with exploring ways to deliver our programming in countries around the world. The Centre for Advanced Management Education signed an MOU with the MYRA School of Business in Mysore, India, for a partnership that allows students to spend their first year of MBA studies at MYRA and their second at Dalhousie to complete the degree. They are exploring a partnership with a university in Vietnam for the MPAM program. "There's potential here for all four of our schools," Dr. Hebb says, pointing out that each school already has faculty with international connections.  
Dr. Hebb plans to leverage our existing partnerships as well. "We have a strong relationship with Tel Aviv University through the Israel Exchange Program," he says, recalling his visit there while he was director of the Rowe School. "Israel is the nation of startups. We could tie them into our new focus on innovation and entrepreneurship. The foundation is already there."
There is a lot of work ahead, but Hebb thinks that not only will it be worth it, it will be necessary for any management school to remain relevant. "Any school that doesn't do this is going to be left behind," he says. "It's an area I'm passionate about, that I believe in. I gained a lot of experience as the Rowe School director, inside and outside the university. I can use that to benefit the whole faculty."