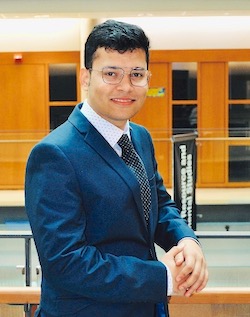 Himanshu Kumar is a fourth-year Bachelor of Commerce student. He chose Dalhousie for the university's international recognition, and the Commerce program because of the mandatory co-op. Through his three co-op terms, Himanshu was able to experience different jobs and figure out his passion and interests.
Through the classes in the Commerce program, Himanshu had the chance to explore many areas of business such as finance, HR and operations. His favourite course so far is Management Skills Development, which helped Himanshu prepare to do well in a team setting and learn important managerial and people skills.
Himanshu's first co-op term was at Dalhousie where he worked in marketing promotion, then he worked at software firm Proposify as part of the product marketing team, and his final co-op was with the Government of Nova Scotia as a program and events coordinator. After graduation, Himanshu will be joining Marsh McLennan's graduate trainee program in Calgary.
One of the most important lessons Himanshu learned during his co-op was to be proactive. He leveraged his spare time during his co-ops to learn as much as possible. He would reach out to different teams to see how he could assist them with their work. This helped him learn as much as possible about his co-op companies, their industries and various roles within the companies.
Himanshu's favourite spot in Halifax is Point Pleasant Park. It is a great place to get some fresh ideas and Himanshu finds the sound of the waves and the cold air very calming. His recommendation for the best study spot is the Wallace McCain Learning Commons. The building is open, quiet but still lively and Himanshu always enjoys his time there.
One of Himanshu's hobbies is preparing Indian cuisine. His mom provided him with several recipes that he makes regularly. He finds it a great way to unwind and feel close to home.
Himanshu's advice for incoming and current students is to get involved as much as you can and use the resources the campus has to offer; MCS, DCS and UAO are the best places to go for help. Himanshu believes extracurricular activities are as important as getting good grades; they give students the opportunity to make friends, learn about different cultures and have fun.