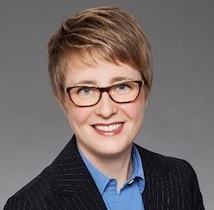 Where are you from? What did you do before coming to Dalhousie?
I am from a small town called Rudyard in Michigan, U.S.A. – near the Canadian border and Sault Ste. Marie, ON. Before joining Dal, I was an assistant professor at the University of Nevada, Reno, for four years.
What drew you to the Rowe School and Dalhousie?
I was really drawn to the research reputation of the university as well as its focus on healthy workplaces (something that was profiled as I was doing my research on the school while applying). My partner and I had been talking about moving to Canada for some time, and Halifax and Nova Scotia's nature and recreation opportunities were a definite draw as well.
What's something about your field that you're excited to share with students? 
I teach Organizational Behaviour across programs in Rowe, and the mix of theoretical rigour and applied relevance is an important feature in my courses. I emphasize the value of an evidence-based approach to organizational behaviour (i.e., how can we use research and data to guide management practices) with personal reflections to demonstrate how topics such as personality, social identity, diversity, motivation and so on show up in students' lives. 
What are your research and teaching interests?
I study interpersonal processes at work – largely focused on understanding how social interactions influence the performance, well-being and inclusion of diverse and marginalized employees. These interactions may be positive (helping behaviour, supervisor support, organizational support) or negative (incivility, sexual harassment, ostracism). My goal is to help individuals and organizations minimize the ways that bias seeps into their everyday interactions, while providing supportive environments that foster feelings of belongingness and inclusion. I'm lucky to be able to teach about these very topics in my courses on Organizational Behaviour – and make a point to bring my research findings to the classroom.
Tell us about something you're proud of accomplishing.
I recently published a piece in Harvard Business Review. I routinely assign HBR articles to my students and the journal is read by executives, leaders and workers around the globe. I was thrilled to be able to contribute my research findings and insights around topics of incivility, inclusion and remote work. 
What's something your colleagues might be surprised to learn about you? 
I was raised on a bison ranch and spent most of my summers cutting hay. I still try to get back to the hayfields for at least a bit every summer.