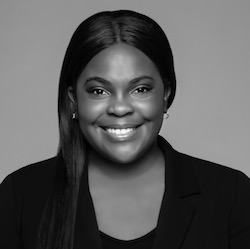 Isioma Oye-Onwuka is a first-year student in our Corporate Residency MBA program. Isioma chose Dalhousie for her MBA because her sister is attending St. Francis Xavier University and Isioma was looking at metropolitan areas in Canada. Halifax felt like the right size and with her sister being close, and the reputation of Dalhousie and the MBA, it was the best option. So far, Isioma's favourite MBA course is Leveraging Technology because she is interested in technology and how it interconnects with business. The focus of the course is how to use technology to make businesses better.
For her eight-month corporate residency Isioma is working at Sandpiper Ventures as a Business Development and Operations Intern. Sandpiper is a venture capital firm in Halifax focused on female-founded companies. The company is a small team of people so Isioma has been able to gain experience in several different parts of the company.
One of Isioma's hobbies is podcasting. She has two podcasts: one is called Introspection and it is a longer-format podcast where Isioma talks about random topics with the idea of looking within yourself and how you relate to the world. The second podcast (https://anchor.fm/deargodbyisi) is called Dear God and is centred on letters Isioma has written to God, which she uses a calming exercise.
Isioma's advice for incoming MBA students is to work on developing confidence in yourself. Regardless of your academic or professional background before entering the program, each student will be adding value to the classroom. With that confidence, students will be able to make the most of the program through learning new skills and concepts, and by networking. Her other piece of advice is to be open to feedback. It is important to acknowledge when people share what they think about you in a positive way because other people see a different version of who they think you are, which gives you a new perspective on yourself.