Kayler Mutyabule learned to be adaptable from a young age. She moved to Halifax from Kampala, Uganda, to go to high school when she was in grade nine. She had to adjust not only to the cold weather (she arrived in January), but also to being away from her family, and to some of the cultural differences in Canada. At her high school, she was one of a few Black students in the entire school. "Getting used to standing out was new to me," she says, noting that her abilities were often questioned.
Deciding on her path
She decided to take the Commerce Co-op program at Dalhousie because she liked the many options she saw. "You could end up anywhere," she says. "I felt like I could tap into skills that were already growing." After trying to decide between several different majors, she talked to an academic advisor and found out that a certificate could supplement her knowledge. Choosing a certificate in Marketing Management helped her land on the Supply Chain and Logistics Management major.
The major, one of just a few in Canada, was created in 2016 in response to feedback from Dalhousie's employer partners, who were looking for co-op students and graduates with industry-specific skills.  Graduates are equipped to make efficient managerial decisions that are values-based and sustainable everywhere in the supply chain—from procurement and production to the final delivery of goods and services.
"I was drawn to the intricate details of what you don't see behind a business, getting to see the complex matrix of things go from A to B," says Kayler. She sees the supply chain as the root of all business and appreciates that the program prepares students to build supply chains that will be responsive to things like pandemics, political shifts and climate change. "Our professors were adamant about teaching us about supply chain sustainability. I think it's important to adapt and learn skills that are going to shift the way that we do business."
Helping everyone feel seen

Kayler became something of an ambassador for the emerging major. Because she knows how important it is for students to be able to see themselves represented when making decisions about what to study, she jumped at the chance to get involved with Dal Chain, a new student society started by fellow student Bethany Abramovitch.  
Kayler and Bethany, along with Shelby Clifford, who joined at the same time, organized panels, résumé-writing workshops and other events that helped students learn about the industry from professionals and fourth-year students. They worked hard to make their speaker lineups diverse and help all students feel welcome. "At every meeting this past semester, you could see students from all walks of life and from different parts of the world. That made us really proud. Everyone could feel seen."
What she brings to the table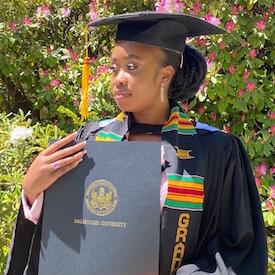 Through her co-op work terms, Kayler was exposed to several different career options. She worked as a strategy and research assistant at Nova Scotia Business Inc., creating trade market intelligence reports and learning about the variety of industries that Nova Scotia supports. Through a connection, she was offered a co-op term at Planetary Technologies, a Dartmouth-based climate tech company founded in 2019 that is working to sequester carbon from the atmosphere.
Along the way, Kayler sought out community and mentors, finding other Black students at Dalhousie even when there were only one or two others in her classes, meeting women in business, and finding supportive professors and employers. She chose to create her own narrative to counter the one projected onto her. "My difference is a reason to walk into a room and feel confidence," she says now. I'm proud that I'm Black. Learning to shift my mind frame and how I saw those differences was important."
Now that she's graduated, Kayler isn't slowing down. She's continuing to develop her entrepreneurial skills by starting a balloon arts business with her sisters, Karen and Krystal, where they enhance spaces with their decorative touch. She's taking time for some things she couldn't do as a student, like learning to crochet. Kayler's starting her job search, looking to connect with fellow alumni and applying for her post-graduate work permit. She doesn't know exactly what her career will look like, but she knows she has options. "I know my skills and I know what I can I bring to the table," she says. "Which table to place them at is what I'm trying to figure out now."