Choosing a program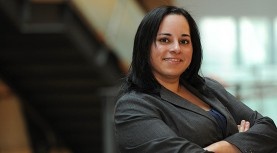 Regardless of which degree or program you're interested in pursuing, our Academic Advising team is happy to answer your questions.
Management News from Dal News
"Going Public": Dalhousie MPA grads use their degree to make a difference
A new video produced for Dalhousie's 200th anniversary showcases how graduates of the Master of Public Administration program (MPA) have been contributing to and shaping Canada's public service.

Who do you trust?
Researchers in Dal's Faculty of Management have published Canada's first "Social License to Operate" report, exploring what Canadians think about the ethical practices and trustworthiness of businesses and government organizations.

Underwater insights
One of the world's most accomplished deep-sea divers, Jill Heinerth, dropped by Dal this month to share stories from some of her most challenging expeditions in the Arctic and around the world.

View more Dal News
Exclusive accreditation
We're accredited by the Association to Advance Collegiate Schools of Business – an accolade awarded to only 5% of the world's business schools.