Choosing a program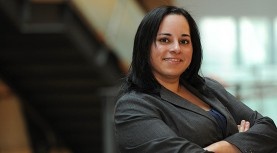 Regardless of which degree or program you're interested in pursuing, our Academic Advising team is happy to answer your questions.
Management News from Dal News
Innovating to a degree
Hayam Mahmoud-Ahmed is helping develop a device to retrain muscles in individuals who've experienced a stroke. It's not what you might expect from a Neuroscience and Computer Science student — but it makes perfect sense as part of her journey into entrepreneurship.

Right where she needs to be
Commerce student Adeline Urban's path to Dal involved a journey across the country. Now that she's arrived, her journey has become one of discovery — of her history, her heritage and herself.

The Conversation: Why you shouldn't be a 'straw‑man' environmentalist
Fast-food restaurants and coffee shops are banishing the straw. While it may seem like a small measure, your pessimism isn't justified, write Dal researchers Riley Schnurr and Tony Walker.

View more Dal News
Exclusive accreditation
We're accredited by the Association to Advance Collegiate Schools of Business – an accolade awarded to only 5% of the world's business schools.