Choosing a program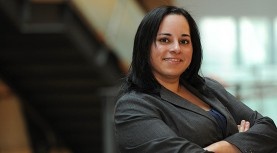 Regardless of which degree or program you're interested in pursuing, our Academic Advising team is happy to answer your questions.
Management News from Dal News
New president's awards recognize research achievement
Get to know the inaugural recipients of the new President's Research Excellence Awards, which celebrate both early-career reseachers and substantial research impact.

Creating a living legacy: 200 trees for 200 years
For the university's 200th anniversary, Dal Management students, alumni, faculty, staff and friends gathered together with shovels and seedlings to plant 200 trees across the Halifax's campuses.

Founding a business, finding herself
Vanessa Hamkens decided to study Commerce because she thought it could open the most doors. But it wasn't until her courses in marketing inspired the creation of Me Before You Clothing Co. that she truly knew where she was headed.

View more Dal News
Exclusive accreditation
We're accredited by the Association to Advance Collegiate Schools of Business – an accolade awarded to only 5% of the world's business schools.