Choosing a program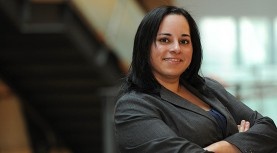 Regardless of which degree or program you're interested in pursuing, our Academic Advising team is happy to answer your questions.
Management News from Dal News
Getting back in good standing
Commerce students Sam Brown and Josh Dias know what it's like to lose your way a bit at university. But thanks to the Refining Your Learning Skills for Academically Dismissed Students program, they're back in class with a renewed focus.

The courage and resilience to move forward
Lieutenant-General Roméo Dallaire has been named the seventh recipient of the Dalhousie Faculty of Management's Scotiabank Ethical Leadership Award, which honours Canadians who exemplify exceptional qualities of character, courage and adherence to ethical principles.

Innovating to a degree
Hayam Mahmoud-Ahmed is helping develop a device to retrain muscles in individuals who've experienced a stroke. It's not what you might expect from a Neuroscience and Computer Science student — but it makes perfect sense as part of her journey into entrepreneurship.

View more Dal News
Exclusive accreditation
We're accredited by the Association to Advance Collegiate Schools of Business – an accolade awarded to only 5% of the world's business schools.