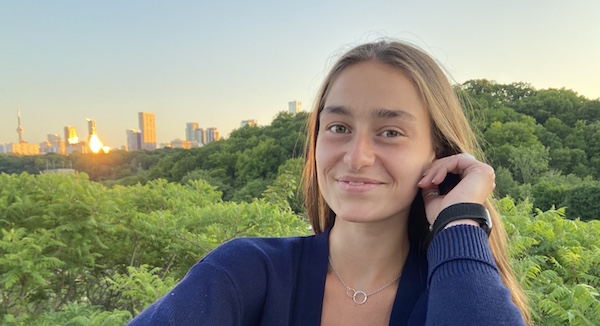 Francesca Hawkes is graduating this June from the Corporate Residency MBA program. She grew up in Toronto but spent her four years of undergrad in Halifax, studying marine biology at Dalhousie. She has always been passionate about the natural world, particularly the ocean.  
A passion for sustainability
Francesca chose the CRMBA program with the intent of pursuing a career in sustainability and climate change consulting post-graduation. She learned a lot during her undergrad about how climate change is affecting the oceans and the environment, and how people need to push toward renewable energy sources and sustainable business models and practices. She knew she had passion and scientific knowledge and understanding, but recognized she also needed business acumen to successfully inspire and implement change in corporations. She was attracted to how the CRMBA at Dalhousie brings together a variety of people with diverse experiences, both educational and personal.
Francesca did her eight-month corporate residency at the Deloitte Greenhouse, which is the "innovative problem-solving hub" at Deloitte. Unlike traditional consulting, the Greenhouse staff assist their clients by facilitating collaborative sessions in which they provide the processes needed to solve complex problems.  
For Francesca, it was exciting to be in a client-facing role and have the opportunity to collaborate with a wide range of people; she finds she thrives in this environment. In addition, the employer gave Francesca a lot of independence and encouraged her to flex her creative side. For instance, she led partner meetings in front of a (virtual) room of Deloitte partners. She also got the opportunity to lead Deloitte TEDx Climate—an event that explored ways in which they as a firm and as individuals can take climate action.
Connection and curiosity
Because most of her time in the program was virtual due to the pandemic, Francesca found it challenging to have in-depth discussions and collaboration in the "classroom" but states that "some individuals just feel really nervous speaking on camera and that's understandable; it's definitely an adjustment". Despite having a very social class where people made a concerted effort to build relationships, Francesca said she still missed the in-person classroom camaraderie. Her advice to any student starting this program or a new work term is to get involved and be engaged. It is important to learn to build relationships not only with classmates but also with professors and supervisors. These relationships, she believes, will support everyone's success and future growth.
Asked about her favourite professor, Francesca says it must be Rick Nason. What impressed her most was Rick's unique teaching style and weekly sessions called "beat-up," in which he calls on people, asking them to explain the process and rationale behind their answers on assignments. Francesca valued his method of teaching because she strongly believes the best way to learn what she doesn't know is by someone asking her questions. "Behind Rick's hard exterior, he is such a supportive, caring and engaged professor," Francesca says. "He is always willing to meet with students and is more than happy to provide career or life advice, in addition to assistance with class material."
Francesca's advice is to never be afraid to ask questions. "Frankly speaking, I'm the person who's always asking questions in class and I've always received positive feedback from my peers and professors encouraging me to continue to do so, because often other people have the same question and are happy that someone speaks up to ask for clarification."