News
»
Go to news main
Donor Profiles: Full Circle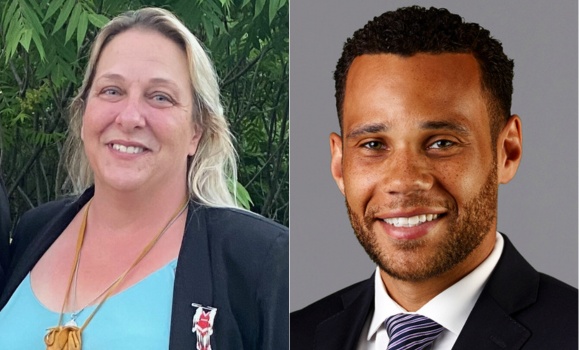 This story originally appeared in the 2023 edition of Hearsay, the Schulich School of Law Alumni Magazine.
At the Schulich School of Law, we are grateful for our donors who help fund the important work that we do. Learn why two alumni from the IB&M Initiative created bursaries to give back to their school and their communities.
Peggy Händel, The Handel Law Bursary 
Peggy Händel ('19) always knew she was going places. As a bright and tenacious Indigenous girl growing up in Liverpool, N.S., at age 10 she narrowed her career aspirations down to an RCMP officer, architect and lawyer. In the early 1990s, when, when Händel was in her 20s, she crossed the first option off her list by becoming a Mountie. She left the force after just two years, deciding it wasn't for her.
In the decade following, Händel would dip her feet into several other careers–first in hospitality, then land development and construction with her husband Matthias, and finally as a certified appraiser. In the interview for her first major appraisal position, her prospective employer indicated that proceeds from contracts would be split 60/40 his way, even though he was less qualified than she was. Händel didn't like that. "Never mind. I think I'll just become a lawyer instead," she said.
True to her word, a few short months later she was moving house and starting her first year at the Schulich School of Law, all while running two businesses with her husband and balancing the responsibilities of raising their children together.
Today, she operates her legal practice, Handel Law, out of an office in Bridgewater. This year, the inaugural Handel Law Bursary was awarded to a fellow mature student and parent attending Schulich Law, bringing her journey full circle. "I remember wanting to be able to provide a little extra something for my kids, like a gift on my way home from work," she explained. "It's hard though. Between tuition and books and the cost of living, you often just can't afford it. I knew I wanted to be able to give something that eases that burden." Her newly established annual award is doing just that – supporting mature students and parents each year as they work through law school.
Nathaniel Marshall, The Keith & Gail Marshall IB&M Award 
Halfway across the country, Nathaniel Marshall ('13) is also living out a childhood dream. Growing up in Amherst, N.S., Marshall, who works at his own Toronto practice Marshall Workplace Law, was exposed to the legal profession at a young age. He met Rocky Jones in high school and Shawna Paris-Hoyte was a family friend. He was attracted to the intellectual challenge of the law, and the opportunity to give back to his community as a Black man growing up in Nova Scotia.
Marshall recalled overcoming obstacles during and after his time at law school and empathized with the large debt loads many students carry. Even with some funding support, the cost of living and moving to a new place can be financially burdensome.
This is part of what led him to create the Keith & Gail Marshall IB&M Award in honour of his parents (both Dalhousie alumni themselves)–to provide the tools and information graduates need to make sound financial decisions and offer a strong foundation to build on.
"Growing up I didn't have much awareness about financial literacy," he explained. "I used to have a joke–I would say 'that's future Nathaniel's problem.' But at some point, I became future Nathaniel! So financial literacy is really the point of the bursary. But it's also to show Black and Indigenous students that this isn't some esoteric idea. I want someone to see this, and have it put some gas in their tank, and think, 'I'm going to do even better than that guy.'" This year marks the first year of his award as well, which gives new graduates a leg up with financial support as they transition into their articling.
If you are interested in joining Schulich Law alumni Peggy and Nathaniel in developing your own scholarship or bursary within the law school, we would love to connect with you to discuss options and provide more information.