News
»
Go to news main
Standing Up for Indigenous Children
Posted by
Suzanne Bowness
on October 16, 2023 in
News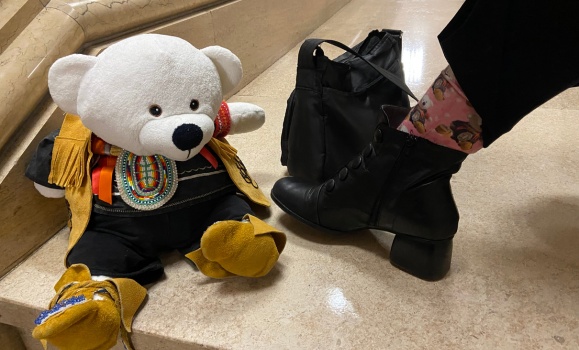 This story originally appeared in the 2023 edition of Hearsay, the Schulich School of Law Alumni Magazine.
Arguing as an intervenor at the Supreme Court of Canada is a serious task. It's especially vital when the client is as important as the First Nations Child and Family Caring Society and the case is as significant as defending a constitutional challenge by Quebec to the federal Act respecting First Nations, Inuit and Métis children, youth and families (the Act). For Naiomi Metallic ('05), Schulich Law professor and alumna, the opportunity was also a full circle moment as she was invited to participate in the case by former student and case co-counsel David Taylor ('12).
Taylor, a partner at Conway-Baxter-Wilson LLP in Ottawa who has represented the Caring Society long-term, first studied the human rights challenge that led to the Act in Metallic's Aboriginal Law course, so he instantly identified her as a natural choice given her longstanding expertise.
"I was thinking about how we would put our best foot forward on this and I went to Cindy Blackstock [executive director of the Caring Society] and we agreed this was a great case to team up with Naiomi," says Taylor.
As an educator, Metallic has had plenty of practice telling the story of Canada's Indigenous child welfare neglect by both federal and provincial governments. Perhaps most familiar to the average Canadian at this point is the Sixties Scoop where Indigenous children were removed from their families and placed for adoption with non-Indigenous families without their families' consent. There have been other injustices and setbacks along the way. And other successes–by the 1970s and 1980s, First Nations groups had started to push back to gain control, and by the 1990s Canada had created policies meant to address the issue. But after putting the policies into practice, it was quickly recognized that the systems to carry out these reforms were significantly underfunded compared with provincial agencies.
In 2007, the House of Commons unanimously adopted Jordan's Principle, a child-first principle declaring that First Nations children should have access to the services they need, when they need them. The principle was named to honour the memory of Jordan River Anderson, a First Nations child from Norway House Cree Nation in Manitoba, who lived all five years of his too-short life in hospital despite being able to be discharged to a family home, while the provincial and federal governments argued over who would fund his care. This landmark development followed years of advocacy by Jordan's family, Norway House Cree Nation and First Nations organizations, including the Caring Society.
Around this time, the Caring Society, alongside the Assembly of First Nations, also had to step up and file a human rights complaint that Canada had knowingly discriminated against First Nations children in the delivery of child welfare services on-reserve. The Canadian Human Rights Tribunal substantiated the complaint in 2016. As a result of the watershed decision calling for massive reform, Canada created the Act respecting First Nations, Inuit and Métis children, youth and families, introducing minimum standards for provincial child welfare rules regarding Indigenous children, families and communities. The Act also gave Indigenous groups the ability to create their own laws around child welfare. Yet some of the provinces pushed back on whether Canada was allowed to legislate in areas that crossed over into provincial jurisdiction. Quebec has been the first to formally challenge the Act.
Aware of the impact that intervenors can have in constitutional litigation, Metallic and Taylor successfully sought intervenor status for the Caring Society at the Court of Appeal of Quebec.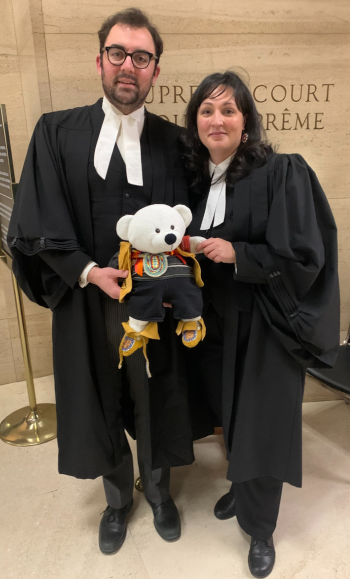 For many months, they poured themselves into the task of assembling evidence for the Court of Appeal regarding the long history of discrimination against First Nations children in the child welfare system and writing the intervenor brief. In February 2022, the Court of Appeal upheld the Act's national standards, but struck down some aspects of its mechanism for Indigenous law-making. In its place, the Court of Appeal took the ground-breaking step of recognizing a general constitutional right for Indigenous Nations to make laws on child welfare.
Both Quebec and Canada appealed the Court of Appeal's decision to the Supreme Court of Canada. The Caring Society's position as an intervenor before the Quebec Court of Appeal meant that it got to submit a 40-page brief rather than the usual 10. As one of 30 intervenors, Metallic only had 10 minutes to summarize the organization's position and answer judges' questions, so she was careful to consider which arguments would be the most persuasive and to fill in any gaps in the narrative presented by others. Despite the hours that the brief and submissions demanded, she knew the importance of this cause.
As inspiration, Metallic finalized her statement with Spirit Bear perched on a chair in her hotel room. Spirit Bear is a plush teddy bear elevated to "spokesbear" for cases by Caring Society executive director Cindy Blackstock, as a reminder to keep the children front and centre. Metallic and Taylor even took Spirit Bear into the courtroom gallery.
"We have to bring it back to the kids, and we cannot let the court lose sight of the fact that this is about children and their needs," she says.
Both Metallic and Taylor felt that the presentation was well received by the judges, and the team expects a decision by late summer or fall at the earliest. In addition to Metallic and Taylor, several other Dal Law grads were involved in the case, including Stuart Wuttke ('95) as counsel for the Assembly of First Nations, Jason Cooke, K.C. ('05), Brent Murphy ('17), Riley Weyman ('19) and Kate Darling ('07) all as intervenors.
Taylor was especially pleased at Metallic's contribution given the depth of her studies on this topic. "It seems every time we were working on the draft, Naiomi was saying 'I've written an article about this, I've written an article about that'– a good chunk of our citations in the factum are based on things that she's written. Having her available to give her thought and care and attention to our written submissions, and then also to be there to respond to questions from the judges was just a fantastic value-add for our client," he says.
While Metallic is hopeful about the outcome of the appeal, she also says that whatever the ruling, there is now momentum in legal reform that will benefit Indigenous peoples. That's a positive, because change is needed in so many areas.
"There are still major issues with government accountability, and chronically underfunding services. Child welfare is only one example," she says, noting policing in First Nations communities as another area where there has been a recent human rights decision.
"I think we're going to see more of a move to self-determination, but there is a role for other governments in terms of supporting First Nations and adequately funding services, and justice and community safety and security is going to be a part of that. That's where a lot of my focus is, and I bring a lot of that to my classes."
Both Metallic and Taylor are also enthusiastic about the growth of Indigenous course offerings and discussion at Schulich Law. Taylor says he's observed impressive growth even since he graduated a decade ago. Metallic shares that she's always pleased to see so many Dal Law grads and former students among her peers in appeals such as this one. "I'm thrilled by it and doing my best to help create additional courses."