News
»
Go to news main
Registration Open for Weldon Mentorship Program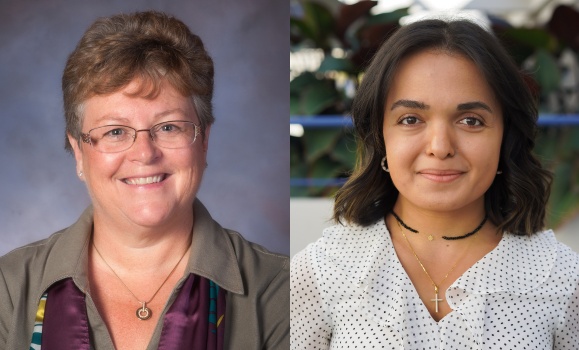 Registration for the 2023 Weldon Mentorship Program is now open! The program is designed as a system of support and guidance aimed at helping students and recent graduates connect with alumni who can share their experience and insights. Alumna Brenda Picard ('85) and 2L student Abir Ayoub were paired together as part of the 2022 Mentorship Program. Read what Picard and Ayoub had to say about their experience.
Mentor – Brenda Picard ('85), Executive Director, PEI Human Rights Commission
Why was it important to you to participate in the Weldon Mentorship Program?
I am a proud graduate of the law school and believe in giving back to the community. I have a varied career in law and by mentoring a student I am able to share some of that experience. I hope that giving students and recent graduates an opportunity to meet and chat with an experienced lawyer will enhance their skills and opportunities in the future. I believe that having strong graduates who know it is o.k. to seek advice and ask for help strengthens the future bar as a whole.
What are the benefits of mentoring a law student?
I have had the opportunity to stay connected to the law school and to learn about changes in learning opportunities which have expanded from my days at the school. I have also enjoyed getting to know my mentee and benefit from experiencing their enthusiasm and energy. 
Why should other alumni consider getting involved?
This is a mutually beneficial program. While the student gains knowledge, experience and networking opportunities, the mentor is able to give back, keep in touch with the school and contribute to a strong bar. It is not a huge or difficult time commitment and the student takes ownership of the process, all of which is helpful during our busy schedules.
I see a benefit in having mentors from a variety of graduation years. As an older grad I can answer questions that a new grad might not be able to. A recent graduate is more likely to be able to talk to the student about recommended courses which is something which has been asked of me. I encourage recent and "not so recent" graduates to join the program!
Mentee – Abir Ayoub, 2L Schulich Law Student
Why was it important to you to participate in the Weldon Mentorship Program? 
After the first year of law school, I was confused about what area of law I was interested in and what to expect in practicing law. When the school advertised the Weldon Mentorship Program, I was excited as the program introduced an opportunity for law students to connect with a lawyer one-on-one. I had a good feeling that the program would provide me with a valuable experience where I could receive guidance and support to help me navigate challenges and identify opportunities.
What are the benefits of having a mentor?
There are so many advantages that come with having a mentor. A mentor offers guidance and support based on their experience and expertise. They can also help build your confidence by recognizing your strengths and providing constructive feedback. A mentor will challenge you to step outside your comfort zone, exposing you to new experiences that can help you grow professionally. One of these experiences could be to network with different lawyers, which opens new doors for career opportunities. Lastly, a crucial benefit I found with having a mentor is that they will hold you accountable for your goals, help you stay on track, and provide encouragement along the way. 
Why should other students consider getting involved?
Having a mentor in law school is priceless. Law students can gain a competitive advantage by accessing a network of lawyers, different career development opportunities and ongoing support and guidance. This program helps foster a sense of community and collaboration where students can exchange ideas and thoughts and build long-lasting connections with your mentor. Your mentor has been through law school and has experience and knowledge in the legal profession, so why not benefit from this unique, invaluable experience?