News
»
Go to news main
Schulich Law students win 2022 Harold G. Fox Moot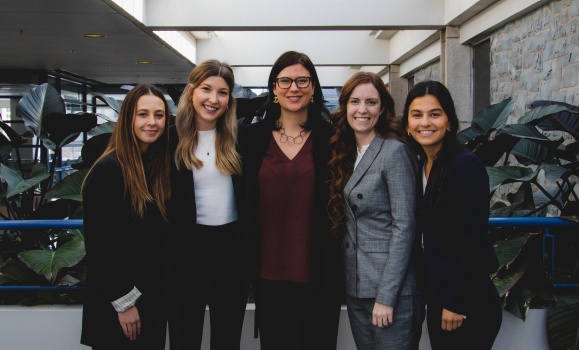 Congratulations to Schulich Law students Sarah MacRitchie, Mimoza (Mimi) Gjelaj, Mamie McGinn and Hannah Mirsky, and their coach Professor Suzie Dunn, who excelled in this year's Harold G. Fox Intellectual Property Moot. The appellant team of Sarah MacRitchie and Mimi Gjelaj won the Harold G. Fox Cup for the best mooting team. While the respondent team of Mamie McGinn and Hannah Mirsky also had a strong showing, with Hannah Mirsky taking home the Donald F. Sim Award for the best oral advocate.
"I'm incredibly proud of this team. They really stood out in the competition because of the amount of work they put in," says Professor Dunn. "It was fantastic to watch them along the way, improving as individuals as they prepared but also supporting each other and working together as a real team. They are talented students who will be fantastic litigators in their future legal careers."
The Harold G. Fox Moot is intended to promote the furtherance of education in the intellectual property field and provide participants with the opportunity to interact with jurists of the Supreme, Ontario, and Federal Courts and experienced practitioners of intellectual property law. It is named in honour of the late Harold G. Fox, one of Canada's leading intellectual property scholars and advocates.
This year's moot problem involved a copyright issue that examined the right to reproduce architectural works and sculptures in digital photographs, the skill and judgement of social media influencers, how applying filters to photographs impacts copyright, and the quantum of damages in cases of copyright breaches.
Competing in the moot meant a lot to the students who participated. They took some time to reflect on their experience.
| | |
| --- | --- |
| | Mimoza (Mimi) Gjelaj: "Representing Dalhousie in the Fox moot this year along with my partner and teammates was an amazing privilege and opportunity. It's exciting when your hard work and preparation survive the challenges of the moot, and for that, I could not be more proud of my team. Throughout the process, our coach Suzie was our pillar of confidence and support, pushing us when we wanted to be pushed, believing in us when the rest of us didn't, and never making the space a stressful or high pressure one regardless of the situation that we were in. This, her expertise, and her unwavering optimism were foundational to our success, and we truly could not have done this without her." |
| | Sarah MacRitchie: "Participating in the Fox Moot was phenomenal. A lot of work, more than a little stress, but so worth it in the end. Our incredible coach, Suzie Dunn, our brilliant teammates, Mamie and Hannah, and many others all deserve a tremendous amount of credit and thanks for Mimi's and my success. And, for me, I know that God stepped in in a way that countless hours of practice couldn't rival; He provided me with otherwise inexplicable calm and clarity when it mattered most. Even more than the excitement (and trepidation) of facing that extraordinary panel of Justices in the finals, I hope His grace will be what I remember most clearly." |
| | Hannah Mirsky: "Competing in the Harold G. Fox Moot was an incredible way to close out my law school experience. I'm so proud of my teammates for all their hard work and impressive performances. Professor Dunn was a constant source of support and guidance for our team throughout this process. We couldn't have done it without her. Thank you, Professor Dunn!" |
| | Mamie McGinn: "With a law school experience disrupted by the pandemic, our Harold G. Fox Moot team gave me the academic community I was craving. Professor Dunn was not only an incredibly approachable and supportive mentor but has also served as a source of inspiration in her own body of work. I am so grateful to have worked with Hannah, Mimi and Sarah, and the competition itself was undoubtedly a highlight of my time here at Schulich Law. As I look to the coming months, I couldn't be more excited to be going into articling, having had this intense training." |
Congratulations to the team and their coach for a job well down! They would like to add a special thank you to everyone who helped them prepare along the way.