News
»
Go to news main
Internship Deepens Understanding of Public Policy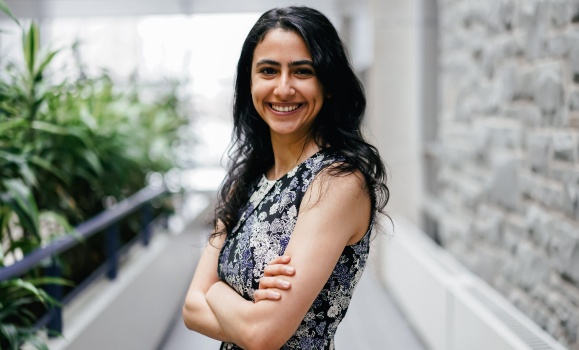 This story originally appeared in the 2021 edition of Hearsay, the Schulich School of Law Alumni Magazine.
The Schulich School of Law Internship Program started in 2009 with a small number of internships funded by The Schulich Foundation. It has now grown to be the largest paid summer internship program for law students in the country.
Since her appointment to the Senate in 2016, Senator Kim Pate ('84) has worked with the law school to provide students with the opportunity to intern at her office. Each year, two to three students are selected as Legislative Development Interns.
Mariam Hanna ('21) was one of these students and spent the summer of 2020 working with Pate. Through this internship, Hanna supported and furthered Pate's legislative agenda by conducting research, updating legal and policy information documents and representing Pate's office at meetings and seminars.
Hanna, who has a background in history and political science, has always been interested in public policy. Still, the experience of working in Pate's office surprised her. "Everyone takes Public Law and Constitutional Law, but this was my first time stepping back and seeing what goes on behind the scenes," she explains. "There's so much work that takes place that isn't always apparent just from looking at Senate sittings."
One of her favourite projects during her internship was updating the Human Rights in Action Handbook for Women Serving Federal Sentences, in light of Bill C-83 which made changes to federal corrections system. She gained hands-on experience looking at the intricacies and importance of language in legislation. "Because the legislation had actually started in the Senate, we had documents about the different revisions that it went through. It was really neat to look through all of that and to update the handbook."
Hanna joined Pate's team amid the early days of the COVID-19 pandemic. "We were all in the same boat and learning how to adjust at the same time," explains Hanna. "It was a bonding experience for the team more than anything." While the logistics of remote Senate sittings were still being worked out, the unique national situation meant that Hanna was able to sit in on sessions for emergency legislation. "Legislation is kind of famous for how slow it is," she acknowledges. However, the pandemic called for a condensed process, which allowed her to see the entire legislative process for the emergency relief for students over the course of a week. "It was really interesting to see how the whole country was dealing with this all at once."
During her internship, Hanna also had the opportunity to attend seminars run by government and grassroots organizations and community leaders regarding issues on Pate's legislative agenda. "These seminars allowed me to see issues and solutions from a different perspective and made me realize the immense research required for legislative amendments and change."
Overall, Hanna's internship at Pate's office gave her a new perspective on her path after law school. "The internship gave me a more nuanced understanding of what public policy is and what goes into it. I am very grateful for this experience and all it has taught me."
If you are interested in participating in the internship program, please contact the Career Development Office (career.development@dal.ca) for more information.