News
»
Go to news main
Alumnus Fred Fountain (LLB '74) receives 2019 Weldon Award for Unselfish Public Service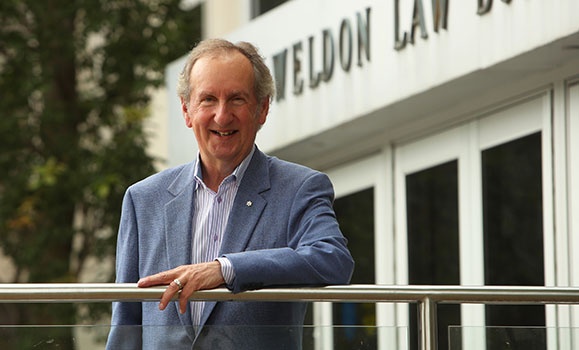 The 2019 recipient of the Schulich School of Law's Weldon Award for Unselfish Public Service is Fred Fountain, CM, LLD (LLB '74), a lawyer, businessman, and philanthropist and a former chancellor of Dalhousie University.  
Since 1983, the Schulich School of Law at Dalhousie University has presented the Weldon Award for Unselfish Public Service annually to an alumnus or alumna who has made outstanding contributions to the community and the legal profession on either a worldwide, national, provincial or local setting. This year, the award will be presented at the annual law alumni dinner on September 20.
"We congratulate Fred, whose leadership, philanthropic spirit, and unwavering commitment to the public good make him an ideal candidate for this prestigious award," says Schulich School of Law Dean Camille Cameron. "The impact he has had is extensive, from health care and education to social services and the arts."
Fountain was a founding partner of Halifax law firm Franklin, Mitton, Fountain & Thompson and later counsel to the law firm Burke, Thompson. Since 1985, he has been chairman, president, and CEO of The Great Eastern Corporation, an investment company founded by his grandfather Fred C. Manning in 1941.
At Dalhousie, Fountain served for many years on the board of governors, chaired the Faculty of Management Advisory Board, and served on the Dalhousie Medical Research Foundation Board. With his wife, Elizabeth, he co-chairs the Dalhousie Arts Centre Campaign, and they provided a lead gift of $2 million. For his philanthropy, especially in the field of the arts, in 2008 he was invested as a Member of the Order of Canada.  In 2013 he and Elizabeth donated $10 million to Dalhousie to establish the Fountain School of Performing Arts.
Fountain has been quoted publicly saying that giving is a creative act that takes time, thought, energy, and empathy, and that he considers his most significant gift to be his time. He chooses projects where he thinks he can be most helpful and does his best to achieve the desired impact. For this and so much more, he is an exemplary Weldon Award recipient.
In addition to his career achievements, Fountain is an engaged community volunteer. Currently he is an honorary trustee of the QEII Foundation and a former trustee of the National Gallery of Canada. Previously, among many other roles, he was a chairman of the Art Gallery of Nova Scotia and on the boards of the Scotia Festival of Music and World Wildlife Fund Canada. He has led many fundraising campaigns and made major contributions to many others.
Fountain has received honorary doctorate degrees from Dalhousie and Acadia. He is proud to be among the many noted graduates of Dalhousie Law School's Class of 1974.
Join Us