News
»
Go to news main
Inaugural Class of 1967 Teaching Awards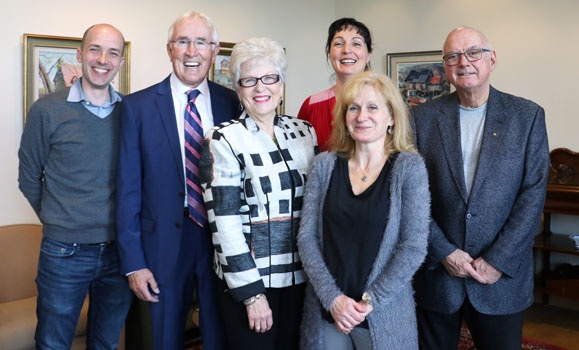 On May 28, the Schulich School of Law honoured the first recipients of the Class of 1967 Teaching Awards: Professors Jamie Baxter, Richard Devlin, Colin Jackson, Constance MacIntosh, and Naiomi Metallic. Three members of the Class of '67—Diane Campbell, Alan Hayman, and Art Miller—were on hand to present the awards at the law school.
The awards were chosen for two projects. The first, on which Metallic, Baxter, Devlin, and MacIntosh collaborated, is the Aboriginal and Indigenous Law in Context course; funds will go toward updating, building, and enhancing the course through feedback received from students.
"We are grateful for the generous gift from the Class of 1967, which is helping further and enhance the important work we have been doing to respond to the TRC Report and advance truth and reconciliation," says Metallic.
The second is Jackson's project, which runs in his Bankruptcy and Insolvency course, where students do an innovative, practical project where they negotiate a plan of arrangement for an insolvent corporation.
"I hope this project gives the students the chance to continue developing the skills they've learned in law school and adds another great experiential learning element to our curriculum," says Jackson. "But more than that, I'm thankful that the Class of 1967 took the initiative to support advances in teaching at the Schulich School of Law. It says a lot about the quality of our alumni and how highly they value the legal education they received here."
Congratulations to all of the recipients of this inaugural award!