News
»
Go to news main
Schulich Law community celebrates great teaching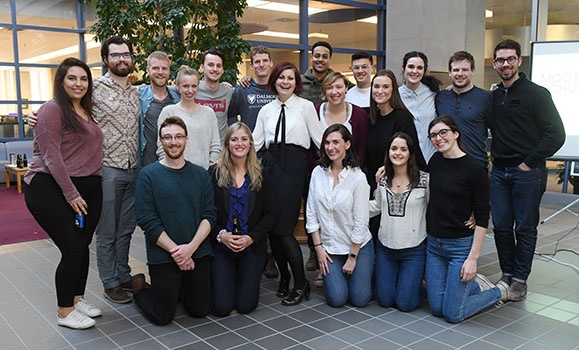 In Weldon's Atrium on March 28, the annual Celebrate Great Teaching reception recognized the outstanding contributions of the Schulich Law community. "It's a pleasure to be able to celebrate our faculty and students, and that's what we're doing here today," said Dean Camille Cameron in her opening remarks.
Professor Adelina Iftene was awarded The Hanna & Harold Barnett Award for Excellence in Teaching First Year Law and Professor Jonathan Shapiro received the Dalhousie Law Alumni Association and Law Students' Society Award for Excellence in Teaching.
"I'm shamelessly excited about this," said Iftene of her award. "Being a professor makes you a student forever. You get to talk to, engage with, and learn from some of the brightest people you'll ever meet in your life. My students make my job really hard and never boring because they ask me questions and challenge me. They renew my faith in humanity and the future of the legal profession."
Shapiro relayed some advice that Professor Kim Brooks, who hired him in 2013, had given to him—to do more than just show up to teach by saying yes to extracurricular requests as often as possible. "There are lots of demands that take up lots of time. I always regret that I've said yes until whatever I've said yes to is over—then I'm glad I did," he said. He had this advice for his students: "When someone calls to ask you to do something after you graduate, say yes. It will make your life and society more enriching."
Other acknowledgements included part-time faculty member Kathleen McManus, who was honoured for teaching for 13 years, while the LSS Society of the Year Award was shared by two of the law school's 36 student societies: the Dalhousie Youth Legal Education Society (DYLES) and the Student Animal Law Association of Dalhousie (SALAD).
A good time was had by all as faculty, students, and staff mingled before and after the award ceremony, enjoying food and beverages and catching up with colleagues, classmates, and friends.