News
»
Go to news main
Professor Rollie Thompson receives Excellence in Family Justice Award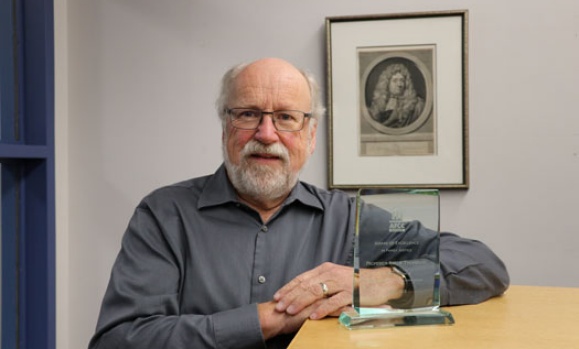 On Oct. 18, at a gala dinner at the National Club in Toronto, Professor Rollie Thompson, along with Professor Carol Rogerson from the University of Toronto, was awarded one of the 10 in 10 Awards of Excellence in Family Justice by the Association of Family and Conciliation Courts (Ontario Chapter).
The awards celebrated the 10th anniversary of AFCC Ontario by recognizing 10 individuals who have changed family law in Ontario over those 10 years. The AFCC is a multi-disciplinary family justice organization with chapters in the United States, Canada, and Australia.
This achievement recognized Thompson and Rogerson's work on the Spousal Support Advisory Guidelines. Most family lawyers use the guidelines when advising clients and negotiating agreements. While the guidelines are not law, judges usually base their decisions about spousal support on them. 
"It was an honour to be part of a distinguished group of people who have dedicated their careers to family justice," says Thompson. That group includes Phil Epstein, Mark Harris of DivorceMate, Barbara Fidler, Justice George Czutrin, and alumnus Justice Emile Kruzick (LLB '70).
Thompson, who earned his LLB at Dalhousie Law School in 1978, began teaching here in 1982. He was the executive director of Dalhousie Legal Aid Service from 1982–85 and 1991–94. Previously, he was the recipient of the 2016 Award for Teaching Excellence in the Osgoode Professional LLM, the 2005 Vincent J. Pottier Award for Exceptional and Outstanding Contribution to Dalhousie Legal Aid Service, and the 2001-02 Dalhousie Law Alumni Association and the Dalhousie Law Students' Society Award for Excellence in Teaching.