News
»
Go to news main
KUDOS! 2018 Smith Shield Moot results
Posted by
Jane Doucet
on October 16, 2018 in
News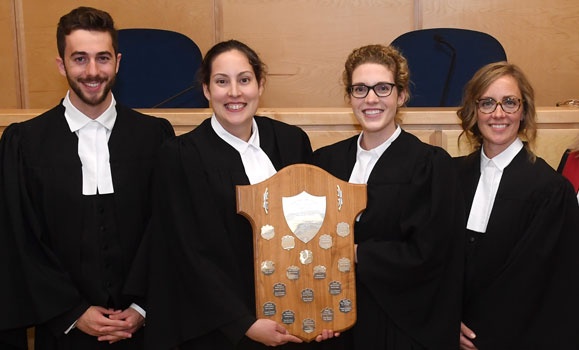 Congratulations to the students who took part in the 2018 Smith Shield Moot on Oct. 3! The winners are Erin McSorley and Tina Northrup (awarded the A.S. Pattillo Prize in Advocacy). The runners-up are Emma Doucette and Jeremy Ryant (awarded the Leonard A. Kitz Prize in Advocacy).
This year's moot problem, uniquely situated in the law of negligence, dealt with novel legal issues in tort law that demanded creative, innovative, and original argumentation. The students argued the case of Watts v Aggarwal, which addressed two important issues. The first concerned the standard of care that midwives should have to meet to avoid liability if sued for negligence. The second considered a person who suffers mental harm due to the grief and sorrow that arise from witnessing the death of his or her child. Is it time for that mental suffering to be considered compensable in Canada?
"All of the students created rigorous and thoughtful arguments on both sides of the issues explored in the moot," says Professor Nayha Acharya, the moot's faculty advisor. "The oral advocacy demonstrated by each student was stellar, and the panel of judges were thoroughly impressed."
Equally impressive was the spirit of collegiality with which the students approached this opportunity. "They all committed to giving their best to the moot without any trace of self-interested competitiveness," says Acharya. "I, of course, was thrilled watching all four students. The faculty at the Schulich School of Law should be heartened by their performance." 
Acharya would like to acknowledge the following faculty members who helped with practice sessions: Rob Currie, Jonathan Shapiro, Naiomi Metallic, and Cynthia Chewter (who helped Acharya draft the problem), as well as lawyer Paula Arab.
Thanks also to the judges: The Hon. Justice Cindy Bourgeois (LLB '91), Nova Scotia Court of Appeal; The Hon. Justice Christa Brothers (LLB '96), Supreme Court of Nova Scotia; and Frank DeMont (LLB '89), QC, president of the Nova Scotia Barristers' Society.