News
»
Go to news main
A special reception at Weldon united past and present Mingo Memorial Scholarship recipients with the donors who made it possible
Posted by
Jane Doucet
on September 26, 2018 in
News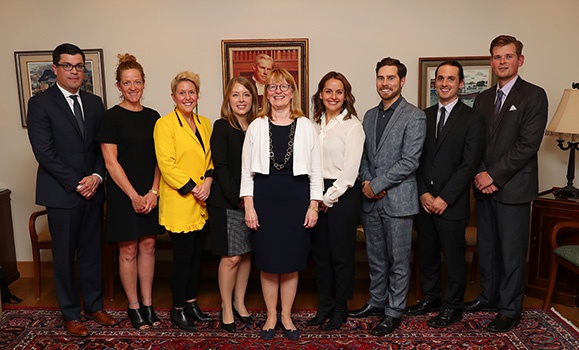 On Sept. 19, the Schulich School of Law celebrated the donors and recipients of the J. William E. Mingo Memorial Scholarship for International Study at a special reception at the law school. Past and present scholars were in attendance and spoke about the impact the Mingo Memorial Scholarship has had in their lives.
This year's recipient is Anthony Rosborough (JD '15) from Halifax. "The Mingo Memorial Scholarship is a tremendous gift that will allow me to complete a master's degree in intellectual property law and give me the opportunity to study abroad," he says. "Once my studies are complete, I would like to combine a practice in intellectual property law with a teaching career."
The previous recipients (pictured above, from left, with Dean Camille Cameron) are Jonathan Coady, Devon Peavoy, Jennifer Taylor, Jenna Wates, Sarah Burton, Agathon Fric, Justin Milne, and William Szubielski (missing: Ravi Amarnath).
The origin of the scholarship
The Mingo Memorial Scholarship is awarded to outstanding students and recent alumni of the law school who are going on to do graduate studies in law outside Canada. The one-year scholarship of at least $25,000 has been awarded annually since 2007 to students demonstrating academic excellence, leadership ability, outstanding character, and a rigorous program of study.
This scholarship is the result of the generosity of close friends and business associates of the late William Mingo (1926–2005) and honours his distinguished career and many contributions to the community and to the world of business. A loyal and generous supporter, Mingo graduated from Dalhousie Law School as the gold medalist in 1946, went on to complete a Master of Laws at Columbia University, and was called to the Bar in Nova Scotia in 1950.