News
»
Go to news main
Portrait of Burnley "Rocky" Jones (LLB '92) unveiled in Weldon's Atrium
Posted by
Jane Doucet
on March 28, 2018 in
News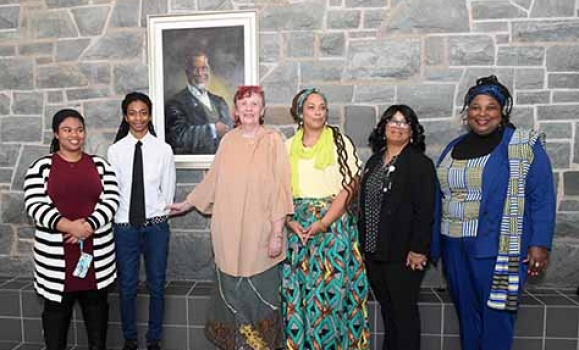 On March 27 at 12:30 p.m., the Atrium of the Weldon Law Building filled with people who had come to witness the unveiling of a portrait of the late Dr. Burnley "Rocky" Jones, an alumnus of our law school who spent his career championing for the rights of Black and Indigenous people in Nova Scotia (Jones died of heart failure in 2013 at the age of 71).
One of those in attendance was African Nova Scotian DeNeen Harold of Halifax, who is a case manager at Nova Scotia Works' Job Junction. She didn't know Jones except by reputation, but she had previously worked with his daughter Tracey. "I like to attend events that pay tribute to African Nova Scotians," said Harold.
This event did exactly that, beginning with African drumming and followed by tributes to Jones by Professor Michelle William, director of the law school's Indigenous Blacks and Mi'kmaq (IB&M) Initiative; Mi'kmaq Elder Dan Paul, a long-time friend of Jones'; Schulich School of Law Dean Camille Cameron; Dalhousie President Richard Florizone; and Minister of African Nova Scotian Affairs Tony Ince.
When people fight racism in this province, they pay a price. Rocky paid a price for a lot of us in a lot of ways. 
— Professor Michelle Williams, director, IB&M Initiative
Among the guests were Jones' family, Judge Corinne Sparks (LLB '84), Chief Justice Michael MacDonald (LLB '78), and former Nova Scotia lieutenant-governor Mayann Francis, as well as several law school alumni, faculty, staff, and students.
"We have gathered to honour Rocky Jones by installing his portrait at this law school, where he continues to be an inspiration," said Williams. In addition to highlighting her mentor's many accomplishments – including establishing the Transitional Year Program at Dalhousie and the IB&M Initiative (he was one of its first graduates) – she pointed out that Jones was attacked and maligned over the years for his civil rights work. "When people fight racism in this province, they pay a price. Rocky paid a price for a lot of us in a lot of ways."
Florizone stated that throughout Dal's 200 years of history, there have been great successes and failures, and that we need leaders to guide us along the way. "What an honour to recognize a leader like Rocky Jones and to unveil his portrait, which will live permanently in the law school," he said. "Rocky's contributions were vast, and we're proud to have him as an alumnus." As part of the university's 200th celebrations, Jones was featured as a Dal Original.
The portrait, which was painted by artist Bruce Wood and hangs on a wall in the light-filled Atrium, is the first of an African Nova Scotian in the history of the law school. "It will be a daily source of support to our students and others who come into the building," said Williams. "Let us continue to pick up where Burnley 'Rocky' Jones left off and forge our own campaigns for justice."