News
»
Go to news main
Get to Know...Professor Sara Seck
Posted by
Jane Doucet
on August 22, 2017 in
News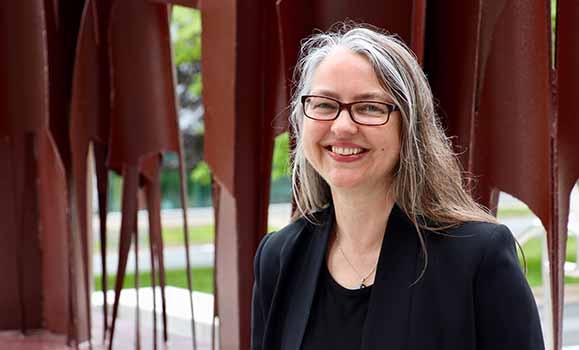 Professor Sara Seck, who hails originally from St. John's, joined the Schulich School of Law's faculty on July 1. Previously, she had been a member of the Faculty of Law at Western University since 2007. Seck received the Emerging Scholarship Award from the Academy of Environmental Law of the International Union for the Conservation of Nature in 2015 for her work in advancing international environmental law research.
Seck has most recently been doing research on business, human rights, and climate change as part of the International Law Association's study group on business and human rights, and as a senior fellow with the International Law Research Program at the Centre for International Governance Innovation. She's a member of the editorial board of the new Cambridge University Press Business and Human Rights Journal. And she recently agreed to serve as the deputy director for North America of the Global Network for the Study of Human Rights and the Environment. In September she'll be teaching Business and Environment and first-year Property Law, and in January she'll teach Conflict of Laws.
Why were you interested in teaching at the Schulich School of Law?
I was excited to join a law school with both a tradition of commitment to public service and an internationally recognized institute of marine and environmental law. There's a great group of environmental law scholars here and a long and exciting history of excellence in international law research both within the Marine & Environmental Law Institute and at the Schulich School of Law more generally.
How did your interest in environmental law begin?
The environment has always been important to me. My parents are in their 80s and still grow their own vegetables. While studying law and articling in Toronto I was focused on international law and business law. I've learned that you can't solve global environmental issues without understanding the laws that create and enable business conduct. For example, how can we use both international and domestic laws to ensure that businesses and their financiers, including stock exchanges, fully integrate environmental concerns into decision-making?
What can you tell us about your research?
Both my research and teaching interests are at the intersection of environmental law, international human rights law, and business law, with a focus on natural resource extraction and climate change. I am particularly interested in better understanding the environmental rights claims of local and Indigenous communities, as well as global south perspectives on sustainable development. I have researched and published extensively on home state duties and business responsibilities in the global mining context.
More recently, I have begun to consider how lessons from this research might inform approaches to climate justice, and I have also begun to draw upon insights from feminist and relational theory for environmental justice. In terms of environmental law, we need to work on so many areas, from climate change to plastics pollution, water quality, biodiversity protection, and of course sustainable oceans..
What's happening this fall?
I'm co-organizing with Penelope Simons at the University of Ottawa an international conference and policy workshop at the University of Ottawa in October with the support of SSHRC, CIGI, and the Schulich School of Law. The theme is Natural Resource Extraction and the Rights of Women and Girls. For mining to be sustainable, it requires good governance. I'm interested in the gender environment piece – most of our environmental laws and policies tend to be gender blind, yet, globally, Indigenous and other women's groups have chosen to organize around environmental issues. We need to proactively integrate their views into environmental decision-making, including, for example, the attitudes of women in areas affected by the oil and gas development, as well, arguably, as those in the North who are most impacted by climate change.
What excites you about this next chapter in your legal career?
I'm originally from St. John's and I still have family there, so I am happy to return to the East Coast to work and collaborate with leading environmental law and policy scholars at the Schulich School of Law. I'm looking forward to bringing my thinking on human rights in natural resource extraction to the law of the sea. And I'm excited to learn from not just members of the Marine & Environmental Law Institute but from all of the fantastic faculty here. And I'm excited to meet a new set of students at Schulich Law, including a healthy mix of East Coast students in my classroom!