News
»
Go to news main
Get to Know...Professor Lucie Guibault
Posted by
Jane Doucet
on August 1, 2017 in
News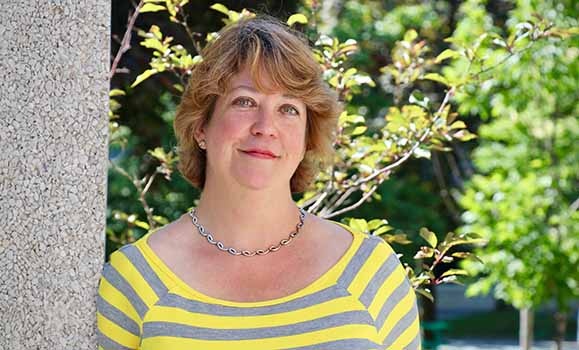 Professor Lucie Guibault, who was born and raised in Montreal, joined the Schulich School of Law's faculty on July 1. Her teaching and research focus on international and comparative intellectual property law. She has vast experience in those areas and, thanks to her 20 years as a senior researcher at the Institute for Information Law at the University of Amsterdam (where she's still an honorary fellow), an extensive network of international contacts in the academic and scientific communities.
Guibault's training in civil law, her multilingual teaching and research capabilities, and her international experience will complement and enrich our law school's teaching and research strengths in intellectual property and information law. In the fall, she'll teach the first-year course Fundamental of Public Law and the second-year course Introduction to Intellectual Property Law; in the winter, she'll teach an advanced course on Intellectual Property Law.
Why were you interested in teaching at the Schulich School of Law?
I chose this law school because I thrive equally on teaching and conducting research. The Schulich School of Law has a reputation of being close-knit, both students and faculty, and for innovating research in creating new courses. I like to brainstorm with other faculty members to find out what we want to achieve with a new or existing course. I'm especially looking forward to contributing to the Law & Technology Institute (LATI). I was also interested in living in a smaller city – I'd had enough of fast-paced life in Amsterdam.
How will your experience as a law professor at the University of Amsterdam benefit your teaching here?
During my time in Amsterdam I became skilled at supervising master's papers, and I'm very good at motivating students. Because I have international intellectual property knowledge, I can place all of the Canadian IP law norms in an international context. Having lived in Europe for two decades gives me an outside view on the Canadian legal system, and I'll be able to draw parallels to the Canadian Constitution.
Why are you interested in IP law?
IP is multifaceted and touches on all aspects of embellishing and improving everything around us. I'm interested in topics that deal with creativity, innovation, and improving the world, like design law, patent law, trademark law, and copyright law. I'm curious about things like why your cellphone looks the way it does and about its content, like photos and music apps, which are copyright protected.
What can you tell us about your research?
I wrote my PhD dissertation at the University of Amsterdam on the topic of copyright limitations and contracts. Since then, I have been studying the impact of technological changes on the norms of intellectual property law. For the past 15 years I've dug deeply into several areas, including open access in science. Canada could improve its stance on open access to increase visibility; it's important for knowledge to be read as broadly as possible.
Where do you see the potential for collaboration?
I'd love to talk to Professor Naiomi Metallic about traditional cultural expressions and knowledge and how best to protect them – not just legal research but also anthropological research, to try to understand what Indigenous peoples want to protect: paintings, totems, statues? I also see a possible partnership with Professor Jamie Baxter around food law, which is hip, new, and trendy. There are a lot of IP issues with food law, starting with the seeds that may be protected by biotechnology inventions to trademarks and labelling.
What's happening this fall?
I'm in talks with three authors from England about working on a European software law textbook. I would write the copyright chapter.
What excites you about this next chapter in your legal career?
I'm excited to help revamp LATI, which may yield new areas of research and an LLM program in technology law. I'm also excited that I will be teaching more here than I was in Amsterdam.