News
»
Go to news main
KUDOS! To Professor Vaughan Black on his retirement
Posted by
Jane Doucet
on June 6, 2017 in
News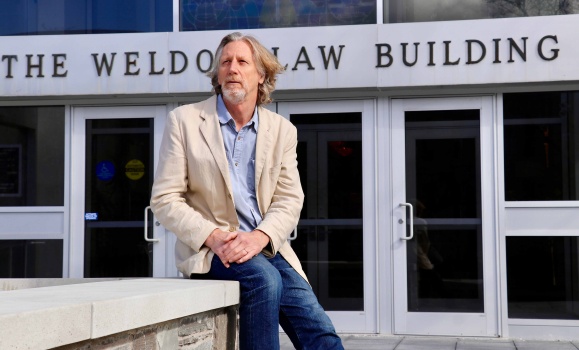 Professor Vaughan Black joined our law school's faculty in 1982. Over the years he taught many courses, including Conflicts of Law and Torts, plus he has been editor of the Dalhousie Law Journal. In the late 1980s and '90s, he served as faculty lawyer at Dalhousie Legal Aid Service. As he prepares to retire, he reflects on what has changed, what he has learned, and what comes next (with his signature sense of humour!).
How did your teaching style evolve over the years?
In my teaching I have striven for an absence of style, so as to maximize the appearance of substance. I have not yet achieved that happy state but I believe am approaching it, though only asymptotically. I have certainly become more comfortable with my areas of ignorance. In my early days, if students asked a question to which I didn't know the answer I often tried to bluff my way through. Over the years I have grown quite relaxed about responding, "I don't have a clue." I say that a lot.
How have the students changed?
Leaving aside the sad facts that the current generation carries more debt and has forgotten the proper use of the apostrophe in English prose, as a group they seem smarter than their predecessors.
What are some of the lessons the students have taught you?
Humility, especially when they whip me on the squash court, though it has been some years since my knees have permitted me to engage in that form of self-flagellation. More generally, the virtues of tolerance, forgiveness, and mercy.
What do you feel is the law school's greatest strength?
Its sense of somehow being special – geographically, historically, and in its aspirations.
Career-wise, what are you most proud of? 
Survival, steadfast resistance to cynicism, and, at least on most days, maintenance of equanimity.
What will you miss most?
The services of a secretary, for one thing. Apart from that I'm not sure, and Siri has been no help on this matter. I'll have to wait and see. Possibly the good vibrations that come from being a part of a larger enterprise, a member of a team.
What's next for you?
I am functus. I will lay my burden down and be of no further force or effect. Only my golden years await – more specifically, learning Italian, improving my cooking, weeding my garden, and spending more time with my children.