News
»
Go to news main
Register now for the upcoming International Conference on End‑of‑Life Law, Ethics, Policy, and Practice
Posted by
Jane Doucet
on May 15, 2017 in
News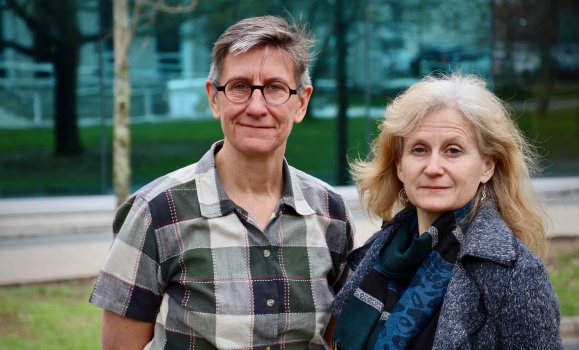 Dalhousie's Health Law Institute is gearing up to co-host the Second International Conference on End-of-Life Law, Ethics, Policy, and Practice, which will feature over 20 plenary speakers and dozens of panels. The conference will be held from Sept. 13 to 15 at Halifax's Central Library and the World Trade and Convention Centre, and the organizing committee is encouraging people to register now before hotels are fully booked.
The conference has attracted an incredible amount of international interest – from Australia, New Zealand, the United States, Belgium, the Netherlands, the U.K., France, and Argentina.
"While the plenaries are weighted to Canadian experts, over 70 per cent of the applications to present papers came from individuals located abroad who want to come to Canada to share their findings and learn from us," says Professor Constance MacIntosh, who is chair of the organizing committee and who will chair the opening plenary. "We believe that there is a hunger to reflect upon experience, knowledge, and research findings as countries around the world consider or implement policy reform. All are striving to understand the implications of different regimes."
There is a hunger to reflect upon experience, knowledge, and research findings as countries around the world consider or implement policy reform. — Professor Constance MacIntosh
The Max Bell Foundation is lending its support to the conference, recently awarding a $30,000 grant that will primarily be used to bring in international speakers. The Foundation encourages the development of innovative ideas that impact public policies and practices with an emphasis on health and wellness, education, and the environment.
Program officer Margaret Herriman says the Max Bell Foundation supports work that informs Canadians about public policy and practice alternatives. "The conference is designed in part to help regulators and policy-makers better understand end-of-life issues," she says. "Given the importance of those issues, the range of experts this conference will bring together, and how current the issues are for Canadians and our governments, we believe this event will make a very valuable contribution."
Crossing countries, disciplines, and sectors
Presenters range from physicians, nurses, occupational therapists, and psychologists to anthropologists, lawyers, bioethicists and philosophy professors. "Everyone will be bringing different perspectives, knowledge, and experiences on end-of-life issues," says MacIntosh. "We are expecting that participants' perspectives, from across the board, will be challenged and deepened."
Concurrent sessions will include medical assistance in dying (euthanasia and assisted suicide); palliative care (including palliative sedation); advance directives and advance care planning; next generation issues for medical assistance in dying, including addressing organ donation and access for those in prison; and other end-of-life law, ethics, policy, and practice issues.
Everyone will bring different perspectives and knowledge on end-of-life issues. — Professor Constance MacIntosh
The public is invited to attend the opening plenary, "The Story of Law Reform in Canada," which will take place on Sept. 13 at 7 p.m. at Paul O'Regan Hall at the Halifax Central Library (the rest of the plenaries will be held at the convention centre and are open only to registered participants).
The opening plenary speakers are Joseph Arvay (the lawyer who argued Carter v. Canada before the Supreme Court of Canada), Senator James Cowan (a member of the Special Joint Committee on Physician-Assisted Dying), and Mona Gupta (a psychiatrist and researcher at the Centre l'Hospitalier de l'Université de Montréal who is involved in implementing Quebec's legislation at the hospital level).
Dialogue that will inform public debate
Adelina Iftene will be joining the Schulich School of Law as an Assistant Professor on July 1; her main areas of research and teaching interests are prison law, criminal law, sentencing, evidence, and Charter rights. At the conference, she'll present on end-of-life issues in Canadian prisons with Health Law Institute Affiliate Member Crystal Dieleman, an Assistant Professor in Dal's School of Occupational Therapy.
"Our panel will look at how the new medical assistance in dying legislation in Canada is going to be applied in prison settings," says Iftene. "I'm going to present the main issues that arise in prisons, such as inmates with terminal illnesses asking for medical assistance in dying because they aren't getting adequate pain medication. When we sentence someone to life in prison, we need to think about what that means when they're old and terminally ill."  
When we sentence someone to life in prison, we need to think about what that means when they're old and terminally ill.
— Panelist Adelina Iftene
On Sept. 16, Iftene and Dieleman will facilitate a satellite meeting with about 20 individuals to discuss how to advise the government to deal with the issues surrounding improving the care of patients in prisons at the end of life. "There are legal and constitutional provisions that guarantee the same level of care for everyone, including those in prison," says Iftene. "You can't discriminate."
Sponsoring the conference are Dalhousie University and its Schulich School of Law, Health Law Institute, and Faculty of Medicine; the EMGO Institute for Health and Care Research in Amsterdam; the Australian Centre for Health Law Research; and the Vrije Universiteit Brussels and Ghent University End-of-Life Research Group in Belgium.
Professor Jocelyn Downie, who is a member of the organizing committee, will be part of a plenary on palliative sedation as well as the final plenary called "Pressure Points for Eligibility for Medical Assistance in Dying." "Through this conference, there's going to be serious dialogue generated that will inform public debate around a wide range of issues," she says. "Although medical assistance in dying will be discussed, the topics cover the full range of end-of-life care."