News
»
Go to news main
KUDOS! Students and grads to clerk for the Supreme Court of Canada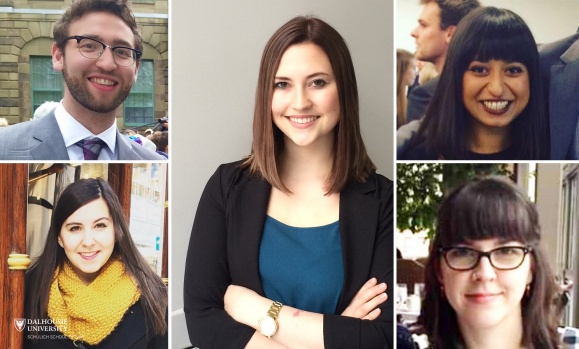 Congratulations to Lauren Mills Taylor ('16), Teagan Markin ('17), Maxime Chambers Dumont (third-year student), Esher Madhur ('16), and Leah Burt ('14) for securing clerking positions at the Supreme Court of Canada. Clerks are responsible for researching points of law and preparing memoranda for judges.
For the 2017/18 term, Mills Taylor, from Calgary, Alta., will clerk for The Honourable Malcolm Rowe. Mills Taylor previously worked at the Alberta Court of Appeal, and was hired by Justice Cromwell shortly before he retired.
Also in 2017/18, Markin, from Swan River, Man., will clerk for The Honourable Rosalie Silberman Abella, the first Jewish woman appointed to the Supreme Court of Canada. Chambers Dumont, from Lethbridge, Alta., will clerk for Justice Abella in 2018/19.
Madhur, from Vancouver, is currently clerking at the Supreme Court of British Columbia in Vancouver. After completing her articles at Hunter Litigation Chambers in Vancouver, she will move to Ottawa to clerk for the justice who assumes The Right Honourable Chief Beverly McLachlin's seat in 2018/19.
Burt, from Stephenville, N.L., will be clerking for The Honourable Suzanne Côté in 2018/19. Burt formerly clerked with the Federal Court of Canada and is currently legal counsel with the Department of Justice, Indigenous and Northern Affairs in Ottawa.
Best wishes from the Schulich School of Law!