News
»
Go to news main
"Unlocking the Cage" film screening and Animals as Legal Persons? panel shone a spotlight on the need for legislation reform in Canada
Posted by
Jane Doucet
on April 24, 2017 in
News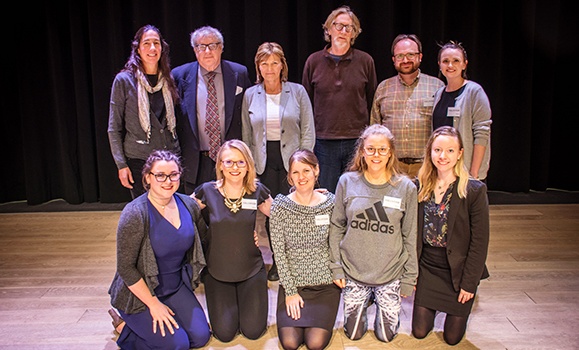 A 42-year-old Asian elephant named Lucy has been living at the Edmonton Zoo since 1977, and she has been there without another elephant companion since 2007. Animal-welfare advocates argue that she should be relocated to a warmer climate with others of her tribe, while the zoo says that to move Lucy now would put her physical and emotional health at risk.
Last month, the screening of the award-winning 2016 film Unlocking the Cage, and the panel discussion "Animals as Legal Persons?" that followed, examined whether certain species of animals – specifically the most cognitively complex ones, such as elephants, chimpanzees, whales, and dolphins – should be recognized as legal persons with basic rights such as bodily liberty, or the right not to be held in captivity like Lucy.
The state of animal rights laws in Canada is antiquated. We need a different framework and legislation that recognizes that animals are living, thinking, feeling beings. 
— 3L Kacie Oliver
Third-year law student Kacie Oliver decided to organize the film screening and panel after being involved in the student-led 2016 IDEALaw conference, which featured a panel called Nonhuman Animal Justice: Litigating a Better Future for Access to Justice. "We got a lot of positive feedback about it," says Oliver. "It showed us that there was an interest in learning more about this topic from both the legal community and the public."
In addition to Oliver, the following members of the Student Animal Law Association of Dalhousie (SALAD) were on the event's organizing committee: Samantha Addario, Rose Branton, Rachel Bushuev, Grace MacCormick, John MacCormick, Kerri Malcolm, Micaela Sheppard, Ashley Skerry, and Sanam Zomorodi.
'Figuring out how to get butts in seats'
The SALAD organizers asked Steven Wise, the Miami-based lead litigator featured in Unlocking the Cage, to sit on the panel, and they were delighted when he agreed. The other panelists were Gloria Grow (founder and director, Fauna Foundation, Canada's only chimpanzee sanctuary), Mary Lee Jensvold (associate director and primate communication scientist, Fauna Foundation), and Schulich Law's Professor Vaughan Black (panel moderator and Canada's Animal Justice organization board of advisors member).
To give themselves plenty of planning time, the SALAD committee began working on the event in June of 2016, and they hosted a few smaller events leading up to it, which was good experience. "Our biggest challenge was figuring out how to get more butts in seats," says Sheppard, a second-year law student. "We had to address the community at large, which we did by putting up posters, through Facebook ads, and by sending emails to interested groups like vet clinics and vegan restaurants."
They also asked Halifax vegan restaurant enVie to cater the event, which about 250 people attended. "We ordered food for 200, and it was basically gone by the first break," says Sheppard. "We figured that many of the attendees would be vegetarian or vegan, and it was delicious, so it worked for everyone."
Modernizing animal rights laws in Canada?
Several sources contributed to funding the event's $9,000 price tag, including grants from the Royal Society of Canada and the Animal Legal Defense Fund in the United States, plus Dal's MacEachen Institute for Public Policy and Governance, Dalhousie Student Union, Student Leadership Fund, and Law Students' Society. "We barked up every [funding] tree we could," says Sheppard.
Their efforts paid off. "Our organizing committee is happy with how the event turned out, and the panelists and the attendees were also happy," says Oliver. Professor Black is also pleased with the outcome. "The evening was a fine combination of public education, respectful debate, and solidarity among local animal activists," he says. "The student organizers deserve great praise."
The evening was a fine combination of public education, respectful debate, and solidarity among local animal activists. — Professor Vaughan Black
Attendees were invited to fill out anonymous comment sheets, where they wrote things like "Fascinating! What a long road we have left to go, but it's great to see so many like-minded people working for animal rights" and "The screening and panel aided in my understanding of personhood and how it should be applied not just to humans or corporations but to nonhumans as well."
Animal rights have long been a hot topic, with such Canadian organizations as World Animal Protection operating for more than 50 years. Currently Bill S-203 is before the Senate, which is an Act to amend the Criminal Code and other Acts to end the captivity of whales and dolphins.
Because animals feel pain, are aware of themselves and their surroundings, and form complicated relationships with other animals, including humans, "they should have fundamental rights that would protect them from institutionalized abuse," says Oliver. "The state of animal rights laws in Canada is antiquated – we're behind many other countries in this area. We need a different framework and legislation that recognizes that animals are living, thinking, feeling beings."