News
»
Go to news main
Innis Christie Lecture and Symposium in Labour and Employment Law examined the issues raised by labour market uncertainty
Posted by
Jane Doucet
on March 27, 2017 in
News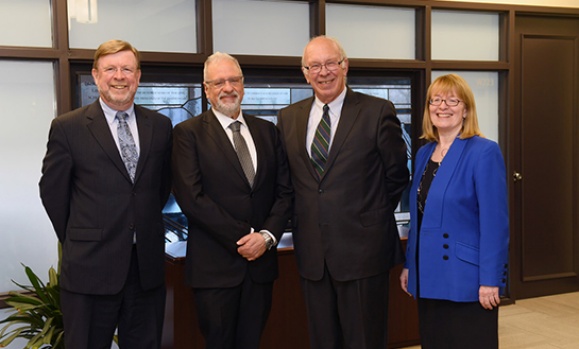 Last year, both Prime Minister Justin Trudeau and Finance Minister Bill Morneau told Canadian employees that they need to get used to "job churn" and "precarious work." They were referring to the increase of short-term, non-permanent jobs in the labour market.
On the other hand, the prime minister, speaking earlier this year to business leaders in Berlin, suggested that there was an obligation on employers to create better benefits and pensions to save the middle class. How can one work through these contradictions that many think are related to Brexit and Donald Trump?
At the recent seventh annual Innis Christie Lecture in Labour and Employment Law, two employment law experts pondered the issues raised by the fact that in today's changing economy, labour market uncertainty means unstable employment for workers.
The lecture, which was held in Weldon's Room 105, was titled "Coping with the Fissured Workplace and Precarious Employment." The speakers were C. Michael Mitchell and the Hon. John C. Murray, who are arbitrators, mediators, and special advisors to the Ontario "Changing Workplaces Review." They were hired by the Ontario government in 2015 to advise the Ministry of Labour on changing workplaces and how the situation of both workers and employers in that province might be improved, and their final report is almost ready.
Innis Christie, who died in 2009, was one of the most respected legal scholars and labour arbitrators in Canada. He was also a law professor here from 1971 to 2007 and Dean from 1985 to 1991. Before Professor Bruce Archibald introduced the speakers, he revealed that Christie arrived at the law school as a professor when Archibald began his first year of classes. The young Archibald took Christie's labour and employment law courses and played squash with his professor. "Innis was an older and formidable squash player," said Archibald. "I got good lessons from him before I gave up in the face of a superior force."
Labour law and Constitutional rights
Archibald pointed out that for the first time in Innis Christie Lecture history, there was a "tag team" of two speakers instead of one. Mitchell and Murray were ideal choices given that "the issues they've been dealing with in Ontario are central to many of the problems we're facing in western democracies."
Murray began his talk by joking, "If you see a lot of pages on the podium here, it's because I'm 122 years old and there are one or two words on each page." Then he spoke about the freedom of association, the right of individuals to join or leave groups of their own choosing, and for the group to take collective action to pursue the interests of members.
What kind of world do we live in where corporate and labour lawyers aren't talking about Constitutional rights?
— the Hon. John C. Murray
"Does the right to associate carry with it a constitutional right to strike?" Murray asked the audience. "Yes. If management can shut down workers, why can't workers shut down management from time to time?" Another thought-provoking question he posed was "What kind of world do we live in where corporate and labour lawyers aren't talking about Constitutional rights? Government has an obligation to look and see if this is something that can be opened up a bit."
The real question for Murray and Mitchell is this: If the trade union movement is diminishing in importance, is there a different role for employment law? "We face lots of challenges," said Murray. "If you're a CEO of a big company, does free association really matter? I don't know."
What kind of work is precarious?
When Mitchell took the podium, he said that he had met Innis Christie a couple of times, and it was an honour to lecture in his name. He spent some time defining the terms "precarious" and "fissured."
"Who are the precarious workers?" Mitchell asked. "Precariousness is about work vulnerability. What kind of work is precarious? The term is usually used for contingent, temporary, or contract work, or non-standard employment. It also extends to long-term workers without benefits or a pension – workers who won't be able to pay for medications or go to the dentist, and who live in a state of uncertainty and poverty. Vulnerable workers are everyone in situations that don't provide benefits, a pension plan, or a trade union."
What kind of work is precarious? The term is usually used for contingent, temporary, or contract work, or non-standard employment. — C. Michael Mitchell
How many of these jobs are there? In Ontario, around 30 per cent of the workforce is deemed precarious working in "fissured" jobs where employers have cut costs by contracting out non-core services, which lowers the bottom line. For example, a university might subcontract food, janitorial, and security services. "The employers don't have to keep the workers if the contractor changes – they can clean house," says Mitchell. Fissuring also occurs in workplaces where technology is replacing people.
Perhaps the best example of fissured workplaces are those that use temporary-help agencies to power their companies. "The argument is that an employer shouldn't invest in human capital but use temporary workers instead because it's cheaper and more efficient," said Mitchell. "The worker is caught in the middle of the triangular relationship between the agency and the client."
The failure to find broad solutions to these problems may lead to significant social, economic, and political instability among western liberal democracies. — Professor Bruce Archibald
Mitchell summed up by saying that the changing workplace is creating a whole new group of vulnerable workers, and that their future in uncertain. "The Ontario government thought this was important enough to study. What, if anything, will the government do with our final report? We have no idea – as consultants, we're completely independent of the government."
Professor Archibald is pleased with the conversations that took place at both the lecture and the following day's symposium. At the symposium, leading labour lawyers and scholars traded views with Murray and Mitchell on how the problems of the fissured workplace and employment vulnerability might be resolved.
Professor Archibald warns that "the failure to find broad solutions to these problems may lead to significant social, economic, and political instability among western liberal democracies in the relatively near term. We're seeing the beginnings of this already – levels of economic inequality in the west now resemble those of the 1920s. The parallel is not comforting."