News
»
Go to news main
Schulich Law presents united front for Day of Solidarity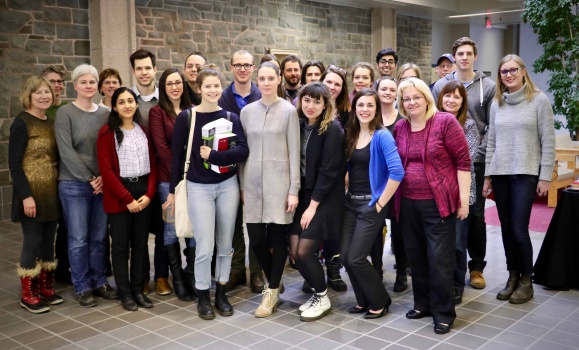 Under the skylight in the Atrium of the Weldon Law Building on Feb. 8, 30 students, staff, and faculty members stood closely together, captivated by the speaker at the podium. Marta Miazek, a second-year student at the Schulich School of Law, was shy to address the group, but her voice was steady and strong. In recognition of Canada's official Day of Solidarity, she expressed her thoughts on religion, violence, discrimination, fear, and hope as a Muslim woman in the modern world.
The Day of Solidarity was created to promote unity and understanding in the wake of President Trump's controversial immigration and refugee policies. In similar gatherings in law schools across the country, students came together to learn about Islam's positive impact on the lives of their classmates. A moment of silence was also held to acknowledge the victims of the recent mosque shooting in Quebec City.

"I stand here not looking like what you see as an average Muslim brother or sister, but I feel the pain that they feel," said Miazek. Speaking of her conversion to Islam in July of last year, Miazek described the religion as "congruent with how I wanted to worship the Creator. God is beneficent and merciful. That's really been the experience of Islam in my life."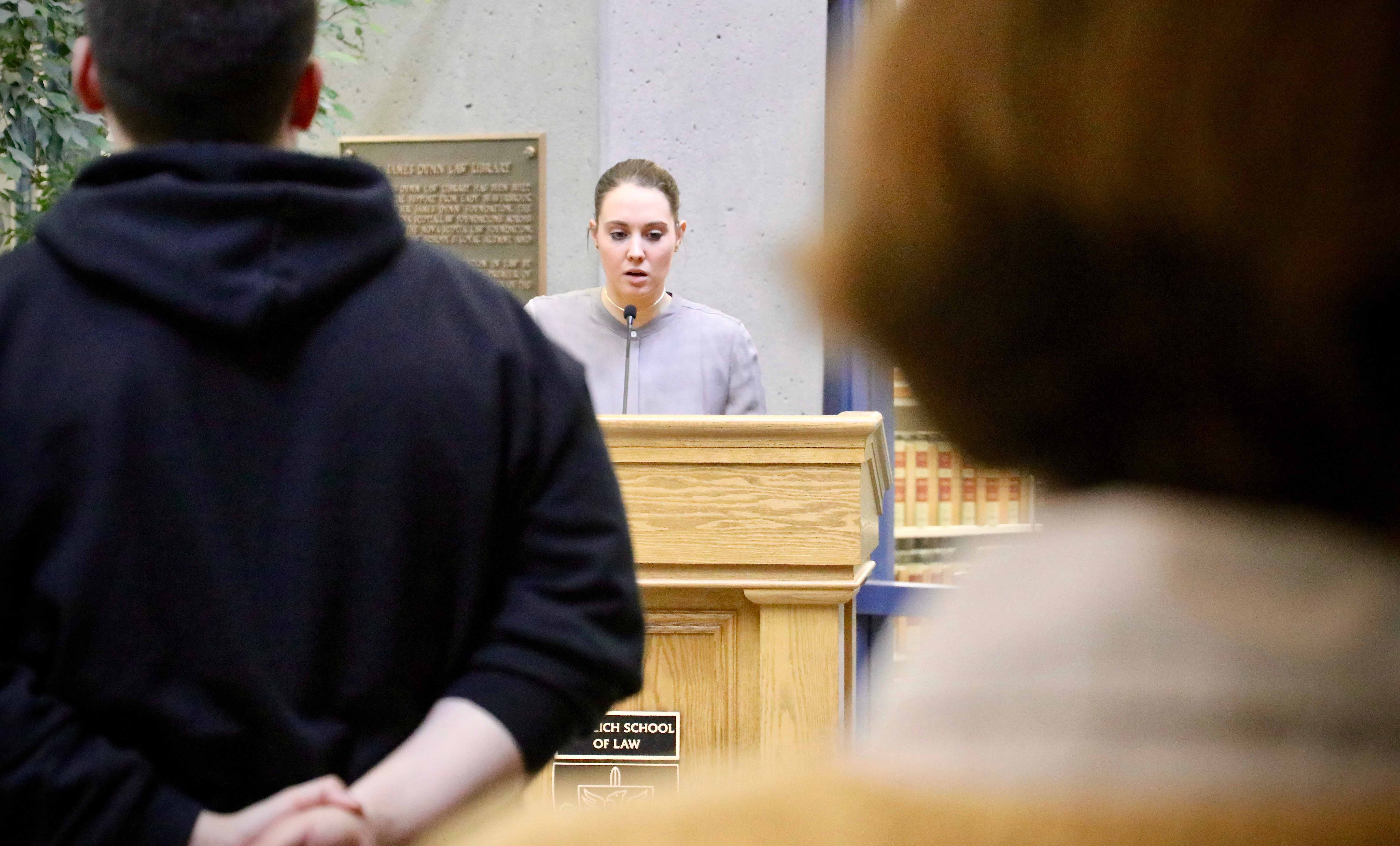 Marta Miazek, a second-year student at the Schulich School of Law (Photo: Rachael Kelly)
It was the first time Miazek has spoken publically about being a Muslim. Being visible is difficult, she said. "Most of my family doesn't even know I'm Muslim, except for my parents."
On her way to Dal Legal Aid Service a few days ago, she spotted a "sister" wearing a hijab on Halifax Transit. She asked if she was a Muslim and wondered how she was doing – if she felt safe. The way the woman whispered to her in reply reminded her of other Muslims' real concern for physical safety, especially when their faith is more easily recognized.
Miazek ended her speech with a prayer. "Peace be with you," she finished in a low voice.
Second-year student Nadia Shivji then took her place at the podium. Her contribution was meant to dispel stereotypes and talk about "Trump's attempt to block our community," said Shivji.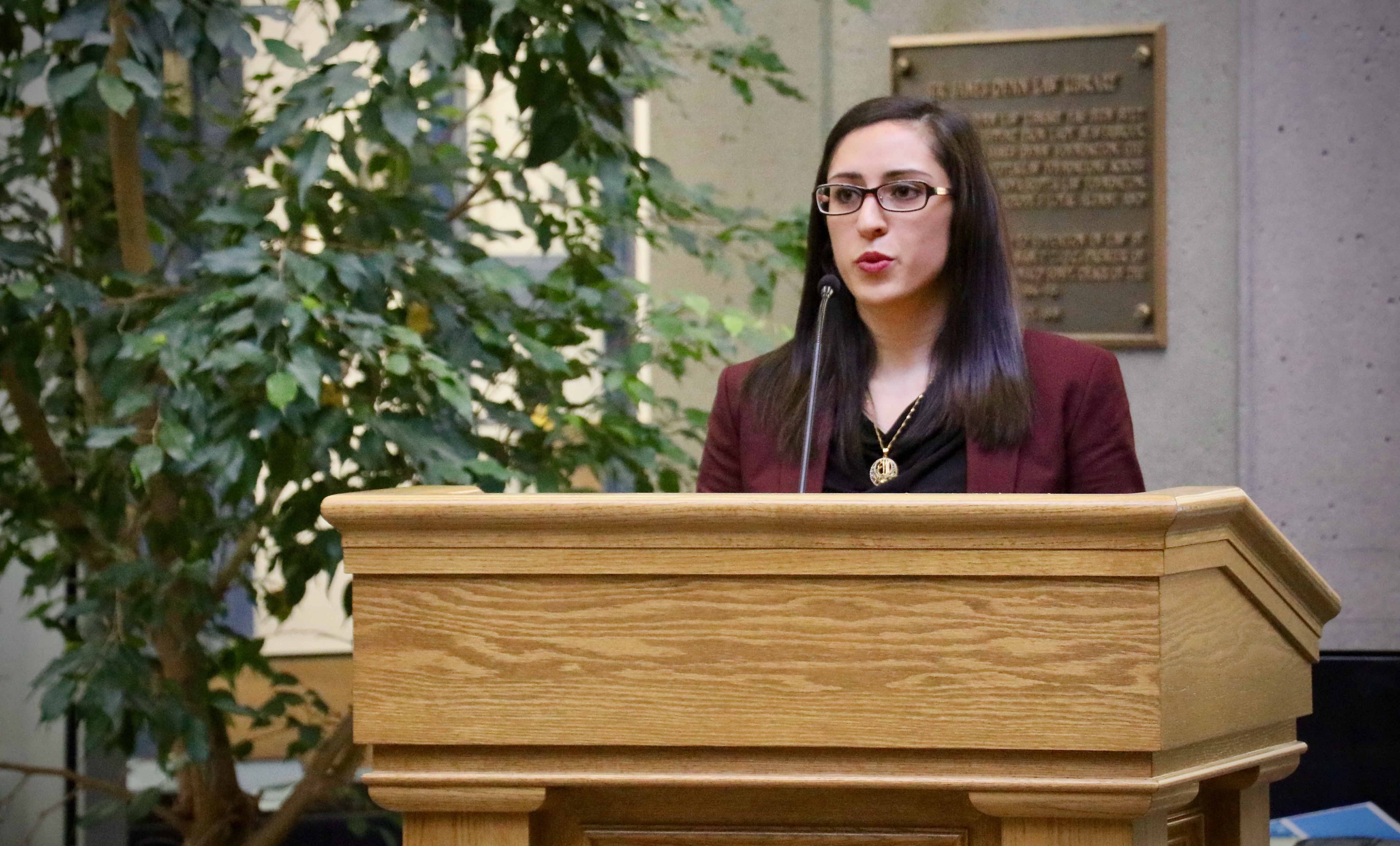 Nadia Shivji, a second-year student at the Schulich School of Law (Photo: Rachael Kelly)

From Haliburton, On. – a rural area she described as a "small, conservative, largely white town" – Shivji described her father's relatives' rushed, anxiety-driven emigration from Uganda in the 1970s after then president Idi Amin gave the country's Asian population 90 days to vacate the country. (Her father was in Kenya at the time.) Canadian Prime Minister Pierre Trudeau responded to the resulting call for aid and took in a number of refugees alongside UK Prime Minister Edward Heath.
"My generation is a product of those refugees," said Shivji. "We are now law students and engineers and doctors and contributing tax-paying members of Canadian society. That's a really important reflection of our Syrian refugees right now – in 20 years, this is what their community will look like in Canada." Immigration bans, she affirmed, prevent the advancement of society as a whole.
Shivji embracing Ria Guidone, VP Student Life of the LSS (Photo: Rachael Kelly)
Shivji appreciates the support her law school peers have given in these trying times. A number of students sent her messages after the Quebec mosque shooting, asking her how she was coping. "That meant a lot to me," said Shivji.
These kinds of well wishes and words of encouragement were present for the remainder of the hour as students tacked yellow, pink, and neon sticky notes to a #DayofSolidarity poster that stretched as tall as the entrance to the library.

"Love Wins"
"Solidarity Forever"
"Together...Strong...The only way it can work"
"We can and will do better as a community and a country"
"Don't be afraid of difference. Choose love and acceptance"
"Never, Ever underestimate the effects of love, openness, and understanding"
"Research 4 Refugees"
"Silence is Violence"
"Unity"
#WeldonProud