News
»
Go to news main
Professor William Lahey installed as the 25th president and vice‑chancellor of the University of King's College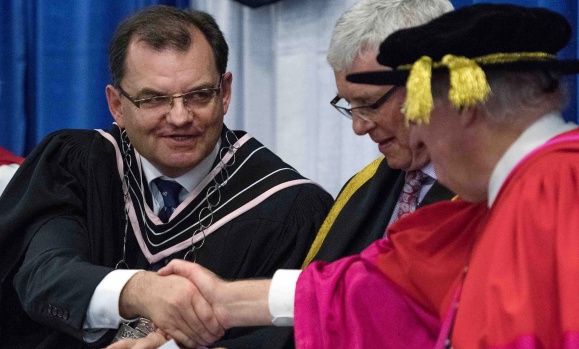 The Schulich School of Law community congratulates the newest president and vice-chancellor of the University of King's College: our very own Professor William Lahey. On October 13, 2016, in front of friends, family, and colleagues from across Canada, Lahey was installed as King's 25th president and vice-chancellor. His swearing-in was overseen by the clerk of convocation, Thomas Curran, the public orator, Peter O'Brien, and King's 14th chancellor, the Honourable Kevin Lynch. The ceremony was carried out in the traditional manner – that is, entirely in Latin.
Chancellor Lynch: "Gulielme Lahey, fidem dabis ad observandum omnia statuta, privilegia, consuetudines libertatesque huius Universitatis quo melius floreant bona doctrina moresque purissimi?" [William Lahey, will you swear to observe all the statutes, customs, and liberties of the university, so that sound learning and morals may flourish and increase?]
President and Vice-chancellor Lahey: "Ego, Gulielmus Lahey, do fidem quo ea omnia diligenter et fideliter exsequar ad officium Praesidis et Vice-Cancellarii Collegii Regalis spectant, sicut me Deus adiuvat et sancta evangelia." [I will swear to do so, God being my helper. I, William Lahey, swear that I will faithfully perform all the duties that belong to the office of the president and vice-chancellor of King's College with the help of God and the Holy Gospels.]
After the formal installation and ceremonial fanfare, members from across the University of King's College community – faculty, staff, students, and members of the board of governors and alumni association – conveyed their well wishes. Lahey was also congratulated by presidents and vice-chancellors of sister universities in the province, including Summerby-Murray, president of Saint Mary's University; Ramona Lumpkin, president and vice-chancellor of Mount Saint Vincent University; Dianne Taylor-Gearing, president of NSCAD University; and Richard Florizone, president and vice-chancellor of Dalhousie University.
Welcoming Lahey to the fold, Florizone likened the relationship between Dalhousie and King's to family. "I've had the great pleasure of working with Bill in his role as a faculty member in our Schulich School of Law, and I'm sincerely looking forward to working with Bill to strengthen our ongoing and very important collaboration," said Florizone.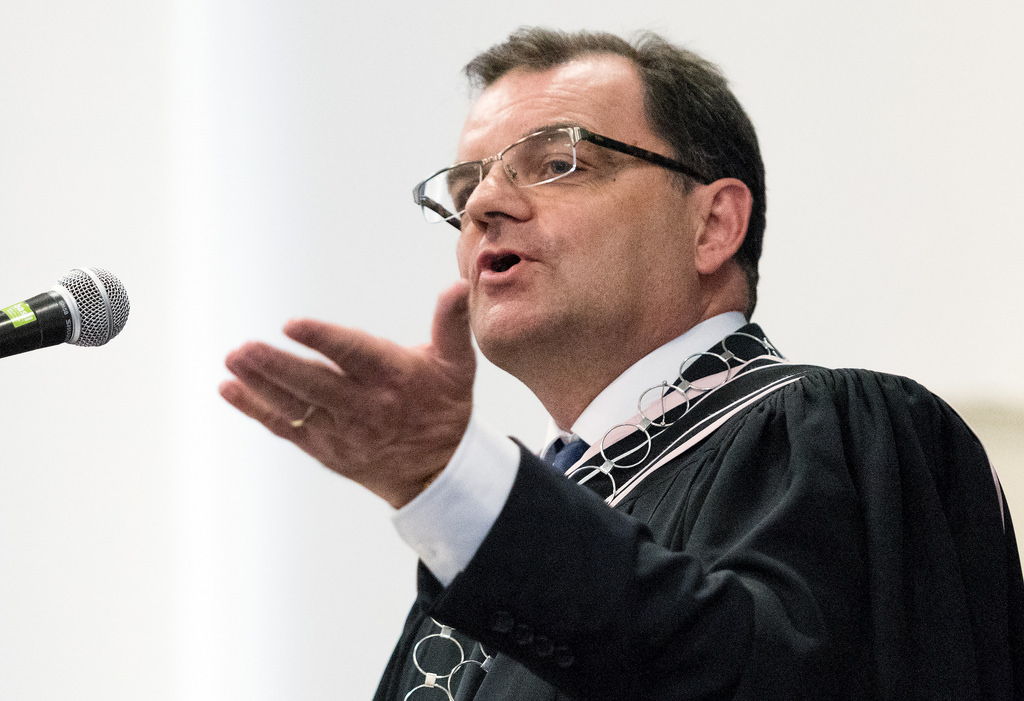 President Lahey wore the chain of office as he delivered his installation address. (Photo: Christian Laforce)
Lahey began his installation address with the grateful quip that he no longer had to speak in Latin. After extending his thanks to those in attendance, he spoke of his new life at King's, touching on everything from campus renovations to enrolment challenges to walks in the quad with his dog, Casey. He also talked about implementing recommendations from the Truth and Reconciliation Commission. Elder Geri Musqua-LeBlanc, of Dalhousie's Elders in Residence Program, reminded attendees in an earlier welcome speech that King's exists on unceded Mi'kmaq territory.

"All around me, I am blessed to enjoy the collegiality of so many intelligent, motivated, and creative people who are dedicated to the transformational power that a King's education offers," said Lahey. "Although I may be expected to make changes happen, I'm very aware that I am in the process of being changed, for the better, by King's."
In addition to Lahey's installation, honorary degrees were awarded to Tracey Lindberg, an Indigenous studies and Indigenous law professor, and Patrick Graham, an award-winning journalist.
"I call upon all of us – all those who study, teach, or work here, and all those who love and cherish King's from within and beyond the quad – to strive for unity of purpose and common effort for the benefit of the university," said Lahey. "I am irrevocably and fully for King's. I am, as they say, all in."