News
»
Go to news main
IN MEMORIAM: The Honourable Lorne O Clarke (LLB '51), retired Chief Justice of Nova Scotia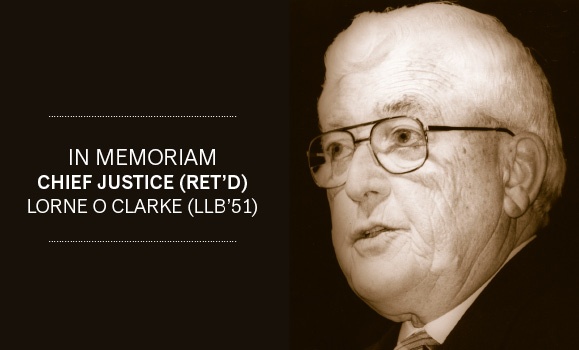 The Schulich School of Law community is profoundly saddened by the loss of our former colleague, alumnus, and friend, the Honourable (retired) Chief Justice Lorne O Clarke OC, ONS, QC, LLD (LLB '51), who passed away May 21, 2016, aged 87.
Praised as a fair, wise, and principled decision-maker
Nova Scotia's 20th Chief Justice, Lorne Clarke was widely known for his dedication to justice and service to his community. Whether bringing in judicial reform measures arising out of the Marshall commission or providing sensitive leadership in memorializing the tragic crash of Swissair Flight 111, Justice Clarke, in his courteous, compassionate, and unheralded way, used diplomacy and consensus-building to draw people together.
Born in Malagash, Nova Scotia, Clarke developed a strong work ethic at an early age and excelled in school with interests in current events and politics. He enrolled at Dalhousie University, earning a Bachelor of Arts degree in 1949 and a Bachelor of Laws in 1951. He joined the law school as a faculty member in 1952, a position he held until 1959. During this period, he served as secretary to the law faculty, and earned a Master of Laws degree from Harvard University in 1955. 
Among the students in his corporate law class was Bertha Wilson, the first woman appointed to the Supreme Court of Canada. In the book Judging Bertha Wilson, she describes Justice Clarke as "a confident and cheerful instructor who carried on his classes with great humour and flair."
In 1959, he entered private practice in Truro, Nova Scotia, with the law firm of Patterson Smith Matthews and Grant. Focusing his practice on labour and commercial law, he was known as a skilled arbitrator and mediator and praised as a fair, wise, and principled decision-maker.
Chief Justice Clarke: A bridge-builder and a "galvanizing force"
In 1981 Clarke was appointed a Judge of the Supreme Court of Nova Scotia, Trial Division. In 1985 he was appointed Chief Justice of the Appeal Division. During his tenure on the bench, Mr Clarke earned a national reputation among his peers for hard work and, particularly, dedication to judicial education. In their memorial tribute, the Nova Scotia Courts website recounts that in "his time as Chief Justice, he championed a collaborative and cooperative relationship among the various courts in Nova Scotia, and laid the foundations for the creation of the Executive Office of the Nova Scotia Judiciary, a body representing the entire Provincial Judiciary and the only one of its kind in Canada."
Nationally, Justice Clarke was a member of the board of governors of the National Judicial Institute, the body responsible for providing education to Canadian judges. He was also active in the Canadian Judges Conference and the Canadian Judicial Council.
As Chief Justice, Clarke brought in several reforms following the 1990 Royal Commission into Donald Marshall Jr.'s wrongful conviction for murder. The Commission had harsh words for Nova Scotia's justice system, including judges. Justice Clarke took measures to make Nova Scotia's courts a national leader in judicial education, as well as more accessible and publicly accountable.
"He aimed constantly to reach out to others – to other courts, to the bar, to academe, to the public at large – with the goal of making the courts more transparent and learning where they could improve," according to Philip Girard, Jim Phillips, and Barry Cahill, authors of The Supreme Court of Nova Scotia, 1754-2004: From Imperial Bastion to Provincial Oracle.
After Justice Clarke retired from the court in 1998 at age 69, he joined ADR Chambers, offering mediation services. Known for his ability to achieve consensus through consultation, he demonstrated this skill as chair of the Swissair Flight 111 memorial secretariat. Under his leadership, the secretariat selected a memorial to the 229 victims of the 1998 crash off Peggy's Cove and organized the burials. "We needed to devise a Nova Scotia response that was both dignified and respectful," Justice Clarke said at the time. "I think we accomplished that." In honour of the compassion he showed the families of the Swissair victims, he received the 2001 Nova Scotia Red Cross Humanitarian Award.
Justice Clarke's contributions were widely recognized. He received honorary doctorates in law from Dalhousie University and Saint Mary's University. In 1999, he was awarded the Order of Canada and three years later the Order of Nova Scotia. As a lawyer, judge and citizen – and as the consummate exemplar of the ideals Dean Richard Weldon sought to instill in his students – he received the Weldon Award for Unselfish Public Service in 2002. The Legal Information Society of Nova Scotia named the Lorne Clarke, QC Access to Justice Award in his honour.
A friend and mentor remembered
On April 17, 1999, the law school held a symposium to mark Justice Clarke's retirement from the bench and recognize his "unpretentious, gentlemanly and fair-minded" leadership in the administration of justice. Attendance was overwhelming and included Chief Justices and Justices from across Canada, representatives of government, various segments of the legal system, as well as numerous friends, colleagues and Dalhousie alumni. Prime Minister Jean Chretien sent congratulations and noted Clarke's important contributions to his province and Canada. Then and at other times, colleagues have remembered him this way:
Great public service demands accountability, integrity, and vision. No finer example of those qualities can be found … than in the person of Lorne Clarke.
—  THE HONOURABLE JAMES KINLEY, FORMER LIEUTENANT GOVERNOR OF NOVA SCOTIA
Professor Lorne Clarke was extraordinary in his knowledge of torts and, of equal importance, in how to cause students to want to be in his classes. He was probably the most entertaining of our professors whose presentation was beyond reproach; whose humour kept us alert; who would cease speaking mid-sentence when the class closing bell rang and who would pick up from that mid-sentence two days later at the next class, causing many of us to scramble to remember where he left off last class... Professor Clarke was wonderful as a professor, mentor, and friend.
—JUSTICE ARTHUR LUTZ (LLB '60)
History will record him as a truly great chief justice of Nova Scotia. He was a scholar, he was a wonderful judge, and he had an incredible rapport with people of all walks of life.
—JUSTICE TED FLINN (LLB '60)
He was a mentor first and foremost. I think his greatest legacy is his contribution to not just the Nova Scotia Court of Appeal but to the entire Nova Scotia judiciary. He was a galvanizing force.
—CHIEF JUSTICE MICHAEL MACDONALD (LLB '79)
We grieve the loss of a great jurist, an extraordinary human being, and a beloved friend. We offer our deepest sympathies to Lorne's family and friends.