News
»
Go to news main
IN MEMORIAM: The Honourable Constance R Glube OC ONS LLD (LLB ™55), retired Chief Justice of Nova Scotia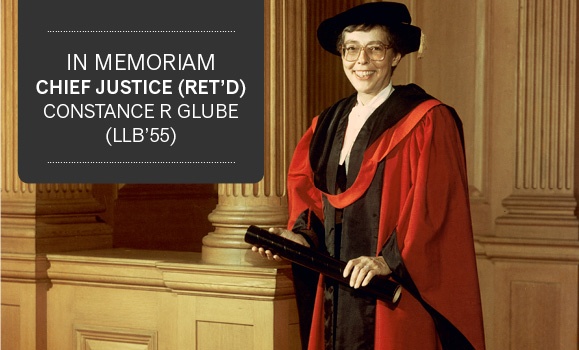 The Schulich School of Law at Dalhousie University mourns the loss of our esteemed alumna and friend, the Honourable Constance R Glube (LLB'55), who passed away February 15, 2016, aged 84.
Constance Glube – "Connie" as she preferred to be called off the bench – was one of two women in the law school's graduating class of 1955. Her path in law, following her admission to the Nova Scotia Bar in 1956, led the way for generations of women in the Canadian judiciary.
"A trailblazer, an excellent judge, a role model and a first-class person"
Juggling roles and responsibilities while raising her young family, she joined the law firm of Kitz Matheson and later became a partner in Fitzgerald & Glube. She left private practice to serve as solicitor for the City of Halifax, and was later appointed City Manager – the first woman in Canada to hold the position.
She was, like Bertha Wilson, a trailblazer and in spite of the enormous obstacles faced by women of her period she persevered in a male-dominated environment and achieved many "firsts" – from being the first woman in Canada to hold a position as City Manager to becoming the first woman on a federally appointed court (Trial Division of the NS Supreme Court) to her appointment as first female Chief Justice in Canada, and then Chief Justice of the Nova Scotia Court of Appeal. She contributed to legal scholarship through her decisions particularly those involving workers' rights. She served on many boards and commissions and had a special interest in judicial education and appointments (of which she was frank in her public pronouncements). She was a modest woman who kept the common touch in spite of many awards and honors including the Order of Canada. She had a wonderful sense of humour. I know all who knew her will be diminished by her loss.
            - Professor Emeritus John Yogis

I first met her a long time ago when I was an undergraduate student in Political Science at Saint Mary's University. She came to speak to our Urban Politics class. I remember her and her talk, mainly because she was so down to earth, so pleasant and approachable. Little did I know then that I would become a lawyer and appear before her many times in court. In all of the cases I had before her, she was always respectful, polite and professional – it was a pleasure to appear before her. Classmate Purdy Crawford (LLB'55), speaking at a law school reunion dinner a few years ago, told a noteworthy story that many would describe as "classic Connie": As a law school student, Purdy did not have much money. His classmate Connie received many academic prizes in their last year of law school – including some cash awards. Being a person of compassion, and understanding Purdy was struggling financially, Connie quietly gave him the money from her awards. At the dinner, he said no one knew and he was glad to have the opportunity to publicly thank her. She was a trailblazer, an excellent judge, a role model and a first-class person.
            - Schulich School of Law Dean Camille Cameron
"I worked hard because I just adored it"
Glube graduated from law school at a time when women were a rarity both in the law school, and in the profession. With her dedication, determination, and strong work ethic she carved out a lasting legacy that will serve Canadians for years to come. But in her words, "I worked hard because I just adored it."
In addition to her many years of service on the bench, she served on the executive of many local and national organizations, including the Canadian Judicial Council, the Judicial Education Committee, and the National Judicial Institute.
On her retirement in 2004, colleagues paid tribute to her integrity, diligence, sound judgement, and sense of fairness, describing Glube as "always respectful of others, open to new ideas, thoroughly prepared, articulate and so genuinely interested in the lives of people around her."
Paying tribute to her many contributions
Chief Justice Glube's contributions to her profession and her community have been widely recognized and celebrated. In 1997, she received the Frances Fish Women Lawyers' Achievement Award. The award, established in honour of Frances Fish, the first woman to graduate from Dalhousie Law School and Nova Scotia's first female lawyer, is presented to women who have achieved professional excellence and demonstrate "a commitment to the advancement of women's equality in or through the legal profession."
She held honourary degrees from Dalhousie, Mount Saint Vincent, and Saint Mary's University. Following her retirement, the law school unveiled the Constance R Glube Room and created the Constance R Glube Bursary with the Nova Scotia Barristers' Society. Chief Justice Glube was made an Officer of the Order of Canada in 2006 in recognition of her "enduring contributions to the administration of justice", and in celebration of her status as "a role model for women of all ages and professions."
In 2009, the Nova Scotia branch of the Canadian Bar Association established The Constance R Glube CBA Spirit Award, recognizing "achievement in law by Nova Scotian women lawyers."
It is so sad to hear of Chief Justice Glube's death. In every contact I had with her, on the bench, in my classroom, Bar Society committees, judicial education events and the community, she was always the same lovely person: thoughtful, humble, perceptive, compassionate, decent and respectful. I look forward to, once again, teaching in the Glube Room, under the ever-patient gaze of her portrait.
            - Professor Archibald Kaiser 
We have lost a giant. We will miss her dearly and we offer our deepest sympathies to her family and friends.
A service for The Honourable Constance R Glube will be held on Wednesday, February 17th at 2:00 PM at Shaar Shalom Synagogue, 1981 Oxford Street in Halifax. Interment to follow at Connaught Avenue Cemetery.