Ensembles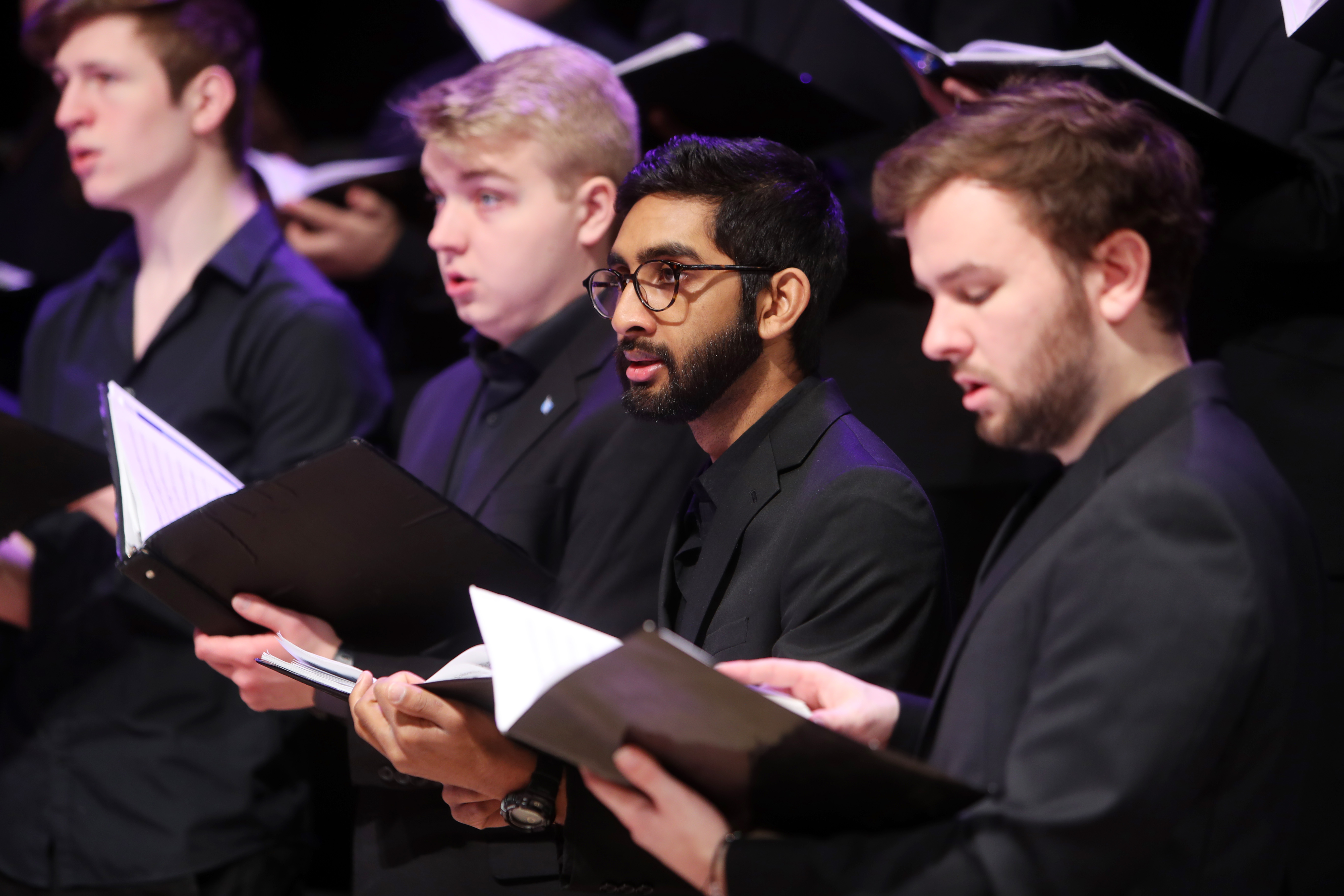 Ensemble participation is a required element of all music programs and recommended for instrument or voice elective study.  
Many of the ensembles at Dalhousie University are open to students in other programs, as well as community members. If you're looking for a way to stay musically active, please contact the conductor of one of our many performing groups.  See the Our Season page for scheduled performances.
Wind Ensemble
2022 Audition Info:
o DAL SYMPHONY ORCHESTRA and DAL WIND ENSEMBLE
Wednesday, Sept. 7, Room 121, 4:00 pm to 8:00 pm
Questions: jacob.caines@dal.caThe Dalhousie University Wind Ensemble draws its membership primarily from students in the Fountain School of Performing Arts. It is open to the entire student body regardless of their major field of study, to students of other universities and colleges, and to musicians from the community, by audition.
The FSPAWE performs music from the extensive array of standard and contemporary works for wind ensemble while focusing on creating innovative and multidisciplinary approaches to contemporary and classic wind music. Concerts strive to be unlike any traditional wind ensemble concert and include performance elements from not only the discipline of music, but also dance, theatre, and visual art.
The Wind Ensemble rehearses Wednesdays 4:30 to 6:30 pm in Room 121 of the Dalhousie Arts Centre, plus Friday sectionals from 4:30-5:30. The Wind Ensemble is directed by Jacob Caines. Auditions are held in September. For more details contact jacob.caines@gmail.com
Choral Ensembles
Dalhousie University Chorus
The Dalhousie University Chorus is a chamber choir (30-40 voices) comprised of music students from all idioms as well as experienced choral singers from other disciplines and the community. Excellence, innovation, and collaboration are the hallmarks of the Chorus and the music crosses all periods and genres. Concerts often feature other performers from the Fountain School of Performing Arts and the group has undertaken several community-centred collaborations. The choir normally gives two public performances per year. Students can register for Dal Chorus as part of an ensembles credit or can be involved purely for their own enjoyment. Rehearsals are Mondays (Arts Centre Rm 121) and Wednesdays (Arts Centre Rm 111) from 4:30-6:00 pm.

AUDITIONS are held in September. You need to audition if:
1. You have not sung in the Chorus previously (does not apply to voice majors - see #3 below)
2. You have sung with the Chorus but want to change to a new section
3. You are a first year voice major who is signed up for an opera audition.
Auditioning for Dal Chorus involves a low-stress vocal "interview" with the conductor.You do not have to prepare a piece to sing. Instead, the conductor will take you through a series of vocal exercises to get to know your voice, your singing skills, and your background. Singers will be selected based on voice part, choral experience, intonation, and ability to hold a part in harmony singing.
2022 Audition info:
Audition days
o CHOIR AUDITIONS:
Sept. 6th, room 121 2:30 pm to 5:30 pm: (students who do not want to participate in opera)
o CHORUS AUDITIONS for NON VOICE MAJORS (pianists, guitarists, organists, etc):
Sept. 7th, Room 111, 4:30 pm
Questions for choir or chorus, please contact john.bogardus@dal.ca
o OPERA AUDITIONS:
Sept. 9th, room 121, 2:30 pm to 9:00 pm
Questions, please contact: betty.allison@dal.ca
Dalhousie Vocal Ensemble - new!
Description coming soon
Questions, please contact: john.bogardus@dal.ca
Dalhousie Collegium Cantorum
This auditioned choir, directed by Gary Ewer, provides an enjoyable and challenging choral and musical experience for the greater Dalhousie and Halifax singing community. A collaborative venture with the Fountain School of Performing Arts, the choir rehearses and performs major choral works.
Rehearsals are held on Mondays from 7:00-9:00 in Room 121 of the Dalhousie Arts Centre. For more information please contact Laurie Ewer.
Guitar Ensemble
The Dalhousie Guitar Ensemble provides opportunities for guitar majors to refine their ensemble skills. As well as performing in the guitar orchestra, students work in smaller guitar ensembles (occasionally mixing electric and acoustic guitars) and work with other instruments. An extensive repertoire is covered from the Renaissance to the 20th century.
The ensemble meets weekly throughout the academic year and performs on campus and in the community.
The Guitar Ensemble is under the direction of Scott Macmillan.
Jazz Ensembles
Dalhousie University Jazz Ensemble
Directed by Chris Mitchell, the Dalhousie University Jazz Ensemble is made up of between 12 and 18 musicians. Repertoire is extensive and students receive opportunities to refine their ensemble and improvisational skills in a variety of jazz styles.
The band meets weekly on Thursdays from 4:30-7:30 pm in Room 121 of the Dalhousie Arts Centre. For more information please contact Chris Mitchell.

Saxophone Quartets
The Dalhousie Music Department also features several saxophone quartets: Junior, Intermediate and Senior.
With repertoire ranging from rags, to jazz standards to classical transcriptions, these quartets explore a variety of musical disciplines, and offer students ensemble experience not otherwise available to the saxophone player. The senior quartet has performed at official University functions, in concerts, and on tour.
The saxophone quartets are under the direction of Chris Mitchell.
See the events calendar for scheduled performances.

Dal Opera
The Dal Opera maintains a long tradition of excellence in opera education while providing a unique opportunity for voice majors to study and perform masterpieces from the operatic literature in fully mounted productions.
Operas are produced annually featuring the talents of faculty, alumni, students and community artists.
Productions have included L'Etoile, The Magic Flute, Kabarett, Sweeney Todd, Dido and Aeneas, Comedy on the Bridge, The Face on the Barroom Floor, Gianni Schicchi, Orpheus in the Underworld, Act II of Die Fledermaus, The Telephone, A Hand of Bridge, The Old Maid and the Thief, A Dinner Engagement, La Serva Padrona, The King and The Wise Woman, Ten Belles Without a Ring, The Impresario, The Medium, La Voix Humaine, Riders to the Sea, Street Scene, Albert Herring, Eugene Onegin, Suor Angelica, The Tender Land, Don Giovanni, The Marriage of Figaro, Trouble in Tahiti, Rigoletto, Il Tabarro, L'Heure Espagnole, and Dialogues des Carmelites.
The Opera ensemble director is Betty Allison. The director of this years opera "The Cunning Little Vixen" is Roberta Barker.

Check the Our Season page in the fall for information about this season's production.
Dal Symphony Orchestra
2022 AUDITIONS

o DALHOUSIE SYMPHONY ORCHESTRA AUDITIONS:
Tuesday, Sept 6th, Room 121, 6:00 pm – 9:00 pm.
Please see: Repertoire Requirements for Strings
Questions: Leonardo.perez@dal.ca

WINDS, BRASS, PERCUSSION STUDENTS:
o DAL SYMPHONY ORCHESTRA and DAL WIND ENSEMBLE
Wednesday, Sept. 7, Room 121, 4:00 pm to 8:00 pm
Questions: jacob.caines@dal.ca
The Dalhousie Symphony Orchestra is the only university orchestra in the Atlantic provinces. Primarily a training orchestra, this student ensemble performs approximately three concerts per year with varied repertoire from the Baroque to Contemporary periods. It performs as a full symphonic ensemble and also takes the role of accompaniment for student concerto performances and choral concerts.
The Orchestra rehearses weekly (Tuesdays, 7:00-10:00 p.m.) in Room 121 of the Dal Arts Centre.

Concerts take place on the Dalhousie campus and other venues around Halifax. The orchestra is conducted by Leonardo Perez. For more information please contact Dr. Leonardo Perez.
Percussion Ensemble
Our percussion ensemble is conducted by Mark Morton.
With repertoire ranging from classical transcriptions to contemporary music, from traditional pieces to repertoire with a more modern flavor, this ensemble explores a variety of musical disciplines. It offers students ensemble experience not otherwise available to the percussionist.
The Dalhousie Percussion Ensemble has performed at official university functions, in concerts, and on tour.