Costume Studies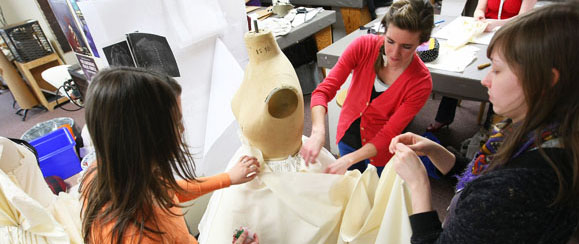 The Costume Studies program is unique in North America, and offers a four-year BA with Honours in Theatre (Costume Studies). The program has a strong historical focus on both theatre and museum work, and stresses applied skills, along with research and academic skills. The applied skills are taught using a conservatory approach, while the research and academic components are imparted through a more traditional university pathway. In this way, students achieve a well-rounded education, equally able to turn their hand to creating costumes from any historical period and for both genders, and to the kinds of problem solving which have come to be expected of graduates with a broad liberal arts education.
What is the Costume Studies program like?

Read a detailed description of what you'll learn

In the applied skills segments of the classes, students obtain a firm foundation in the designer's language, tailoring, the aesthetics of historical and modern dress, pattern designing of garments from 1680 to the present, costume as sculpture, costume technology, and costume in performance. Not only do students learn to create clothing from any period in history using bespoke, one-of-a-kind couturier methods, but also through the academic component within each class, they learn why and how clothing contributes to the formation of personal, community, and cultural identities. In addition, students gain a strong proficiency in costume history from antiquity to the present, exploring why people clothed themselves as they did, and paying particular attention to the social and cultural influences at play, along with class and gender differentiation.

In addition to projects and assignments within individual classes, students have an opportunity to hone their applied and academic skills in costuming by working on costumes for the Fountain School's stage productions and in the creation of a major historical research project which is presented to the public at the end of the academic year. It is within these two components of the program – one grounded in the magic of theatre, one steeped in the sensuality of history – that the individual elements of the program are realized and appreciated. It is here that students are able to gauge public reaction to their work, which is a valuable part of their education experience.

Students come to Costume Studies from all across Canada and the USA. They quickly form a special bond and make friends for life. Because of the close-knit Costume Studies community, those moving away from home for their first year of university need never fear being lonely. Moreover, Costume Studies alumni have a far-reaching network throughout North America and share a camaraderie not experienced by those in large university programs.

The Costume Studies studios are located in the Coburg Professional Centre, 6389 Coburg Road, on the corner of Coburg and Oxford Streets. Several classes are taught in other buildings on the campus. Dalhousie has a beautiful campus, with its grassy, leafy quad surrounded by the original stone buildings constructed for the university in the early nineteenth century. The Fountain School of Performing Arts and the Dalhousie Art Gallery are housed in Dalhousie's Arts Centre which is home to the public-performance Rebecca Cohn Auditorium, the 190-seat Sir James Dunn Theatre, and the more intimate David Mack. Murray Studio.

The Honours BA in Theatre (Costume Studies) was offered for the first time in 2005, but has its foundations firmly rooted in the Costume Studies Program which was begun at Dalhousie in 1976. Thus, it is a mature program which, in addition to equipping students to find employment in theatres, film, television, and living history museums, among others, also enables them to pursue postgraduate education upon completion of the BA.

Structure of the programs

BA in Theatre with Honours (Costume Studies)
This description is based on the Academic Calendar, which is the official source for degree requirements and should be consulted for fuller details. If you began your degree before the current year, your requirements are based on those of the calendar of your first year, which may differ. If you have any questions, don't hesitate to contact our Academic Advisor.

The following lists only the required classes for the Costume Studies BA program. Students must also complete enough elective classes to fulfill Dalhousie's requirements for a BA Honours degree. Honours students must maintain at least a B+ average in all of their advanced Theatre classes.
Year 1
PERF 1000.03 (Writing About Performance)
PERF 1002.03 (Writing About Stage and Screen)
THEA 1451.03 and 1452.03 (Introduction to Costume Studies)
Year 2
THEA 2011.03 (Ancient and Medieval Theatre)
THEA 2012.03 (Early Modern Theatre)
THEA 2401.03 (Cave to Castle: Dress from Pre-history to 1450)
THEA 2402.03 (Castle to Cafe: Dress from 1450 to 1700)
THEA 2407.03 and 2408.03 (The Aesthetics of Contemporary Dress)
THEA 2412.03 (Language of Design)
THEA 2451.03 (Costume in Performance 1)
Year 3
THEA 3402.03 (Baroque to Bustles: Dress from 1700 to 1900)
THEA 3403.03 (Bustles to Boardroom: Modern Fashion from 1900)
THEA 3452.03 and 3453.03 (Costume in Performance)
THEA 3454.03 and 3455.03 (Body-Shaping Through Historical Tailoring)
Year 4
THEA 3503.03 (Modern Theatre)
One elective course in Theatre History
THEA 4407.03 and 4408.03 (The Aesthetics of Historical Dress)
THEA 4450.03 (Costume Technology)
THEA 4452.03 (The Sculpture of Dress)
Students in Costume Studies will be awarded the Honours Qualifying Project upon successfully completion of a project on an aspect of theatrical costume or historical dress.
Diploma in Costume Studies
The Diploma in Costume Studies is an intensive two-year qualification intended primarily for students who have completed a Bachelor's degree at a recognized university. Students who have completed at least two full years of successful study at a recognized university may be considered for the Diploma on a case-by-case basis. After successful completion of this program, students may upgrade their DCS to a BA in Theatre (Costume Studies). Students pursuing the Diploma in Costume Studies are required to combine the courses in the following manner:

This description is based on the Academic Calendar, which is the official source for degree requirements and should be consulted for fuller details. If you have questions, please contact our Academic Advisor.
Year 1
PERF 1000.03 (Writing About Performance)
PERF 1002.03 (Writing About Stage and Screen)
THEA 1451.03 and 1452.03 (Introduction to Costume Studies)
THEA 2401.03 (Cave to Castle: Dress from Pre-history to 1450)
THEA 2402.03 (Castle to Cafe: Dress from 1450 to 1700)
THEA 2407.03 and 2408.03 (The Aesthetics of Contemporary Dress)
THEA 2412.03 (Language of Design)
THEA 2451.03 (Costume in Performance 1)
Year 2
THEA 3402.03 (Baroque to Bustles: Dress from 1700 to 1900)
THEA 3403.03 (Bustle to Boardroom: Modern Fashion from 1900)
THEA 3452.03 and 3453.03 (Costume in Performance)
THEA 3454.03 and 3455.03 (Body-Shaping Through Historical Tailoring)
THEA 4407.03 and 4408.03 (The Aesthetics of Historical Dress)
THEA 4450.03 (Costume Technology)
THEA 4452.03 (The Sculpture of Dress)