Christopher
Grundke
Instructor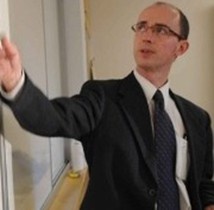 Email:
Christopher.Grundke@dal.ca
Phone:
902-494-2294
Mailing Address:
Marion McCain Building, Room 1178

Research Topics:
Education
BA (Dal)

MDiv, MA (Acadia)

PhD (New College)
Academic Biography

Although born "away", I was raised in Nova Scotia (Antigonish and Dartmouth) since early childhood. After completing a Diploma in Engineering at Dalhousie and concluding that I would be a competent but unhappy engineer, I switched into a B.A. program in English. My intent at this stage was to enter Christian ministry, so I completed an M.Div. at Acadia University. Somehow I became increasingly interested in biblical languages, literature, and history, and one degree proved to be insufficient to satisfy my curiosity. My initial theological studies were quickly followed by an M.A. in Old Testament (also at Acadia), and then a Ph.D. in Hebrew and Old Testament Studies at New College, the University of Edinburgh. After teaching a few courses at Acadia in 2000-01 as a sessional instructor, I was washed ashore in the Classics Department of Dalhousie, where as an undergraduate I had first encountered Greek. Even though Hebrew* and Latin have garnered more of my affection than Greek since my postgraduate days, since 2001 I have taught as a part-time instructor in the Classics Department; my usual offerings are introductory Hebrew, Israelite history, and the intense Latin course during the summer session.
Research Interests

Due to the nature of my position and constraints imposed by other extra-academic employment, my focus is primarily on teaching rather than research. Such research interests as I am able occasionally to indulge are concerned with biblical history, narrative and rhetoric, linguistic pedagogy, and Latin lexicography.
*Please note that I mean ancient Hebrew, not modern. Please do not ask me how to translate anything into modern Hebrew, about which I know very little – and the little I know demonstrates how different modern Hebrew is becoming from the ancient, biblical form of the language.