News
Subscribe
The winners of this year's online Games!
Pythian Games announcement!

Read the newsletter for an update on departmental news and a note from our Acting Chair, Dr. Eli Diamond!
Employment opportunities for students!
Wednesday, August 19, 2020

Thursday, February 13, 2020
Cancelled for 2020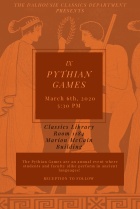 Tuesday, January 14, 2020
Monday, November 11, 2019
Congratulations to our new MA grads!
View past items