News
Subscribe

Thursday, February 13, 2020
Cancelled for 2020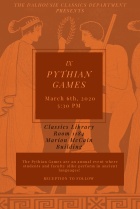 Tuesday, January 14, 2020
Monday, November 11, 2019
Congratulations to our new MA grads!
In October the Classics department had the honour of celebrating the graduation of three exceptional students from our Graduate program! Click to see photos from the event!
Monday, September 17, 2018
Wednesday, September 12, 2018
Departmental Lecture Series
On May 31, we held a reception for graduates from Classics, Religious Studies, and Arabic.
View past items