Christopher
Snook
Lecturer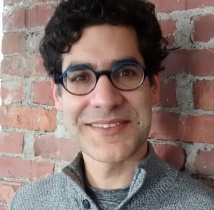 Email:
csnook@dal.ca
Mailing Address:
Marion McCain Building, Room 2119

Research Topics:
Literary modernism and religion
The "Catholic turn" in early 20th century literature
Contemporary poetics
Education

BA (Vind.)
MA (McMaster)
MA (Concordia)
Biography
Born and raised in Nova Scotia, I began my University studies at the University of King's College, where I completed an undergraduate degree in English and Contemporary Studies. I went on to pursue graduate degrees, firstly in English (with a specialization in Romanticism and Religion) and secondly in Theology (where I explored the Origenist inheritance and literary structure of St. Antony the Great's ascetic writings). 
Currently a Lecturer in Dalhousie's Department of Classics with Arabic and Religious Studies, I began my university teaching career as a Fellow (and occasional Associate Director) of the Foundation Year Program at King's College, where I taught challenging texts in the history of literature, philosophy, and the history of science. 
When not teaching (or thinking about teaching!), I can often be found happily watching reruns of the Gilmore Girls, contentedly cooking to the tunes of my favourite band (Fire Saga), or grudgingly working in the yard. I live in the lovely Annapolis Valley with my family.
Research Interests
I am currently teaching new introductory courses for first year students in the Faculty of Arts and Social Sciences along with a Humanities-inspired engineering course. 
My research interests are especially concerned with the persistence of religion in early 20th century literary modernism, particularly the "Catholic turn" in poetry and the novel. Figures associated with this development include TS Eliot, Evelyn Waugh, David Jones, Flannery O'Connor, and Walker Percy, though they are indebted to developments in the literary culture of the 19th century (including the (in)famous conversions of John Henry Newman and Oscar Wilde) as well as to a much wider circle of writers less well-known to modern readers. 
I have written widely in the history of theology (from the reception history of the Book of Job to the iconoclasm controversy and beyond). These academic interests inform my poetry practice. The latter has produced a growing body of work published in national and international journals as well as a poetry collection, Tantramar Vespers, published by Frog Hollow Books in 2018. I am currently working on a second collection of poems.