Emily
Varto
Associate Professor, Ancient Greek History; Graduate Advisor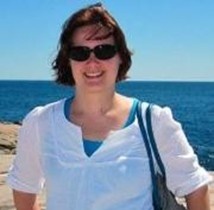 Email:
evarto@dal.ca
Phone:
902-494-2277
Mailing Address:
Marion McCain Building, Room 1181

Research Topics:
Ancient Greek history
Ancient art and material culture
Education
BA (Queens)

MA (Dal)

PhD (UBC)
Biography
I completed my BA(H) at Queen's University with a major in Classical Studies and a minor concentration in Music History. I came to Dalhousie to do my MA in Classics and followed this with a PhD in Classics at the University of British Columbia in the department of Classical, Near Eastern, and Religious Studies. During my doctorate, I combined interests in history, literature, and archaeology to study the culture and cultures of the ancient Mediterranean. My doctoral dissertation, entitled Early Greek Kinship, looked at ideas and expressions of kinship in the writing and material culture of early Greece (ca. 1000-450 BCE).

While completing my doctorate, I taught courses in classical civilization and classical archaeology at Corpus Christi College and the University of British Columbia. At Dalhousie, I teach courses in Greek language, mythology, Greek and Roman history, Greek historiography, as well as ancient art and architecture.
Research Interests
I am a cultural historian of ancient Greece and Rome with research interests in kinship and social organization in early Iron Age Greece; comparative state formation and urbanism; ancient historiography and mythography especially genealogies; and disciplinary history, theory, and methodology including the interplay between anthropological, sociological, and archaeological theory and the study of ancient history. My field is Greek cultural history, but in both my research and my teaching I try to situate the ancient Greeks and their contemporaries in a wider Mediterranean and Eastern context.

Much of my research focuses on early Iron Age Greek kinship. I am particularly interested the relationship between state and family in early Greece, and my ongoing research investigates this relationship by incorporating recent anthropological and social sciences theory in examining how states and families operated in a political, social, and economic system. This research aims at understanding how the family/state relationship is associated with political and social change, in particular Iron Age Mediterranean state formation and urbanism.
Another significant part of my research programme involves the intersection of classics and early anthropology in the 19th and early 20th centuries. I am currently editing a volume on this theme for Brill's Companions to Classical Reception series. My particular interest in this area is the intersection of classical history and scholarship with early anthropological ideas about kinship and theories of social, political, and religious development.