Food System Failure: Why Food is a Forgotten Policy Option
This event took place on Tuesday, September 17, 2019
The right to food is enshrined in international law, while ending hunger is explicit as the second of 17 global sustainable development goals. Yet 4 million Canadians experience food insecurity, diet-related chronic diseases are increasing, and climate change is threatening food supply and production as well as traditional ways of life for many communities across Canada. These complex issues point to a failure of the food system but why isn't anyone talking about this failure in the run up to the Federal election?
In this panel, four speakers will discuss the challenges and opportunities for our 21st century food system, from the perspectives of health, sustainability, economic development, corporate responsibility and law. In doing so, they will address the question, what are the policy levers for a fair, affordable, sustainable and healthy food system for Atlantic Canada?
*In addition to being live streamed on Facebook, there will be a group live-stream viewing on Dalhousie's Truro campus in SLC Room 208 of the McRae Library, 12:00 pm - 1:30 pm.
About the Speakers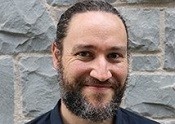 Jamie Baxter (Chair)
Jamie is an Associate Professor at the Schulich School of Law, Dalhousie University, where he studies land and property, agriculture, and food systems governance, primarily at the local level. He has been active in cultivating the field of food law in Canada and much of his current work focuses on how communities, organizations, farms and firms engage with law and confront legal barriers to build more sustainable food systems. He studied economics and law at McMaster University, the University of Toronto and Yale, and has been a Canada-U.S. Fulbright Scholar at the Appalachian Center, University of Kentucky.
Jamie Baxter on why Policy Matters
"I think 'policy' and 'law' have a complicated relationship, but it's clear that good laws require a critical approach to their policies and policy environments."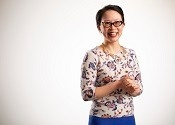 Catherine Mah
Catherine L. Mah MD FRCPC PhD is Canada Research Chair in Promoting Healthy Populations and Associate Professor, School of Health Administration, Dalhousie University. Dr. Mah directs the Food Policy Lab, a multidisciplinary program of research on the environmental and policy determinants of diet, with a focus on health-promoting innovations in the food system. She is also appointed at the Dalla Lana School of Public Health, University of Toronto. Her current research is supported by the Canadian Institutes of Health Research, the Social Sciences and Humanities Research Council, Heart and Stroke Foundation, and the Australian National Health and Medical Research Council.
Learn more about Catherine's work at catherinemah.ca and follow her on Twitter @catherinemah
Catherine Mah on why Policy Matters
"Public policy sets the conditions for health. Policy determines the distribution of resources and establishes the structures for the behaviour of individuals and corporations. Policy reflects who we are as a society, and who we want to become."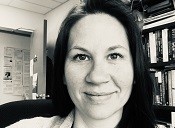 Megan Bailey
Dr. Bailey is Assistant Professor and Canada Research Chairs with the Marine Affairs Program at Dalhousie University. Megan's work focuses on sustainable fishing and sustainable seafood consumption, with an aim at promoting an equitable and ethical seafood sector and achieving seafood sovereignty for priority communities. Megan co-leads the Ocean Frontier Institute Ecosystem Indicators Module, serves on the Scientific and Technical Advisory Committee for the International Pole and Line Foundation, co-leads the "Access to Resources" theme for the OceanCanada Partnership (SSHRC), and is on the Board of Directors for the Fishermen and Scientists Research Society.
Megan Bailey on why Policy Matters
"Policy is a necessary, but not sufficient, precursor to achieving a just and safe world."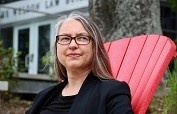 Sara Seck
Originally from NL, I joined Dalhousie's Schulich School of Law in July 2017 after 10 years as a member of an Ontario law faculty. My research considers the relationship between international human rights law, environment, and business law, with a focus on the rights of local and Indigenous communities, and global south perspectives on sustainable development. I am co-editor of Global Environmental Change and Innovation in International Law (Cambridge University Press, 2017), and co-editor of a 2019 special issue of the Canadian Journal of Women and the Law on resource extraction and the human rights of women and girls.
Sara is a frequent contributor to Dalhousie's environmental law blog.
Sara Seck on why Policy Matters
"Policy can help us to better understand our relationships with each other and with the world..."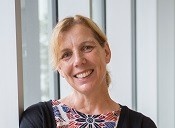 Sara Kirk
Sara Kirk is a Professor of Health Promotion, School of Health and Human Performance, and Scientific Director, Healthy Populations Institute, at Dalhousie University. Her program of research explores ways to create supportive environments for chronic disease prevention through policy and systems change. She does this by applying a 'socio-ecological' approach that takes into account how individual behaviour is influenced by other broader factors, such as income, education and societal norms. She has led several nationally funded projects that focus on the food and activity environment within schools and communities, including UpLift, a provincial partnership focused on youth leadership for change.
Learn more about Sara's work by visiting the Healthy Populations Institute website and the Uplift Nova Scotia Website.
Sara Kirk on why Policy Matters
"Policy matters because it sets the parameters for action on a particular issue. In my work policy matters most when it is evidence-informed, and then implemented and evaluated appropriately. Sadly, in health promotion, this is not always the case."
About the series
Policy Matters is a weekly panel discussion on major policy issues presented by the MacEachen Institute for Public Policy and Governance. Each discussion features thought leaders from civil society and focuses on one of the Institute's four research themes – Civic Engagement, Atlantic Canada and the World, Health Systems and Governance and Smart Infrastructure. Held each Tuesday from September 10 to November 19, the discussions take place in room 1020 of the Kenneth C. Rowe Management Building at Dalhousie, from 12:00 pm – 1:30 pm. The events are designed to encourage public engagement with local, national and international policy issues and are open to the public.
Join the discussion on Twitter
#PolicyMatters2019