Policy Matters 2021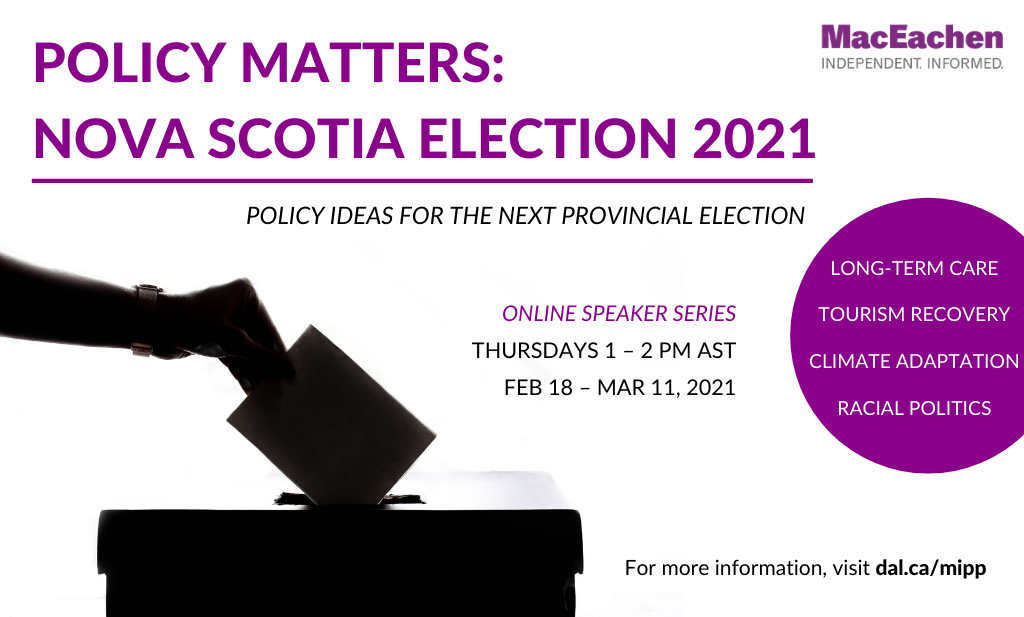 2021 Series Video Archive
About the Series
The MacEachen Institute is supporting public policy discussions leading up to the next provincial election in Nova Scotia.
We are hosting a four-week speaker series focused on policy priorities in the province, including ideas that political parties could consider for their platforms. Details for each panel can be found below and on our event page.
Running alongside the speaker series, the Institute is holding an op-ed competition open to all registered Dalhousie University students. Further details can be found at the bottom of the page. 
 
Op-Ed Competition
We are pleased to announce the winners of our student op-ed competition. The submissions we received were thoughtful, well-written, and shed-light on important policy issues.
Thank you to everyone who participated, including our review committee comprised of MIPP Founding Fellows, Jacquie Gahagan, Larry Hughes, and Ren Thomas.
Winner:
Claire Belliveau, Invest in the Safety of Students Against Sexual Violence
Honourable Mentions:
Catherine Armour, Dying for Treatment: Access to Clinical Eating Disorder Treatment in Nova Scotia
Jon Goud, Nova Scotia continues to violate the constitutional rights of seniors and persons with disabilities
Gabriel Nicholson

, 

Nova Scotia Needs an Energy Policy Update
The winners represent faculties across Dalhousie University, including political science, health promotion, law and economics.