World Mental Health Day Panel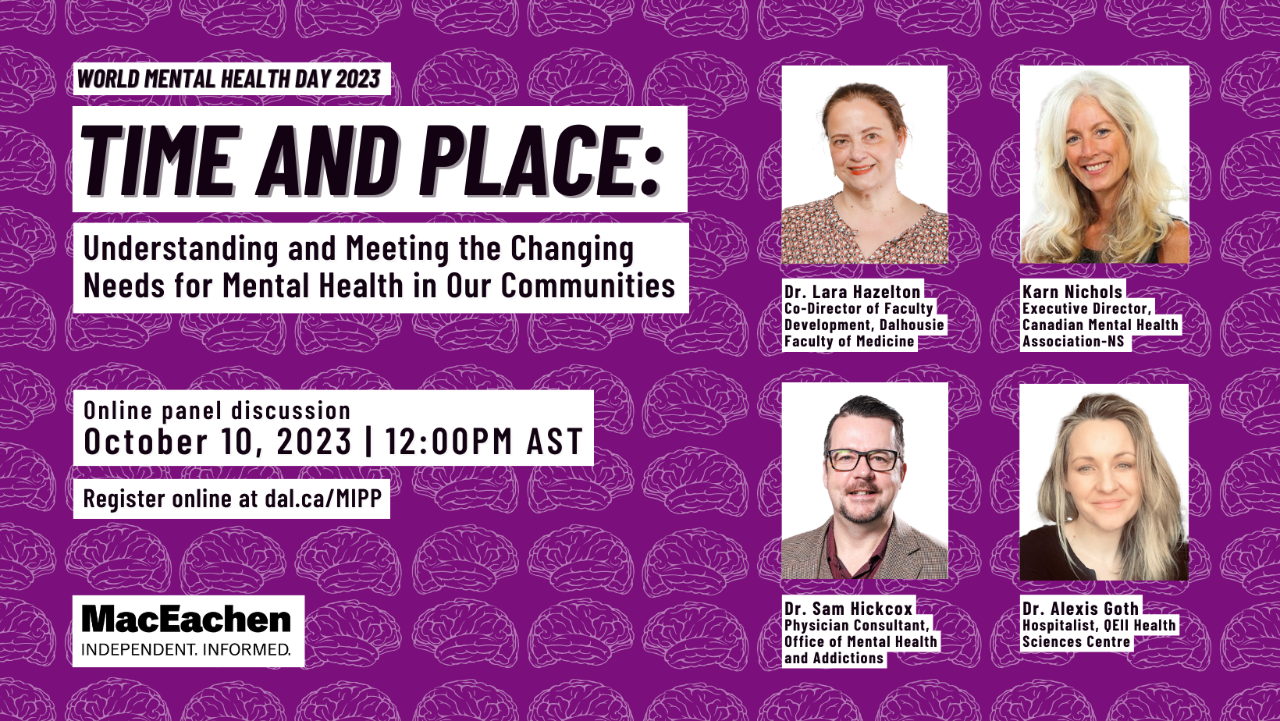 Time and Place: Understanding and Meeting the Changing Needs for Mental Health in Our Communities
Date: Oct. 10, 2023
Time: 12:00 P.M. AST
The pandemic and ongoing opioid crisis have highlighted the need to approach mental health and addictions care as an essential part of overall health and wellness. However, there are many barriers that prevent vulnerable populations from accessing trauma-informed and culturally relevant care. Under-resourced community organizations cannot keep up with the demand for affordable services, and private care is limited to those with the means to pay for it. As governments across Canada work to address these gaps, understanding how social and structural determinants of health affect access to mental health and addictions care is key.
On World Mental Health Day, this panel will discuss challenges and opportunities in advancing mental health and addictions care in Nova Scotia. Addressing these challenges requires an "all hands on deck" approach, but circumstances are dictating our response. How can we be more agile and creative in helping those with the least access and the greatest need?
About the Speakers
Dr. Alexis Goth
Alexis Goth has practiced diverse primary care for the past seventeen years. She is a hospitalist (QEII Health Sciences Center Halifax NS, and Sensenbrenner hospital, Kapuskasing ON, Canada), and is an Assistant Professor, Department of Family Medicine, Dalhousie University. 
After practicing family medicine in Northern Ontario, she went on to study Integrative and Functional Medicine (Fellowship, University of Arizona).  She blended this background to offer holistic care for complex chronic stress conditions at the Integrated Chronic Care Service, ICCS (2016-2021). 
She has continued her exploration of mind/body and spiritual integration by introducing psychedelic assisted medicine to her practice (psilocybin assisted therapy, Therapsil 2021, and ketamine assisted therapy, Polaris 2022). 
In 2023, she founded Holos Integrative Health, an consultative health clinic in Bedford, NS, offering personalized and small group integrative, holistic medicine for mental health, complex chronic stress conditions, end of life distress and palliative care.  This public/private blended funding model includes the safe exploration of accessible, psychedelic assisted medicine in order to optimize self-regulation, and whole person healing, in community.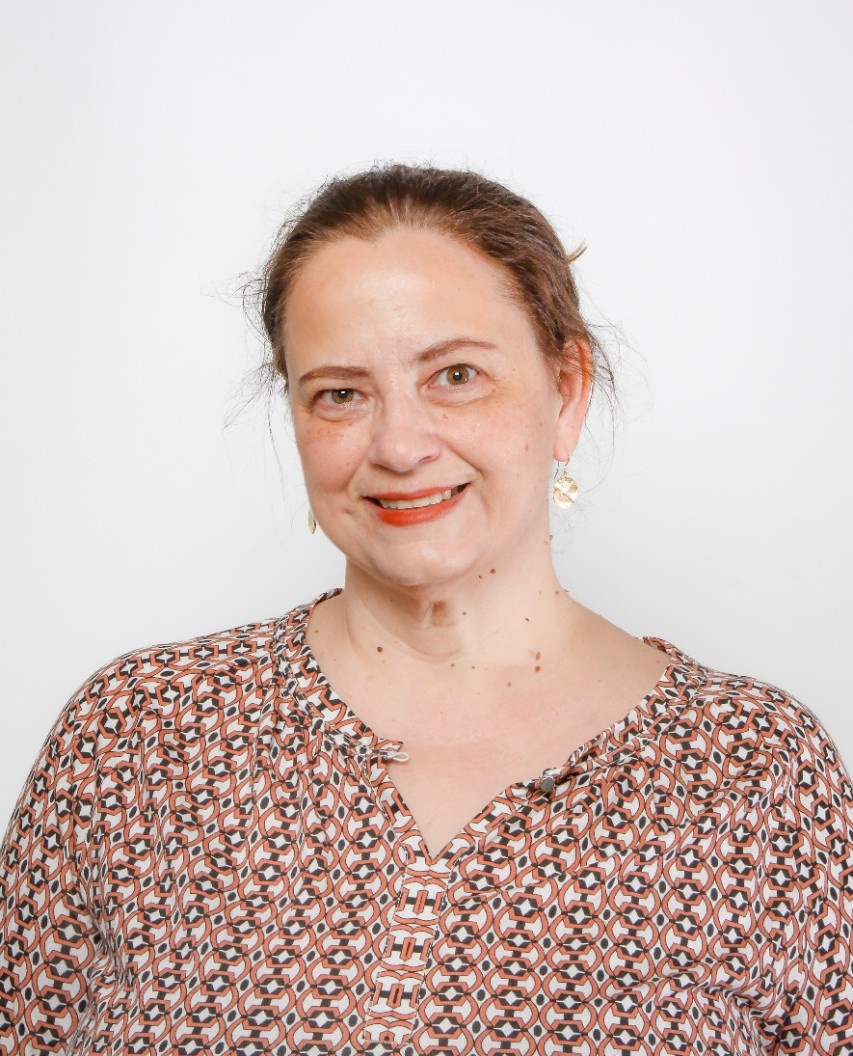 Dr. Lara Hazelton
Dr. Lara Hazelton is a Co-Director of Faculty Development for Dalhousie's Faculty of Medicine, situated within the Office of Continuing Professional Development and Medical Education. She is a professor in the Dalhousie Department of Psychiatry where she was previously director of CPD and currently is the Director of Education.
Her scholarly interests have focussed on medical education and leader development. In 2021, she received the AFMC Award for Outstanding Contribution to Faculty Development in Canada. 
Dr. Hazelton has been a psychiatrist for over 20 years and currently practices community mental health at the Cobequid Health Centre in Lower Sackville, NS.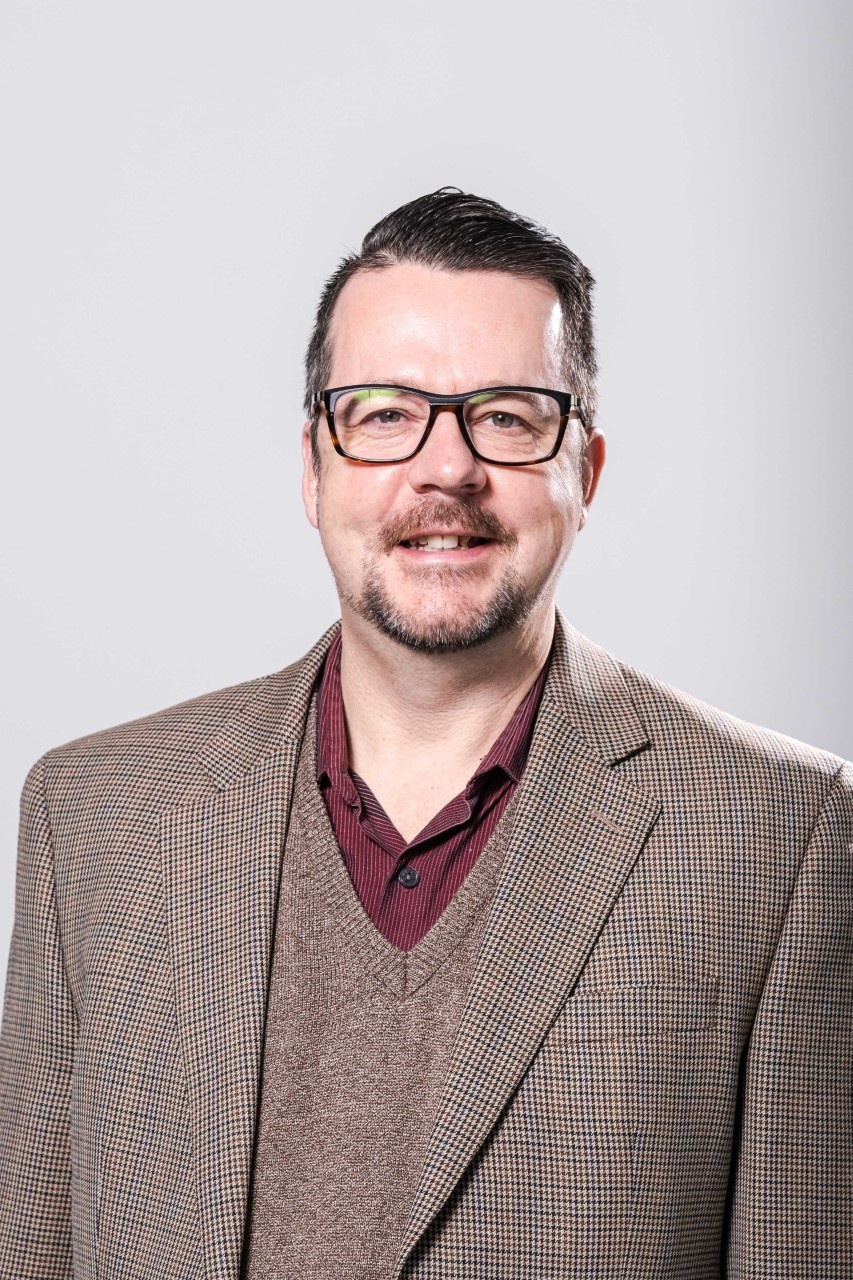 Dr. Sam Hickcox
Dr. Sam Hickcox is the Physician Consultant for the Office of Addictions and Mental Health, embedded within Nova Scotia's Department of Health and Wellness. As a currently practicing family physician and a certified specialist in addiction medicine, his clinical background is varied. Prior to his medical training he worked as a registered massage therapist and taught massage therapy at the community college level. As a physician, he has worked in general family practice, emergency medicine, hospital-based care of the elderly, and rheumatology.
Throughout his medical career he has provided mental health clinical care in a variety of settings, with a particular focus on addiction care provision and working with survivors of military trauma, including co-founding Nova Scotia's first Pain Self Management Program for Military Veterans/RCMP living with Operational Stress Injuries. Prior to joining the DHW he was the Physician Lead for Addictions Medicine for Nova Scotia Health's Mental Health and Addictions Program.
He continues to maintain a psychotherapy practice and care for patients living with addiction and chronic pain, in a variety of settings, with Nova Scotia Health's Mental Health and Addictions Program, and Department of Anesthesia. Additionally, he is the Medical Director of the Atlantic Mentorship Network for Pain and Addictions.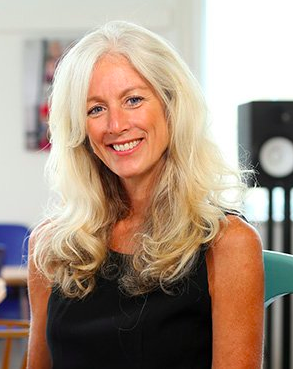 Karn Nichols
Karn Nichols joined the Canadian Mental Health Association Nova Scotia Division (CMHA NS) as Executive Director in July of 2021. Along with a deep compassion for those facing mental health and addiction issues, she brings with her over 25 years of leadership experience in both the for profit and social impact sectors. A natural problem-solver and connector, Karn believes that the fabric of our society will be strengthened by working collaboratively with key partners across the province to reimagine a mental health system that will ensure 'mental health for all.' 
To learn more about Karn, visit https://novascotia.cmha.ca/karn-nichols-staff-bio/ or follow Karn on LinkedIn.