A Key Determinant of Health: Meeting the Housing Needs of Older LGBTQ2S+ Canadians
This event took place on Tuesday, October 22, 2019
The purpose of this panel discussion is to situate the housing issues facing older LGBTQ2S+ populations in the national policy debate currently underway in light of the recently released Canadian Mortgage and Housing Corporation National Housing Strategy.  Given the dearth of data on the needs of older LGBTQ2S+ Canadians, our team is conducting a 1-year Social Sciences and Humanities Research Council (SSHRC) grant to uncover the specific policy and programming gaps and needs of older LGBTQ2S+ Canadians using a 3-phase process:
1. A scoping review of existing housing policies,
2. An online survey of key policy considerations
3. In-person consultations in 5 Canadian cities.
The key analytic frameworks utilized in this housing study included:
1. Sex and gender-based analysis,
2. PESTEL analysis
3. Thematic analysis.
About the Speakers
Liesl Gambold
Dr. Gambold's current anthropological research is on aging and international retirement migration. As baby boomers enter retirement age, shifts in their demographics and lifestyle choices are increasingly salient in policy-making and academic discussions. Dr. Gambold has conducted research in Mexico among Canadians and Americans who have permanently migrated south, in southern France and Spain, which have been popular European retirement destinations for decades, in Sweden and Germany, where she interviewed residents at LGBT aging and housing facilities, and in Brussels where she interviewed European Union officials about EU pensioner, migration and health policies. Dr. Gambold is a research associate at Dalhousie's European Union Centre of Excellence.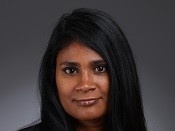 Ren Thomas
Dr. Ren Thomas is a researcher, writer, and instructor passionate about housing, transportation, growth management, and governance in urban centres. She has a M.A. and Ph.D. from the UBC School of Community and Regional Planning (SCARP), and is a Registered Professional Planner (RPP) and Member of the Canadian Institute of Planners. Her research focuses on affordable housing and transportation, particularly policy transfer processes among practitioners. Before becoming an Assistant Professor at the Dalhousie University School of Planning, Ren worked in a variety of public, private, and non-profit settings, including the Ontario Growth Secretariat, University of Oregon, University of Amsterdam, Canada Mortgage and Housing Corporation, and the BC Non-Profit Housing Association. Her edited book Planning Canada: A Case Study Approach (Oxford University Press, 2016) introduces readers to planning and policy in Canadian cities. It won the Canadian Institute of Planners Award of Merit for Planning Publications.
Ren Thomas on why Policy Matters
"From a planning perspective, policy is critical in shaping our cities and regions, from municipal by-laws on land use to federal policy on affordable housing. It defines investment and decision making on how we move around a region, obtain shelter, and remain resilient despite future uncertainty. Planning policy reflects who we aspire to be as cities, regions, and communities—which is why it is so critical that it is informed by equity considerations and the public interest."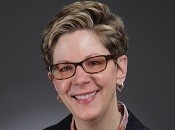 Jacqueline Gahagan
Jacqueline (Jacquie) Gahagan, PhD (Medical Sociology) is a Full Professor of Health Promotion in the Faculty of Health at Dalhousie University. Jacquie holds research associate positions with the European Union Centre of Excellence, the Health Law Institute, the Beatrice Hunter Cancer Research Institute, and the Healthy Populations Institute. Jacquie's program of health promotion research focuses on understanding and addressing health inequities faced among marginalized populations at high risk for poor health outcomes through the development of effective policy and programming interventions. Prior to joining Dalhousie University, Jacquie worked in public health at the municipal, provincial and national levels in relation to harm reduction, HIV/HCV prevention, and tobacco use cessation.
Jacquie Gahagan on why Policy Matters
"Policy is a major tool used by public health and health promotion disciplines to ensure health equity is reflected in our evidence-based decision-making. Health policy offers an opportunity to better understand how well issues such as access to health care are manifest in our policy directions. There are a wide array of examples of health policies that were, for example, sex and gender blind which is why I am passionate about advancing health equity focused policies through the use of, for example, the Government of Canada SGBA+ framework."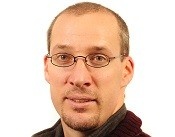 Shawn Harmon
Shawn Harmon, a barrister and widely published researcher, is Lecturer in Regulation & Risk in the School of Law at the University of Edinburgh, UK. He is associated with the J Kenyon Mason Institute in Medicine, Life Sciences and the Law, the ESRC Centre for Social and Economic Research on Innovation in Genomics (Innogen), and the AHRC Research Centre in Intellectual Property and Technology Law (SCRIPT).
About the series
Policy Matters is a weekly panel discussion on major policy issues presented by the MacEachen Institute for Public Policy and Governance. Each discussion features thought leaders from civil society and focuses on one of the Institute's four research themes – Civic Engagement, Atlantic Canada and the World, Health Systems and Governance and Smart Infrastructure. Held each Tuesday from September 10 to November 19, the discussions take place in room 1020 of the Kenneth C. Rowe Management Building at Dalhousie, from 12:00 pm – 1:30 pm. The events are designed to encourage public engagement with local, national and international policy issues and are open to the public.
Join the discussion on Twitter
#PolicyMatters2019