SoTL Scholars Program

Program Overview
Across the country, post-secondary institutions are actively engaged in systematic training of educators in the area of the scholarship of teaching and learning (SoTL). To support teaching effectiveness, scholarly teaching, and evidence-based practice, the SoTL Scholars Program seeks to develop and recognize individual's efforts to enhance their teaching practice and engage in the teaching and research nexus, ultimately creating pathways of sustaining and supporting the enhancement of teaching and learning at Dalhousie. The SoTL Scholars Program is grounded in Kenny et al.'s (2017) Teaching Expertise Framework in Postsecondary Education and is structured to provide a scaffolded and cohort-based experience. The SoTL Scholars Program interweaves three foundational tenants into its delivery - i) a focus on expertise in teaching and learning, ii) professional learning and development, and iii) research, scholarship and inquiry – and supports participants working through a developmental continuum of exploring, engaging and expanding (Figure 1).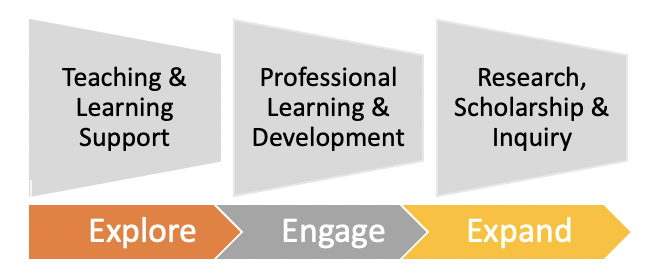 Figure 1. The SoTL Scholars Program framework (Kenny et al. 2017; Kenny & Watson, 2016).
The purpose of the Program is to provide participants with the foundational knowledge of SoTL, support them in developing a SoTL project and fully participating in the process of collecting and analyzing data and sharing their findings with their peers. Participants who complete the SoTL Scholars Program will:
Be confident with the basic theories of SoTL and familiar with a range of SoTL and disciplinary-based journals and apply that scholarship to their research question.
Be able to articulate and identify ethical issues in conducting SoTL.
Be able to apply relevant and appropriate methods and methodologies to answer questions about teaching and learning.
Design and complete a SoTL project to address a research question related to their teaching and learning.
Reflect upon their engagement in the SoTL process and its impact on their teaching practice.
Participate in the sharing and dissemination of their project and SoTL findings.
Be able to engage with, and foster, a community of peers interested in SoTL.
Who is the SoTL Scholars Program for?
The SoTL Scholars Program is designed for individuals who are interested in teaching and learning, evidence-based pedagogical practices, classroom-based and broader teaching and learning research. It is designed to provide new to seasoned scholars with the opportunity to explore the field of SoTL, develop questions on their teaching practice, and engage in research on student learning.
The Program is open to instructors across all campuses at Dalhousie University, and each year there will be five seats open to graduate students. The SoTL Scholars Program is not mandatory nor for credit, and there is no fee. Participation is not time bound in order to offer flexibility in participation, however it is designed to be complete within two years. Components may be completed in any order and the CLT's SoTL Series and SoTL Brownbag Lunches may be attended and led by individuals who do not wish to complete the SoTL Scholars Program in full, however, when registration is limited, preference will be given to Program participants.
*Note: To encourage students engaging in SoTL we welcome anyone to attend the CLT's SoTL Series (dependent on space) and the SoTL Brownbag Lunches as professional development. Each year there will be five student seats open to students within the SoTL Scholars Program. Students will need a supervisor's permission to participate and must have a project outlined prior to applying. An annotation of the Program will not go on a students' transcript, but students will receive a formal letter of completion. Students are expected to work closely with the Program Administrator to plan out their completion.